Attend a world premiere from your sofa!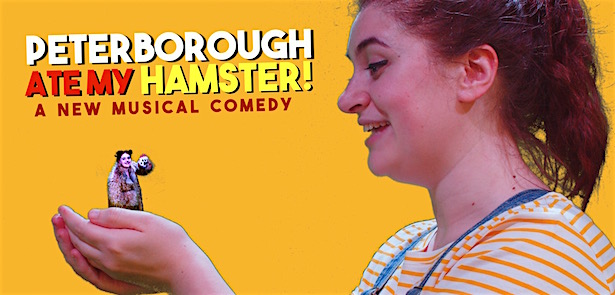 Have you ever been to a movie premiere? Now's your chance!
Throughout lockdown Lamphouse Theatre have been creating hilarious short films live from their living room. Now they've gone one step further and created a brand new musical comedy film and you can attend the world premiere from the comfort of your sofa on Wednesday 15th July.
Peterborough Ate My Hamster is a ridiculous, hilarious, musical romp following the fallout of an escaped hamster, a pet-hating mayor and a normal little girl from Peterborough. Featuring the residents of Peterborough, a series of improbable imprisoned pets, and a hamster-catcher with a vendetta, this farcical film is sure to cheer up your week!
Tom Fox, director of Lamphouse Theatre says: "We have had so much fun putting this film together, we've been exploring green screen technology so audiences can expect lots of technicolour scenery. There are four main actors in the film all playing a variety of parts, but we're most excited about the involvement of our Peterborough residents chorus. People from around Peterborough have been sending us videos and clips to include in the film, and we've been having the best time watching them!"
Audiences can look forward to songs, dances, and plenty of silly comedy. Producer Becky Owen-Fisher says: "Anyone who knows Lamphouse will recognise our signature style. The story is completely bonkers, with lots of laugh out loud moments and several catchy songs. When a hamster goes missing, chaos ensues in the city and the Mayor employs a shady hamster-catcher to find the runaway rodent and restore peace. Of course, these things are never straightforward so expect lots of twists and turns!"
You can attend the world premiere of Peterborough Ate My Hamster from the comfort of your living room on Wednesday 15th July at 7:30pm. Go to www.lamphousetheatre.co.uk to find out more.
After the free premiere you will be able to purchase the film to watch whenever you fancy,. Alternatively you can sign up to Lamphouse On Demand for as little as £3 a month to access this film, plus 10 Live From Our Living Room shows and a series of live recorded Lamphouse shows from theatres.
Leave a Reply