Creative Role Model | Jaroslow Jacek Sokol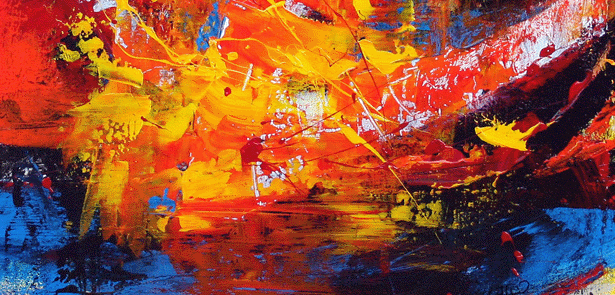 I love artists who have a real passion for life and express this passion through their work
For Jaroslow Jacek Sokol, success in art is a way in which he can lead by example within the Polish community and very emotionally for him, his own children, Krzysztof and Maciej. This is why with moist eyes, he speaks about his first solo exhibition at Andronica's Art Gallery, Peterborough this year, applauded not just by local dignitaries but more importantly his own family and his Polish colleagues and friends, a number of them including Jaro and his wife, forming Peterborough's celebrated Polish choir Cantus Polonicum.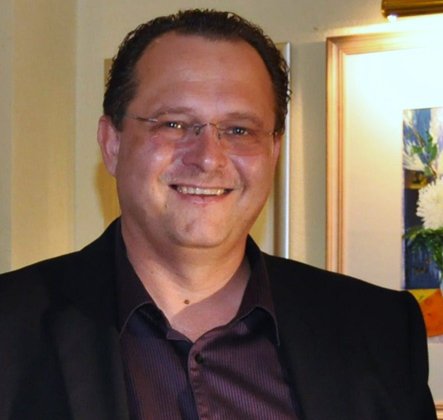 Jaro is larger than life: a tall and imposing figure with a radiant and infectious smile, producing large expanses of acrylic and mixed media abstract creativity. He loves big. He paints big and longs to paint even bigger for public spaces. He has had quite an impact on the local art scene. I noticed his Jackson Pollockesque canvasses last year at the Peterborough Arts Festival in Central Park. He was there beaming, conversing with broken English, sharing his work with all ages, so unassuming and warm, yet bold and ambitious.
Since then he has exhibited and sold successfully at Harriets Art Gallery, the Realitas Community Arts Centre at Peakirk and privately. Although he has smaller works, his trademark is the large abstract canvasses. They are statement pieces, focal points for personal and commercial spaces
Art is deep in my soul….there is a lot of ego.
I'm not sure whether ego is the right word in the sense that Jaro harbours much humility, feeling joy when someone likes his work. "I feel shock when you want to speak with me about my work" he comments touching his heart.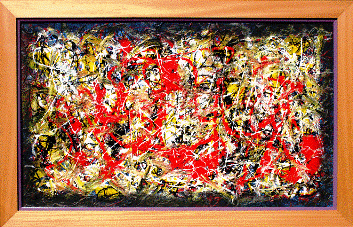 Jaro's work is inspired by Pollock, Kandinsky, Postma, Gerard and Richter. He experiments with everything to create impacts, effects, the unexpected. Each work is a journey as much for him as the viewer. He desires to capture the moment. He splashes on spiritus, a very strong grain alcohol, and white spirit with water and creates depth and relief with mirrors, rice, coins, marbles, shells, CDs, thickly applied paint, concentric circles moving around. Texture and relief are vital.
Paintings are to touch. I encourage people to touch as it helps the viewer to see. They experience impact, surprise. I want to provoke and create reactions. It's up to people what they understand from it.
Jaroslaw is serious and ambitious about his artistic career. He originally gained a degree in landscape garden engineering and ran a successful landscaping company with a friend back in Poland. "My heart and soul liked creating with colours but I was not a business person. So now I can simply create and I am so happy that people like my work enough to buy it. It is very emotional for me. Exhibiting art is so different in England. There are many opportunities for local artists to share their work in small galleries, cafes. It isn't like this in Poland. I always dreamed of exhibiting and now my dream has come true"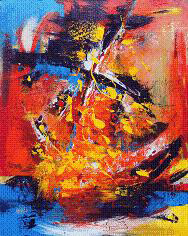 Art is in Jaro's genes. His brother, Pawel is an important interior designer in Poland and his sister Malgorzata has an art history degree. "I have always been surrounded by art. My great grandmother was from a landowner family and painted many aquarelles to occupy her time. I remember them on our walls as a child. My father was an irrigation engineer but in his free time he would take me out on hunting expeditions and would stop to sketch the countryside and nature. He taught me about perspective and the horizon. He was so patient and a great inspiration to me. In my spare time I produced many pastels and gave them as gifts to friends."
Significantly Jaroslaw will be demonstrating his painting techniques in the interactive Art Village at the Willow Festival on Peterborough's embankment 25th-27th May. This kind of community exhibiting goes to the core of his persona which is committed to teaching others about opportunities and possibilities, particularly children.
I am proof you can do it. I want to show others that they can create their own future. I want to encourage the Polish community to have goals and contribute fully to life here in England. I have met so many lovely people through my art.
Jaroslaw's work can be viewed at the Realitas Community Arts Centre, Peakirk and by prior appointment at his home studio:
01733 701784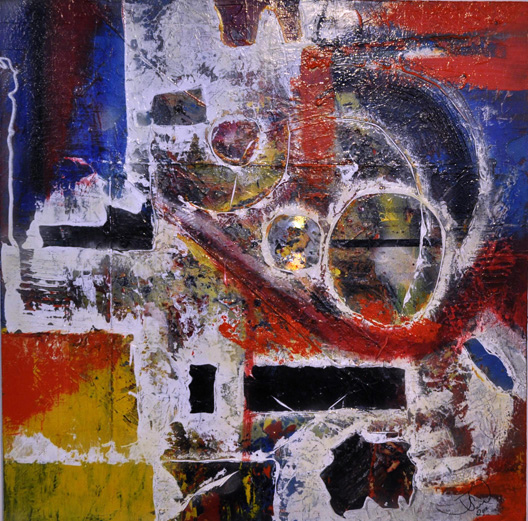 07849 766294
Leave a Reply