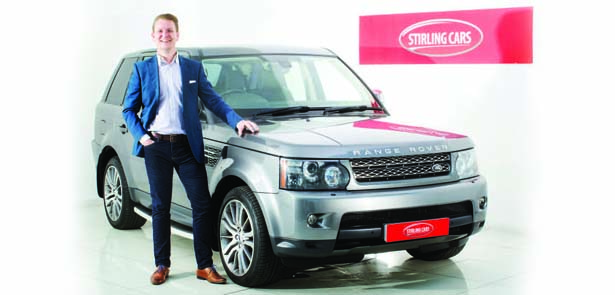 In business for little more than two years, Stirling Cars has already doubled turnover. The Business Moment speaks to owner Andrew Ingram to find out his secret 
TELL US HOW AND WHY YOU DECIDED TO START A USED CAR BUSINESS?
My wife and I started the business from literally nothing. We had the contacts though – dealership managers for whom we'd sell on their part exchanges. At first Stirling Cars was very much about selling cheap cars but within six months we realised the profit margins weren't great. So we changed our business model and started buying more of our own cars, targeting the higher end of the market. From there things really took off. We found that the nicer the car, the quicker it would sell and the quicker we'd get our money back to reinvest.
SO THE HIGHER END OF THE MARKET HAS PROVED THE WAY TO GO?
It certainly has. And we make sure that what we are selling looks immaculate. So if there are any scratches or curbed alloys, we will get them fixed before putting the car on the market. What's under the bonnet should be in immaculate condition too, so we'll only ever buy cars that have got a really, really good service history. If a car is looked after it will last longer. By being meticulous about a car's service history and by ensuring it's fully prepped we reduce potential headaches.
A LOT OF THE CARS YOU STOCK ARE PRETTY HIGH SPECIFICATION. WHERE DO YOU SOURCE YOUR CARS FROM NOW?
While auctions are always going to be a staple of the used car industry we've also got contacts within two car buying websites, similar to Webuyanycar.com. Sourcing this way is better because the cars have been driven and looked over mechanically. They've essentially been pre-screened for us, so we're getting better vehicles. Auctions are a bit of a gamble as you're buying blind. You can't drive the car and it's hard to give the car a physical inspection.
LAUNCHING STIRLING CARS AS THE ECONOMY REBOUNDS FROM RECESSION SEEMS TO HAVE BEEN A SHREWD MOVE.
I think so. Turnover between years one and two doubled and we've grown in size and position too. Originally we started off in a warehouse facility with no street frontage. When a bigger unit with street frontage became free we snapped it up. We started off selling maybe 10 cars at a time; now we're up to 35 or 40. Most of the cars are under cover, which allows us to present them in the best light. It makes the experience for customers more comfortable and saves a lot of time cleaning them!
DO YOU ALSO ADVERTISE YOUR CARS ON NATIONAL WEBSITES?
Yes. Autotrader is an excellent platform because people can search for something very specific. It also allows us to reach beyond the local market. We've had people travel down from Aberdeen, up from Cornwall – all over. The furthest customer came from Malta!
HAVE WEBSITES LIKE AUTOTRADER CHANGED THE WAY PEOPLE BUY CARS?
It used to be the case that you'd drive around locally and visit maybe four or five local garages before deciding what to buy. Now people know exactly what they want – they do all their research before buying and they'll travel. Price is still a big driver, but people want… [cont]
Leave a Reply