Sherlock Holmes – A Study in Fear! 18 – 20 October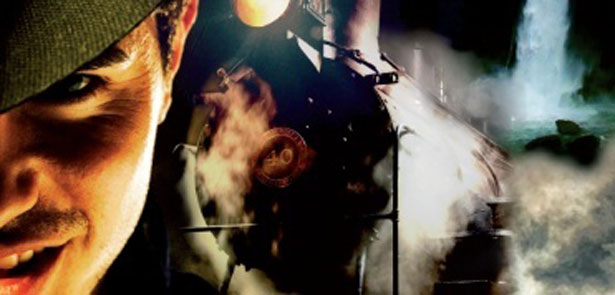 A gripping new play by John Goodrum based on the classic story The Final Problem
The world's most successful detective takes on the world's most notorious villain … Sherlock Holmes, brilliant, flawed and inclined to justice, finally confronts Professor James Moriarty, brilliant, flawed and wholly inclined to evil!
When Holmes arrives unexpectedly at the door of his old friend and colleague Dr Watson, at the beginning of this hugely entertaining new version of the classic Conan Doyle tale, he begs the good Doctor's assistance for one final case … and an exhilarating evening of mystery, chase, disguise and detection are the inevitable result, culminating in a breath-taking showdown at the tumultuous Reichenbach Falls.
Starring Ian Sharrock, who will be hugely familiar to audiences from his ten years as Jackie Merrick in Emmerdale. His other TV appearances include Heartbeat, The Bill, Casualty, Where The Heart Is and, perhaps most memorably, as Jed Maxwell, Alan Partridge's biggest and most scarily obsessive fan in I'm Alan Partridge.
Also starring Nicholas Briggs, who is best know as the voice of the Daleks and the Cybermen in BBC's Doctor Who. His "in the flesh" TV appearances include Torchwood, Lewis and The League of Gentlemen. Nicholas has also recently appeared in Noel Clarke's hugely successful feature films Adulthood and 4.3.2.1.
Sherlock Holmes – A Study in Fear! comes to Peterborough as part of a national tour from Rumpus Theatre Company, whose previous productions include The Signalman and The Pit and the Pendulum. Renowned for their striking special effects, they will ensure no holds are barred when they bring this most famous of all detective stories to the stage.
"… excellent … their timing was flawless … go along and enjoy the inventive twist in the last scene" – Brighton Argus
"excellent authentic sound effects from Victorian horse-drawn cabs to breath-taking steam trains … Ian Sharrock played the lovable Dr John Watson with a mixture of gullibility and unmistakeable honesty … powerful performance from the charismatic Nicholas Briggs who took on the exacting role of Sherlock Holmes, brilliantly illustrating the detective's fascinating character" – remotegoat.co.uk
Tickets £16 (£13 concessions, Saturday matinee: £12, KEY I.P.: £10, Showdeal: £11
Sherlock Holmes – A Study In Fear will be performed nightly at The Key Theatre, at 7.30pm, Saturday matinee at 2.30pm
Tickets On Sale Now
To book your tickets online click here
Or to book over the phone please contact the Key Theatre's Box Office on 01733 207239
Tickets On Sale Now
Key Theatre
Embankment Road
Peterborough
PE1 1EF
Leave a Reply