Summer exhibition 2018 at the Royal Academy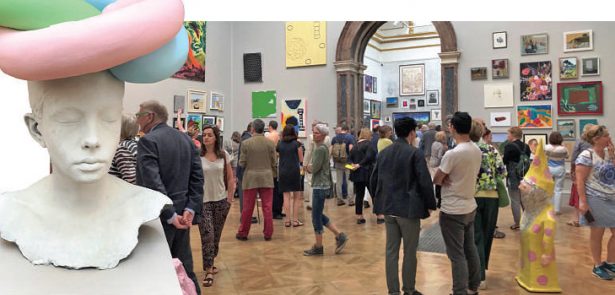 Dawn Birch James takes a look at this annual art-fest
I've always been a huge supporter of taking art to the people, making it as democratic as possible. How incredible it is therefore that any resident or visitor to Peterborough can enjoy the Antony Gormley sculpture 'The Place to Be', placed on top of buildings overlooking Cathedral Square. Art serves its best purpose when it attains democracy. In my own little way it's what I always tried to achieve with my gallery Art in the Heart, creating a space where everyone was welcome and anyone could say anything. I rather enjoyed visitors saying that their three-year old could paint better and I loved stopping the Bridge Street workmen in their tracks with our sometimes outrageous window displays. Interesting debates were many. No surprise therefore that I love the Summer Exhibition at the Royal Academy, where literally anyone can submit a work of art to be judged by the expert selection panel. It's arguably the most democratic exhibition in the world.
This year, it celebrates its 250th birthday and is coordinated by the flamboyant ceramic artist and social commentator Grayson Perry. All those years ago, when it was held at Somerset House, the Summer Exhibition would draw in crowds who would jostle shoulder to shoulder to see the latest works by artists who were the celebrities of their day. It really was an extravaganza.
In the mid 19thcentury when the Pre-Raphaelites burst onto the scene with shocking depictions of society, and a complete flouting of the conventional rules of painting taught by the Academy, you couldn't move in the halls, with paintings crammed from ceiling to floor, critics and the general hoi polloi wanting to give their two pennorth about the new kids on the block. There was a veritable buzz, and sometimes a gnashing of teeth about ones treasured picture being hung below the "line", (a wooden moulding running around the Great Room at a height of about 7ft 6in) or shoved unceremoniously in side rooms.
The exhibition still draws the crowds but is now a much more respectable affair. I was lucky enough to be a guest at one of the Preview Days, sipping exorbitantly priced fizz, but I admit I couldn't resist nudging someone a little out of the way to take a quick snap of yet another baffling Tracey Emin picture. This year there was a real cornucopia of garish homages to political and social protest but also a plethora of seriously accomplished works of art, either in terms of their concept or pure technical skill. Then there were a few 'what on earth is that?!' moments. You have to have those moments at any decent art exhibition, I suppose. The paradox at the centre of the Summer Exhibition has often been challenged by the likes of frock wearing working class Grayson Perry, this year's main curator.
On the one hand, there is no other exhibition like this in the world where any unknown ordinary Joe Bloggs can exhibit next to greats such as David Hockney and yet it is still only largely enjoyed and presided over by the middle classes. At least for 2018, Grayson insisted on selecting works that celebrated the "democratic rough and tumble" of the world's largest open-submission show. The Guardian's Jonathan Jones said that by mixing established artists with "actual garbage: talentless, throwaway rubbish, a lot of it apparently made by jokers after getting home from the pub", Perry has "caught the moment". I don't know about that but what an amazing show and highly recommended for art exhibition virgins!
● Watch Grayson Perry video tour of Summer exhibition 2018 (12th June-19th August) at www.royalacademy.org.uk
Leave a Reply