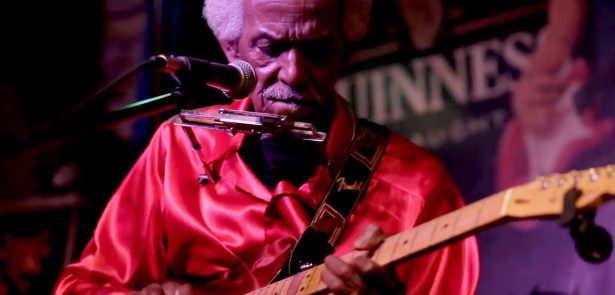 After a couple of years and 2 false starts, due to you know what, we are finally able to bring you LIL' JIMMY REED backed by UK piano legend Bob Hall (Savoy Brown, Groundhogs) and pocket dynamo Bass player Hilary Blythe
LIL' JIMMY REED – is the real deal, as attested by anyone who has been privileged to hear his stinging guitar work, gritty vocals and haunting harmonica. A tall charismatic figure, Lil' Jimmy epitomises the classic Louisiana down-home blues.
His many fans recognise that Lil' Jimmy's performances are almost the last chance to hear the raw, unadulterated sound of authentic Louisiana blues.
In Lil' Jimmy's band, BOB HALL is an award-winning pianist and founder member of several famous 60s/70s British blues bands including The Groundhogs and Savoy Brown. He has accompanied many world-class bluesmen – John Lee Hooker, Howlin' Wolf, Chuck Berry and Little Walter, to name just a few. His partner, diminutive dynamo HILARY BLYTHE, is an outstanding blues and gospel singer and rock steady bassist.
We're delighted that Lil' Jimmy has agreed to squeeze Shakedown in after his Wickham Festival appearance and before flying back to the US of A.
We've shifted to the Fitzwilliam suite, at the nearby Cresset venue (similar capacity and a Club-style setting), due to scheduled renovation work at the Village Hill.
Hope you can join us for Lil' Jimmy Reed with Bob Hall & Hilary Blythe.
The last of the Louisiana bluesmen, Leon Atkins, better known as Lil' Jimmy Reed. How Blue can you get? Well you can find out here:
TICKETS NOW ON SALE
£20 http://www.shakedownblues.co.uk/events.php
MONDAY 8 AUG 
Doors 7pm
On stage 7.45pm
2 Sets and an interval
Licensed bar
Venue: Fitzwilliam Suite, The Cresset, https://www.cresset.co.uk/
Rightwell East, Bretton centre, Peterborough PE3 8DX
Leave a Reply