Jodie Prenger: "I think it's the hardest thing I've ever done…"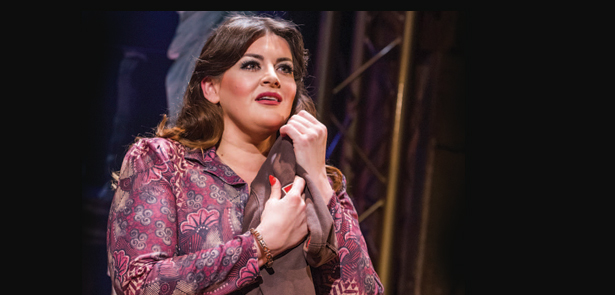 In 2008, singer Jodie Prenger triumphed in the talent show I'd Do Anything having won the heart of the public and head judge Andrew Lloyd Webber. She hasn't looked back, with dozens of TV appearances, tours and major roles in the West End – including an award-winning run as Nancy in Oliver! Now, she brings the one-woman show Tell Me On A Sunday to the Key Theatre (7 June). Toby Venables talked to her
First of all, why Tell Me On a Sunday?
Well, I wanted them to tell me on a Tuesday and it just didn't work out… I'm showing my age here, but I did have a double cassette of Musicals Greatest Hits and on that, of course, was Tell Me On a Sunday and Take That Look Off Your Face. It's just music that I loved, and grew up loving. To be honest, although I knew the basic outline of the story, I didn't know the whole thing. And then you get the call saying 'Would you like to do it?' You scream out three times: 'YES! YES! YES!' – the full When Harry Met Sally – and then you go: 'Oh… I've got my own show. Don't panic, Jodie…' But you get stuck in and I have absolutely loved it.
Has it been a challenge?
I must admit, I think it's the hardest thing I've ever done. I've never had to sing in the range I have to sing in this, I've never had to go through so many emotions – and I'm not kidding, after this show I need a sit down and a glass of port! It really takes it out of you… The poor girl really does go through it. It's one of those shows you can't give it 80%. It's a 150% and no less! I just love doing it, and it's some of Andrew Lloyd Webber and Don Black's greatest stuff. Andrew has written these phenomenal melodies, and Don Black… Well, he doesn't give you lyrics, he gives you a script, which is rare with lyricists.
This is a solo show – is it very different having to hold the stage completely on your own?
Yes! If something goes wrong, it's your fault! But there are so many great creatives on board: Paul Foster, phenomenal director, Cathy Jayes who is the music supervisor who has just come back from Broadway, David Woodhead who does the set design… All these Olivier Award-winning, brilliant people. So I know there's only one person on the stage, but it's always a massive collaboration. It's never really one person.
Do Andrew Lloyd Webber and Don Black get involved with the production?
They have both been SO involved! You kind of think you'll never see them, but no, no, no! And it is petrifying when they both come in. But it's great to sit down and talk with them about the evolution of this show. And the reviews have been great, which is lovely. You do get a lump in your throat when you see it's been tagged, because with this show you put your soul out there…
Andrew Lloyd Webber has been such a significant factor in your career…
He really has. Never did I think he'd have me back, but here we are! No, he's been lovely – and the one side you don't see of him on TV is that he's so supportive. He came to see Calamity Jane – he came to see everything I've done. And he's a lovely guy, a lovely family man. You do so many things on stage and TV – is it non-stop? It was during Calamity Jane and a hugely, unexpectedly successful tour that I found out I was doing Tell Me On A Sunday. But then I was doing Miss Hannigan in Annie for three weeks and started Tell Me On A Sunday the day after that… But I've got to keep working – I've got animals to feed!
What were your key influences growing up? You obviously love musicals…
No, I can't stand them! I don't know what I'm doing! I wanted to be a rap artist but it didn't work out… Can you imagine if I came out and rapped Tell Me On A Sunday? Joking apart, I grew up in Blackpool and at the time it was an entertainment hub, and my mum and dad and my nan and grandad had run B&Bs, and I just remember when we'd get coach parties in and we'd have singalongs. So my influences came from people like Vera Lynn, Doris Day, Bette Midler… Just very wonderful leading ladies, and I just enjoyed the music
Jodie Prenger: Tell Me On A Sunday
7 June, 7.30pm
Key Theatre Peterborough
Leave a Reply