In Queen Katharine's Shoes…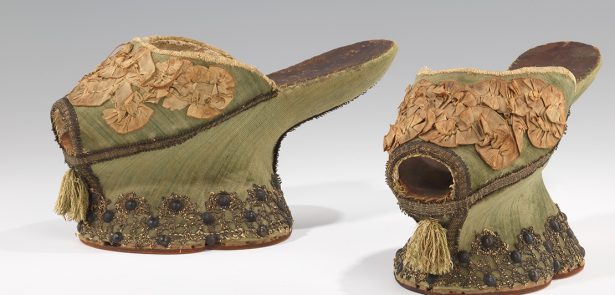 Each year, the Katharine of Aragon Festival commemorates 29 January 1536, when Henry VIII's first wife was buried at Peterborough Cathedral after her death in exile at Kimbolton Castle. It also aims to show that there was much more to Katharine than just a 'wife'. This year's keynote talk (26 Jan) by Theresa M Earenfight – Professor of History at Seattle University and author of Catherine of Aragon: Infanta of Spain, Queen of England – provides insight into Katharine in a whole new way, focusing on the clothes she wore and the objects she owned, starting with some very remarkable shoes... Moment editor Toby Venables talks to her.
You're a historian by training – but how did you first come to be interested in Katharine, specifically?
I study women in political power. So all of the academic work I've done has been on queens and queenship. It started out with work on medieval Spain and Katharine's great aunt, Maria of Castile. I was intrigued by her because she seemed to have an awful lot of power at a time when we generally expect women to be docile and submissive. I was puzzled by this, and the more I looked at it, the more I realised we have a faulty assumption about women in power in the Middle Ages. And so that's what led me to queens and queenship – and it's also what led me to Katharine, because the notion of her as a powerless woman just never made any sense. If you look at the transcript from 1529 at Blackfriars [when Henry VIII put her on trial], this was not a woman who just sat around and said 'Yes, dear'! That got the whole ball rolling, and I was interested in what kind of power she was able to exercise through her life; that's why the last chapter of the book is a look at how power in her life changes over her lifetime. She has power as a young woman because she's nubile and there's all this potential. And then she comes to England and her power is as this infanta, and as the bride for Arthur [Henry's older brother] and as the Princess of Wales, all of which gives her a certain standing in the community. Then when Arthur dies, it's unclear quite what's going to happen next; Henry VII and Katharine's father Fernando fought over her for a bit and, for a while, her power was greatly diminished. But then Fernando makes her his ambassador to England, so she then has standing at court and access to Henry VII and all of the various things he's doing. And that, of course, is where she really gets to know the future Henry VIII. Then Henry marries her, and everything changes again.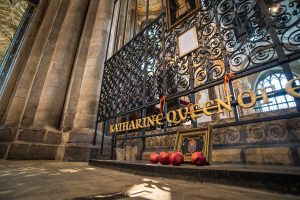 One of the earliest pieces of her life that I really looked at was the Regency in 1513, when Henry VIII goes off to France to fight and leaves her in charge – and that's when the Scots decide it's time to exert their independence. So, she brings an army north, going with it as far as Cambridgeshire. That period, in which she is ruling, really captured my attention, and then I built out from that. So, I had this notion of a woman of power, but I needed to find out more about the person, and that got me into objects. And it was actually sitting at the British Library reading the inventory of her possessions at Baynard's Castle after her death [the castle was given as a wedding gift to Katharine by Henry VIII] that I came across things that really shed light on her life. One of them was a list of four little blankets – little counterpanes, all shredded, basically small blankets for babies. They were supposed to go to Mary [her daughter] for Mary's 'lying in' but, of course, Mary never had a lying in. But there I am, sitting at the British Library next to a friend of mine, weeping! And I'm thinking, 'This is bigger than I ever imagined…' And after eight years, it became a book.
So tell us about the shoes…
Well, she had over 100 pairs of them! I first read about them in household accounts from Gonzalo de Baeza, treasurer to Queen Isabel, Katharine's mother, and among them are these things called 'chapines'. I had never heard of these before, so I did what everybody does and went to Google. And my immediate reaction was 'Whoa!'
Chapines are stacked, cork-soled shoes. They derive from the bath house shoe that you wore to keep your feet and your skirts off the wet tiles. But over time they went crazy… They started stacking layers of cork one on top of the other, held together with lead or iron pegs and with a leather sole on the bottom. Katharine's pairs are listed as either being three fingers high or five fingers high, and are covered in silk velvet, sometimes with gemstones, lots of embroidery, gilding, tassels and things like that. They have a narrow tip at the toe, you put a silk stocking in when you wear them, and they pitch you forward ever so slightly. You could call them escort shoes. You don't usually walk alone when you wear these shoes – you need somebody to hold on to. So they're intended to make you look fragile and vulnerable, sustaining a certain kind of gender ideology. Chapines are also considered sort-of racy shoes. In Venice, the height and the decoration of them was regulated because only courtesans could wear the more decorated and elaborate designs. So, they were seen as sensuous and sexy, and that's why I wrote an article on her as the 'sensuous, not sensible' Katharine of Aragon! And when she got to England, they'd never seen shoes like this before.
But I thought, 'Wait a minute…' When I read Garrett Mattingly's biography of Katharine, she just seemed very subdued, and very pious, and very proper. And then I looked at the shoes, and I thought 'This doesn't add up…' That's when I went further into this. I wrote a whole article just on her shoes, and it made me think 'Well, what else was she wearing?'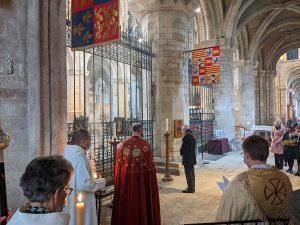 How did you track these objects down?
I looked at portraits of her and her household accounts. The more you dig into these paintings, the more you see, and it changed my ideas on Katharine. Over the course of her lifetime, for example, she must have had a mile of silk grosgrain ribbon in various colours that they would braid into her hair.
I also spent a lot of time at the V&A and the Museum of London. It kind of was a rabbit hole! But once you see the shoes, you think 'OK, what kind of skirts did she wear?' and you look at the fashion of the time. She actually brought the hoop skirt, or farthingale, to England. In Spain, they're called a verdugado, but also referred to as a guardainfante, which has some scandalous associations. A 15th century queen who was pregnant with the wrong man's child had to get out of town fast, and had to hide the fact that she was pregnant, so they made this hoop skirt that came up really high, and that became the hoop skirt.
A lot of the things that would have belonged to Katharine had to be arrived at through inference, because so many of her possessions never survived. Jewels were repurposed; they went into the jewel house and became Anne Boleyn's, then Jane Seymour's and so on. So those were gone. Her own shoes probably didn't survive. When she died, her gowns were repurposed into liturgical garments, and there are bits and pieces that were woven into a chasuble in the museum in Ludlow, and another at Coughton Court. We know it's hers because of the pomegranate emblem and because we know it was bequeathed to the Throckmorton family, which was a prominent Catholic family. But there's a lot that I don't have, or a lot that I had to speculate on.
Another of the issues is that almost everything that does survive is deemed to be – and catalogued as – Henry's. But I'm not so sure of that… For example, there's a beautiful writing desk in the V&A that is supposed to be his, but I don't know that Henry actually ever used it. It just looks too small and delicate for a man like him.
And then there's this absolutely exquisite boxwood rosary that was commissioned – probably by Margaret of Austria, who was her sister-in-law – and sent to England. It is called 'Henry's rosary', but men did not use rosaries. It was a Marian devotional piece, and in it at the Paternoster bead, which is the very end of it, there's a bead about the size of a walnut, and if you crack it open there's the only known image of Katharine and Henry together. So I have all these objects, some credited as being owned by her, some by Henry, so there was necessarily a degree of supposition that went into the book.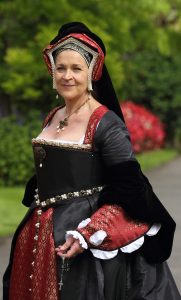 Although she was an outsider, she seems to have been greatly loved by the English people…
She was. She learned from her mother the power of the personal touch. Isabel was an itinerant queen, travelling all over the place; they're fighting wars and they've got to govern this huge realm. So Katharine learned from a really young age the power of being in a room with other people – and also being generous, because her mother, for all of her failings, was a really generous queen to the poor and to the towns that she took care of. Katharine took that lesson to heart. And every time there was a summer progress, when she and Henry would go out, Katharine would go out and meet with people, and they loved that about her. It was a little like Princess Diana, her ability to just talk to people. She was certainly the more accessible of the two. And because she had accented, imperfect English, I think it actually connected with people, because she's not this person that's unapproachable. She makes mistakes.
She also intervened with Henry every once in a while on law court cases, in favour of someone. And I think all that made her human to them, so when Anne steps in, they are not happy. Katharine's been the good queen, the kind queen, the one that they can connect with. That's partly why there was so much anger at Anne. Katharine did all the right things as the conventional Queen Consort; she never crossed her husband in public until 1529 at Blackfriars, and then, boy did she cross him! It's the one moment where she literally stands up to him. And the people then respond to her. 'Yeah, he's a bully! Give him hell!' So I think they loved her because she did all the things that a good Queen Consort is supposed to do. But it's seeing the objects that really brought Katharine to life for me. They gave me an insight I could not have had any other way.
KATHARINE OF ARAGON FESTIVAL 2023
Wednesday 25 January

11.30am and 2.30pm Tudor Tours of Peterborough Cathedral
A guided tour of the Cathedral focusing on the sixteenth century and how dramatic events at the royal court played out here in Peterborough.
● Tickets: £8 per person.
Thursday 26 January

7.30pm Portraits of Catherine, online via Zoom
Prof Theresa M Earenfight of Seattle University will give an illustrated talk on the theme of her new book, Catherine of Aragon, Infanta of Spain, Queen of England. This is not a conventional academic study nor a biography, but uses material culture in the form of the clothing and shoes Catherine wore, the books she commissioned and read, the paintings and objects of art that she owned, to get a richer sense of who she was as a person.
● Tickets: £7 per viewing.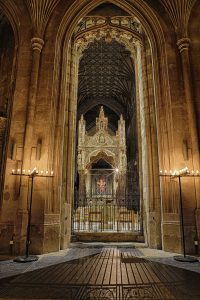 Friday 27 January
8.30am Roman Catholic Mass
Conducted by the clergy of St Peter and All Souls Church, Peterborough.
11.00am Commemoration Service with Wreath Laying
The Very Revd Chris Dalliston, Dean of Peterborough, will lead a short service of commemoration with readings and prayers. During the service wreaths will be laid on Katharine's tomb by school pupils and visiting dignitaries.
● All welcome. No booking required.
2.00pm Tudor Peterborough Walk, Meet at Peterborough Museum
Explore Peterborough's historic city centre with a costumed guide and find out what the city was like during the time of Katharine of Aragon. The tour then enters Peterborough Cathedral where you will hear about the funeral of Queen Katharine.
● Tickets: £7 adults, £5 U16s via peterboroughmuseum.org.uk or on 01733 864663.
5.30pm Vespers
Worship in a form that would have been familiar in Tudor times, sung by the Cathedral Choir.
● All welcome.
6.30pm-8.30pm The Cathedral at Night
Imagine yourself back in Tudor times when you drop in to spend time in the Cathedral after-hours! As you explore in atmospheric lighting, look out for members of King Henry VIII's Court, played by the costumed reenactors of Regal Rose Historical Portrayal. Expect a little sixteenth century music too, courtesy of Jay Britton of 'The Tudor Songbook'.
● This is a drop-in event. There is no fixed charge so please make a donation as you are able.
9.00pm Compline
A service at the close of the day, sung by adult members of the Cathedral Choir. Like Vespers, Compline would have been part of the daily Divine Office observed by the monks of Peterborough Abbey.
● All welcome.
Saturday 28 January
10.00am Family Service
A short service especially for families with children, with activities to commemorate Katharine of Aragon.
● All welcome.
10.00am–4.00pm At Court with the Tudors
All are welcome, especially families, to drop in and spend time in royal company, meeting Queen Katharine and her ladies. Look out for King Henry VIII himself too, and his right-hand man (for a while), Thomas Cromwell. The reenactors of Regal Rose Historical Portrayal will be chatting to visitors and perhaps inviting you to join in a Tudor dance! There will also be hands-on children's activities on a Tudor theme.
● This is a drop-in event. There is no fixed charge so please make a donation if you are able.
10.00am–4.00pm At Home with the Tudors, at Peterborough Museum
Travel back in time to the 1500s, with a chance to meet Tudor characters at Peterborough Museum. Try out some Tudor food and find out about life for ordinary people in the sixteenth century. There will be family craft activities and you can take a taster tour of the Tudor vaults of the Museum.
● Tickets: £4 adults, £3 concessions, £12 families, under 5s free. This is a drop-in event, so there's no need to pre-book. Last entry, 3.30pm.
11.00am, 1.00pm and 2.00pm
Old Scarlett Tours
This family-friendly tour of the Cathedral will be led by 'Old Scarlett the Tudor gravedigger', who lived to be 98 and buried both Katharine of Aragon and Mary, Queen of Scots.
● Tickets: £5 per person, £20 family (2 adults + up to 3 children) Children receive a free copy of 'Monks, Mischief & Marauders' activity book.
11.30am and 2.30pm Tudor Tours of Peterborough Cathedral
● Details as Wednesday 25 January
Sunday 29 January
Services take place at Peterborough Cathedral at 8.00am, 9.15am, 10.30am and 3.30pm.
10.00am–4.00pm At Home with the Tudors
At Peterborough Museum
● Details as Saturday 28 January
2.00pm Tudor Peterborough Walk
Meet at Peterborough Museum
● Details as Friday 27 January
● All events take place at Peterborough Cathedral unless otherwise specified. A booking fee applies to tickets purchased via TicketSource.
● More details and ticket information are on the Cathedral website at www.peterborough-cathedral.org.uk/katharine.aspx
● See also Peterborough Museum website at peterboroughmuseum.org.uk/events/katharine-of-aragon-festival-2023
Leave a Reply