Flora and Fauna: Burghley House's natural treasures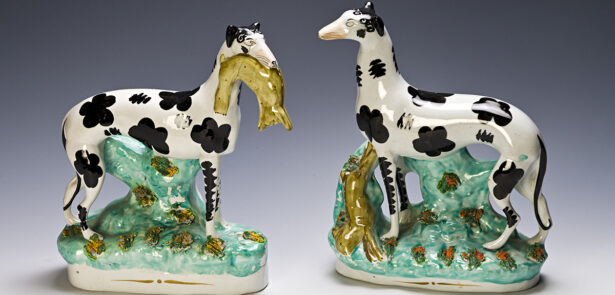 Every year since 2006, the curators at Burghley House have put together the Treasury Exhibition: a display of some of the most beautiful objects in the house not usually seen by the public (or not individually displayed), and following a different theme each year. We spoke to exhibition curator Carolyn Crookall about the inspiration behind this year's event, Flora and Fauna...
This annual exhibition has become a much- anticipated, well-loved event. How do you ensure it remains so fresh and original every year?
I'm always inspired by Burghley! Every year, we think of a title – a subject – for the exhibition, then we draw up a list of all the things that could potentially be in it. Since 2006, the list of things we've done has been very, very wide ranging, with the idea to show four or more pieces – they have to be fairly small because of the space – that aren't normally seen; they are either in storage, in the private apartments, or in open rooms but aren't necessarily noticed by the public, because the rooms are full of all sorts of amazing objects and they're often not easy to spot amongst everything else. It's my favourite time of the year; I absolutely love putting the exhibition together. We've had two great collectors here at Burghley: the 5th Earl in the 17th century, and his great grandson towards the end of the 18th century – so much of what is in the house was collected by them. Occasionally items will reappear because they fit into a different subject, but they will be displayed differently.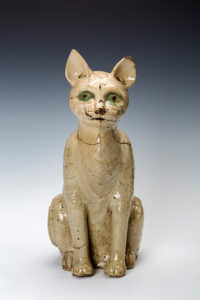 What sort of things inspire your choice of exhibition theme?
Burghley's head curator and I put our heads together and ask ourselves what we should do the following year, then we come up with a list of items that could be included and every year we end up saying, 'Oh my goodness me, we should have put that in!' – there's always so much to choose from. This year it is Flora and Fauna in Art, and we've tried to use as many items from different media as possible: we've got porcelain, there's some silver paintings, oil paintings, watercolours, some 17th century wood carving, Japanese export lacquer, we have some pietra dura, too. I've tried to choose things that show both flora and fauna! The curator's daughter brought in the most extraordinary piece of needlework made by someone who does embroidery of things like mushrooms and lichen, and that informed part of what gave us the idea this time around. One year we did the Georgians, and we chose things from the house that fitted into the Georgian period, then we did the Victorians, and we've also focused on the collections of the two countesses, Anne Cavendish and Hannah-Sophia Chambers. But it's always fun, because it is such an amazing collection.
It sounds as though you're spoilt for choice!
We have shown some things more than once, but they're displayed in a different space in different contexts – this means they can be viewed differently. It's also a good exhibition space, and the display cases are beautiful: they're lined with a duck-egg blue, and this, plus the lighting is so lovely, things seem to sparkle when you put them in the cases; they just come to life! It's a lovely way of being able to view things through a different eye, I think.
Tell me about one of your favourite pieces.
There's a Japanese cat, which is probably about a foot tall – he's just wonderful. The Japanese porcelain industry really kicked off in the mid-17th century when there was civil war in China, and the Japanese had just found the particular clay they needed to make porcelain – including this cat, who is just amazing, he has such attitude! Normally he's in one of the state rooms, but right at the back of the room, sitting in the fireplace. Now, we're focusing on him.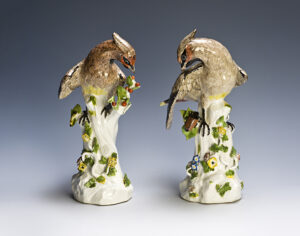 It sounds as though it's going to combine perfectly with the other thing Burghley is so well known for: the beautiful gardens and parkland.
I just love the park in the summer – you get family groups, people playing cricket, playing football, having picnics and so on. The park is really well used, and on a nice day you can come and do so much.
Your visitors clearly love Burghley. Do people come back year after year?
Not long ago I took some people around the house, and amongst the company was a little boy of about eight, and as he was going out of the final room I said to him, 'You've been so good, I hope it hasn't been too boring for you, you've been listening for a long time!' Then his mother said that actually, as a family they had never visited a house like Burghley before, but her son had come with a school group, and when he'd been asked what he would like for his birthday – and I think he'd been offered Alton Towers and Wicksteed Park as the other options! – he said, 'Please, can I go to Burghley!' And so the little boy was the reason for their visit!
You beat Alton Towers!
They were such a sweet family, and they said: 'We've never done this before, but we'll be coming back!' This little chap, having come with a school group, had introduced his parents to doing this sort of thing – that seems so wonderful to me.
Carolyn's must-see picks from this year's Flora and Fauna exhibition
Japanese porcelain cat from 17th century Kyoto
In Kyoto, where this cat was made, potters didn't have access to the clay needed to make the fine, hard-paste porcelain being created elsewhere in the country and in China. They had to lean in hard to their artistry, skill and resourcefulness, often leading to artworks that exceeded the beauty and charm of 'proper porcelain' from elsewhere.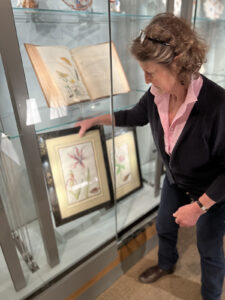 A pair of waxwings, by Meissen, modeled by Johann Joachim Kaendler, circa 1741
By 1710, German pottery company Meissen had perfected the art of hard- paste porcelain – the first in Europe to do so, and beating the English by a full 70 years! Kaendler was one of Meissen's leading sculptors, as these delicate, detailed waxwings prove.
A pair of Staffordshire pottery greyhounds, circa 1850
By the mid-1800s England had caught up with the technology needed to create porcelain and was doing a roaring trade in pottery, centred around Staffordshire (which still has an area called the Potteries). These greyhounds were part of the output from the Potteries at this time, which – thanks in part to new-fangled railways – was being exported all over the world.
The House and Gardens open daily (House closed on Fridays), from 10.30am – 4.30pm until 29 October 2023. Advance day tickets are available online from £18 for an Adult House and Gardens ticket, and £8 for a Child. Annual Passes are also available online. The Parkland remains open daily from 7am to 8pm or dusk, if earlier, and is free to park and enter (apart from special event days). Hide & Secrets Adventure Play will be open from 29 April 2023.
For more information, visit burghley.co.uk or follow them on socials @burghleyhouse, and facebook.com/burghleyhouseofficial
Leave a Reply