Circus of Horrors – 26 November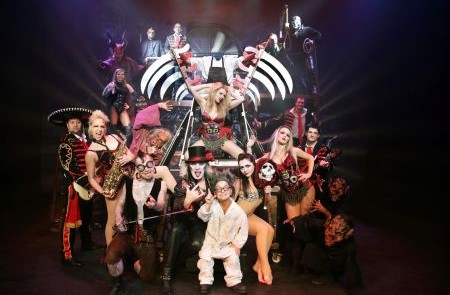 17 years after its conception at the 1995 Glastonbury Festival the show has gone on to tour the World achieving cult status and dragging Circus screaming and shouting into the 21st century and beyond.
The new sensation, A Valentines Day Massacre, which stormed into the finals of Britain's Got Talent is packed with new shocks that will take you on a whirlwind journey like a bat out of Hell into 1927 Berlin; this was the roaring twenties, a decadent decade, the birthplace of Cabaret & home to The Devil Doll, a demonic dummy that seems to have a life of its own.
The fearsome new show of phantasmagoric twists and turns will send a shiver down your spine as you watch the fangtastic Dare Devil & other bizarre circus acts from all four corners of the globe. You will be sitting on the edge of your seat, when you're not falling off them with laughter. All, of course, blighted by THE CURSE OF THE DEVIL DOLL!
If Quentin Tarantino had directed Cirque Du Soleil then you would be only half way there.
https://www.circusofhorrors.co.uk/
Time
19:30
Location
The Cresset, Peterborough,
Rightwell, Bretton Centre ,
PE3 8DX
Peterborough
Tickets on sale now https://cresset.ticketsolve.com/shows/873482376/events
£16 – £22, Concessions Available
Bringing a Group?
Contact the Box Office for group booking offers for 8 or more on 01733 265705.
'The Circus of Horrors completely WOWED the audience' – The Daily Mail.
'Bloody Marvellous' – Edinburgh Festival

'Blood Thirsty & Burlesque' – The Independent
'I loved it & I'm sure the royal family would love to watch this'. – Simon Cowell.

'Like The Rocky Horrors show on acid' – Amanda Holden
'I have never been as scared in all my life'. – Ant or Dec (never know which one's which).

'Totally Unbelievable' – Scott Mills, Radio 1
'You have to go & see this if, one day something will go wrong & you will be able to say I was there' – Graham Norton.

Leave a Reply