Blowzabella Festival – 27 to 28 April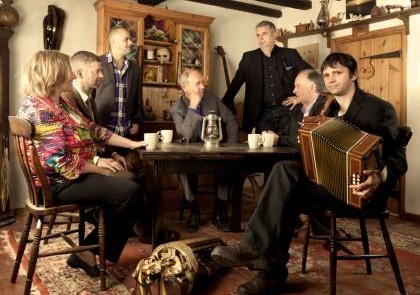 A day and two nights packed with dances, concerts, workshops, sessions with Blowzabella, Esquisse (Brittany) and guests.
Blowzabella produce an inimitable, driving drone-based sound played with a fabulous sense of melody, rhythmic expertise and sheer feeling. They have played everywhere from the main stage at Glastonbury Festival to the outer reaches of Brazil and West Africa. They compose their own music which is influenced by British and European traditional dance music. Many bands across Europe who experiment with the boundaries of folk music cite Blowzabella as a major influence. Andy Cutting- diatonic button accordion. Jo Freya – clarinet, saxophones. Paul James – bagpipes, saxophones. Gregory Jolivet – hurdy-gurdy. Dave Shepherd – violin. Barn Stradling – bass guitar. Jon Swayne – bagpipes, saxophones. www.blowzabella.com
Esquisse is the best young band to emerge from Brittany in the last 5 years and this is their UK debut. Thrilling music and virtuoso playing – they are in a completely different league to most bands playing traditional dance music. Pierre Le Normand – drums. Thomas Badeau – clarinet. Gweltaz Hervé – soprano saxophone. François Badeau – diatonic accordion. www.myspace.com/esquisselegroupe/music
On day one of the Festival – Saturday 28 April – there will be workshops between 10am-5pm, British and European folk dances, folk orchestra (playing and arranging folk dance tunes, (all ages, all instruments, all abilities), master classes in diatonic accordion, hurdy-gurdy, folk violin, bagpipes, and a Dance Tune Competition.
For full programme and further information, including workshop music and places to stay, go to www.blowzabella.com
If you have any queries or questions phone Paul James on 0788 794 8853.
Tickets prices:
Friday and Saturday ticket for everything – Adults £52. 16 years old and under £12
Saturday workshops and Saturday night dance – Adults £38. 16 years old and under £10
Saturday workshops only (10am-5pm) – Adults £25. 16 years old and under £5.Friday night dance – Adults £15. 16 years old and under £5. Saturday night dance – Adults £16. 16 years old and under £5.
Stamford Arts Centre box office 01780 763202
www.stamfordartscentre.com
Leave a Reply