Pets enjoying the prime of life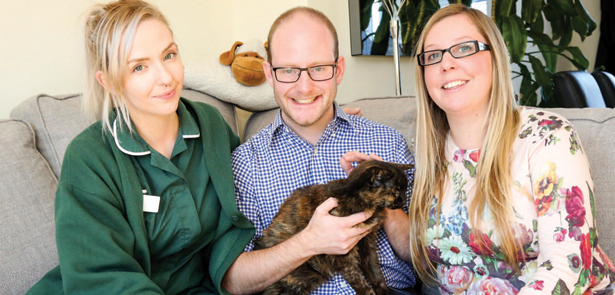 Like us, pets are living longer. In fact, it's estimated the lifespans of our dogs and cats have doubled in the last 40 years
Pets can't take responsibility for their own care, so vets and nurses rely on owners to keep an eye out for signs of change in behaviour and poor health, so they can be treated and enjoy each other's company for a while more. The practice team at Best Friends Veterinary Group in Peterborough get to see some gracefully ageing pets, including 10-year-old German Shepherd Cassie, and Pickle, a cat still strolling around her owner's home in central Peterborough aged 24.
Their owners have great pride in their beloved senior pets and reveal more about how they have adapted to later life and how they are supported by their vet practice in their twilight years. Losing a beloved pet is a challenging, often heart-breaking time. Advances in medical care and nutrition are helping our pets to live longer, but there is still a role to play for pet owners, to give those treasured extra months and years of fun and love.
Best Friends Veterinary Group get to see some longstanding patients, many whose owners have been taking them in since they were a puppy or kitten. One is Chas Moody, from Parnwell, and the owner of two dogs, one, Cassie, is now in the prime of her life. Chas said: "We bought her when she was 18 months old and it is the best money we have ever spent. "She was found locked away in a shed and was thin, dehydrated and very scared. She had either been abandoned or deliberately locked in. It was terrible to think of. "We bought her off the person who rescued her and initially she was very shy and wary but her personality developed through love and attention." Chas started to notice changes in Cassie's health a couple of years ago. Cassie is treated for cancer of the foot and also has glandular issues.
Chas added: "The team at Best Friends do a great job. Cassie recognises the team when she visits the practice and she loves the attention she gets." Despite these health matters, Cassie still enjoys her walks and likes nothing more than chasing an old leather football around Peterborough's Nene Park. When Pickle the cat was born, Eric Cantona was firing Manchester United to the league and cup double in 1994.
This affectionate and gentle cat has spent more than 24 years as the focal point of the Green household in central Peterborough. John and wife Katy put Pickle's advanced age of 24 down to her loving nature and her ability to overcome the health problems that have come her way. The Green's started to notice a change in Pickle's health when she was around 17. This has included arthritis and teeth problems, but regular trips to Broadway have kept her happy in her old age. Best Friends Veterinary Nurse Abigail Box said: "Her owners take great care of her and are really attentive when it comes to looking out for signs of change. "These signs we ask owners to look out for include reduced movement, exercise intolerance, eating less, smelly breath, coughing, cloudy eye and bumping into things."

If you want to speak to the Best Friends team about a health check for a senior pet please call the main hospital in Peterborough on 01733 562904 or visit www.bestfriendsgroup.com for further information.
Leave a Reply