Pet answers: hot weather pets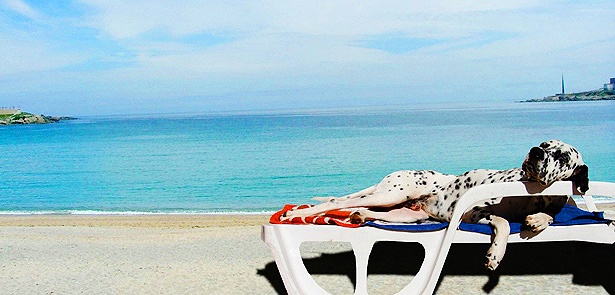 Don't settle for pet theories, get pet answers! Veterinary surgeon Holly Norman answers your animal health questions
My friend said I should be putting sun-cream on my dog's nose and my cat's ears as they can get sunburn. Is this true, and if so what kind of sun-cream should I use?
Your friend is right! Dogs and cats with white ears or noses are susceptible to getting sunburn, just like humans. In severe cases sunburn can develop into squamous cell carcinoma, which is a type of skin cancer. During the summer months we would recommend applying a sunblock to pale ears and noses at least once daily. Many pet shops now stock cat and dog-friendly sun-cream.
We're thinking about getting a kitten but there are so many places to get them from! Where do I look to make sure that I make the best choice for my family?
How wonderful! I can still remember how exciting (and daunting) it was when I brought my own kitten home for the first time! It can be tricky trying to find the right one as there are many websites and selling pages that will have kittens and puppies for sale. The good news is that there are lots of reputable places to acquire your new feline friend. If you are looking for a particular type of cat, there are many excellent breeders about that can talk you through the characteristics of the breed, their requirements and any health issues that may occur. For example, owning a Bengal or a Siamese may require more in-depth knowledge than you think! If you are looking for a 'moggy' or just a family pet, the best option is to contact some of the local charities. The Cats Protection League and the RSPCA often have lots of kittens looking for homes and can help to talk you through all that is needed. Usually, the kittens have already been microchipped and vaccinated and sometimes the charity will cover the cost of neutering as well. Whether you are getting your kitten from a breeder or a charity, make sure you visit them at least twice before making a decision. The breeder or fosterer should be happy to answer any questions you have about caring for your new kitten, for example, what is their current diet, have they been treated for fleas and worms and when are they next due parasite treatment and vaccination? As an aside, please keep an eye out for black or black and white kittens. They are often overlooked in favour of the flashier looking ginger or tortoiseshell ones but make just as good pets!
I've heard a lot of reports of Alabama Rot and I'm worried about walking my dog. Is there anything I can do to prevent him getting this?
Idiopathic Cutaneous and Renal Glomerular Vasculopathy, also known as CRGV or Alabama Rot, was first seen in greyhounds in America. Since 2012, several cases have been confirmed in the UK. Scientists are still unsure what actually causes the disease and there is no specific test for it. The first sign is usually a small skin sore on the lower limbs and these can be red or raised or look like ulcers. Symptoms then rapidly progress through vomiting, no appetite and tiredness as kidney failure develops. If caught early, most dogs recover from the disease but there have been reported fatalities. Unfortunately there are no known preventative measures that dog owners can take at this time, but the good news is that this disease is extremely rare. There are many other causes of skin sores or the other symptoms that are much less serious and your vet will be able to discuss these with you. We would recommend checking your dog after every walk for any suspicious wounds or sores and if you have any concerns, then contact your vet.
Do you have a pet or animal health question? Send it to us at: . Holly will endeavour to answer all questions, whether published or not!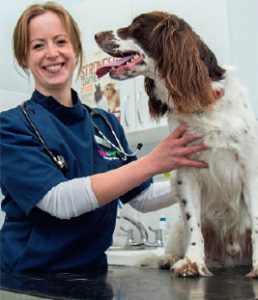 Dr Holly Norman BSc (Hons) BVetMed MRCVS veterinary surgeon and Joint Venture Partner at: Peterborough Vets4Pets 231-233 St Paul's Road Peterborough PE1 3RL Tel: 01733 890777 & Bretton Vets4Pets Inside Pets at Home Unit 2 The Bretton Centre Peterborough PE3 8DN Tel: 01733 261094   
Leave a Reply