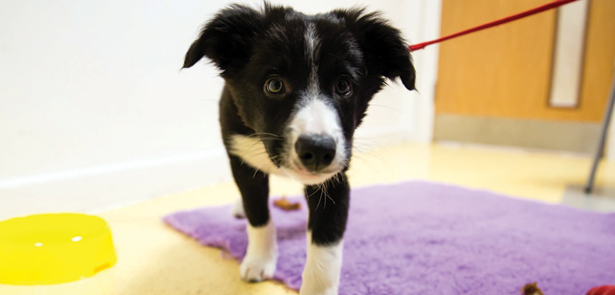 It's never too early to start training your puppy for a happy, confident life
Most puppy training classes welcome vaccinated pups around three months of age, but it's never too early to start your training, as positive experiences during these important early days are crucial to helping puppies become happy, well-adjusted members of the family. Good breeders start socialising their puppies from birth, and this should be continued by new owners from the moment they bring their fourlegged friend home at around eight weeks of age.
But what does this actually mean? Socialising means exposing puppies to all sorts of social situations in a happy, enjoyable way, by always pairing these with pleasant things like tasty treats and fun games, so puppies won't feel worried by these when they're older. They should enjoy plenty of play time, learning to share toys, have calm, gentle interactions with visitors and generally spend time relaxing around people talking, to help them get used to background noise. When socialising, it's important to ensure puppies don't become overwhelmed by too much happening all at once, so they can always feel confident about the world around them, and it's helpful to be able to understand how they're feeling. Dog School classes teach you how to do just that, as well as guiding you through teaching your puppy a huge variety of vital skills to help them lead confident, relaxed and happy lives in our human world.
Dog School also helps owners get puppies used to items they might commonly see people with once they start getting out into the wider world, so they won't be worried should they come across them – for example high-visibility clothing, bicycles, raincoats and walking sticks. This is also the ideal time to start exposing puppies to a range of noises so that they don't develop a noise phobia such as firework fear later in life. Initially, noises should be presented at such a low volume that puppies do not respond negatively, and then volume levels gradually increase throughout progressive sessions. It's a good idea to ensure puppies will experience a range of household and outdoor noises (including fireworks and thunder) before they are exposed to these in real life.
Dog Schools thoroughly prepare puppies for success by introducing all these items in a safe way, ensuring puppies associate them with good, fun things. Owners can also help puppies by spending time getting them used to being handled, and exposing them to a variety of different textures and surfaces, such as newspaper, carpet, laminate and rubber. Dog School classes guide owners through this every step of the way so puppies graduate feeling as comfortable as can be.
Dogs Trust Dog School
For many more ways to make life for you and your dog a walk in the park, visit Dogs Trust Dog School. This national network of experienced trainers provides fun, educational courses for all dog owners. Based on up-to-date scientific research, our trainers use only reward-based training methods to help you enhance the bond between you and your dog. Small classes of six dogs and two trainers mean you get the oneon- one time you need to learn effectively and most importantly, have fun! Courses are five weeks long, with a free introductory session.
To find your nearest dog school in Peterborough and Cambridgeshire visit www.dogstrustdogschool.org.uk and take your first step to making the most of your relationship with your four-legged friend now.
Leave a Reply