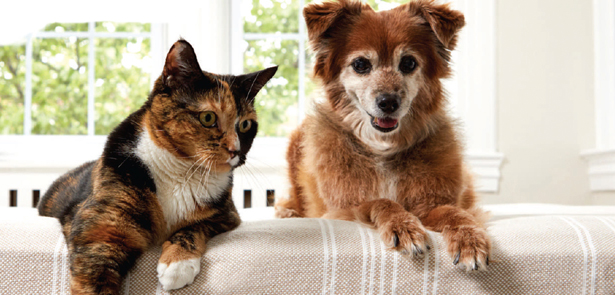 No day at a Best Friends Vet Group practice is ever the same. While true much of the time is spent caring for people's pet cats and dogs, sometimes a more unusual face will arrive in the practice's reception. Discover a little more about the unusual side of day-today life in one of the largest vet practice groups in the region
With Cambridgeshire sites in Peterborough, Whittlesey, Chatteris, March, Wisbech, Yaxley and Huntingdon, Best Friends Vet Group teams often get to treat patients a little out of the norm. This was recently the case at the Whittlesey practice when a baby seagull was brought in after being found nestled beside his mother who was killed in a road accident. On examination it was found that the abandoned gull was healthy, and the practice team gave the gull the name Happy Feet because he was always dancing around.
He was looked after by receptionist Kim Jackson until he was ready to fly the nest. Kim, who has worked at the practice for two years, said: "I took him home to stay in the aviary we have in our garden. He loved having a cooling dip in the paddling pool and we fed him on a diet of tinned fish and mackerel until he was ready to fly." The Best Friends Veterinary team in Whittlesey is no stranger to looking after injured and abandoned birds, also caring for a tiny blackbird this summer.
At the group's Chatteris practice, team members put out an appeal for the owner of a cat who had been brought to them after he was found in the back of a delivery van. The driver of the van only noticed his stowaway visitor at the end of his working day where he had stopped at various locations across East Anglia. In a display of partnership working, the Best Friends Vet Group teamed up with Fenland Animal Rescue to look after the calico cat while the hunt for her owner took place.
Thankfully, the appeal worked, and the owner of the cat came forward. The tabby called Pandora is now safely back at her home in Ipswich. Richard Brooks, Area Manager of Best Friends Group, said: "Our teams pride themselves on offering a high standard of veterinary care and advice to customers and their pets and playing a role in their community. "With the more unusual cases like we have seen in Whittlesey and Chatteris this summer, it really shows our teams going out of their way to try and make sure each case that comes through the door results with a happy ending."
Other ways practices involve their community include free lunchtime sessions for owners to come in and learn about the basics of first aid, so they are prepared to tend to more minor pet ailments and complaints. These are successfully taking place at the Yaxley practice at present. Best Friends Vet Group aren't just based in Cambridgeshire. The group run more than 20 other practices in Lincolnshire, Essex, Northamptonshire and Leicestershire. Educating owners on caring for their pets is always high on the agenda.
Now, as the season moves from summer to autumn, it is the time for owners to be aware of changes in their pets' habits, particularly older animals. The colder weather can be tougher on old muscles and joints and the chilly outdoors can make exercising problematic. Older pets find it harder to regulate their temperature. For this reason, it is vital to put their beds somewhere safe and warm as the nights draw in.
● Best Friends Vet Group practices are always on hand to offer help and advice throughout the whole life of your dog or cat – if you have any questions please call the Broadway hospital on 01733 562904 or visit www.bestfriendsgroup.com for further information.
Leave a Reply