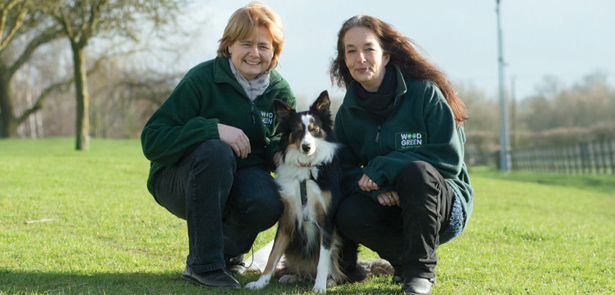 Wood Green, The Animals Charity offers a free service to help all pet owners with any questions they may have about their pets. You can talk to them about pet advice, pet care and pet behaviour
Linda Cantle, Wood Green's Director of Animal Services explains: 'Our 90 year history of caring for pets means we have a huge bank of knowledge and our team of experts are a trusted source of advice about every aspect of pet care. Everything we do is about keeping pets healthy and happy in their homes and we do all that we can to help.' Whether dealing with a pet owner or people who are considering having a pet in the future, Wood Green can provide general advice to more intense support. If looking for a pet, Wood Green carefully match every pet looking for a new home with the personalities and lifestyles of owners. They help and guide you through the homing process with knowledge of each pet's individual lifestyle needs, any training needs and any medical issues he or she may have — a pet they have taken the time to know.
The Wood Green team provides a unique mixing service to help pet owners find their small pets a well-matched companion. Christina Lines, Small Animal Rehoming Manager explains, 'Many small pets are sociable animals who need to live with a friend. From grooming and snuggling to playing, small pets rely on each other to keep them happy and healthy. The mixing service takes the hassle out of mixing at home, we provide neutral territory and experienced staff to closely supervise and monitor the pets.' Wood Green's dedicated teams believe owning an animal is one of the most rewarding things you can do and are there to listen and give you the help you need. From coping with a new puppy to advice about preparing a pet if you're about to move home, Wood Green has years of experience. Their experts continuously help pet owners and their pets to live in harmony and get the best out of life.
From health to wellbeing tips, the Wood Green team can also deliver pets' health checks near you and help with practical advice. Recently Alfie, an elderly Border Collie, was petrified of going to the vets after a scary experience. And Alfie's owner was concerned he hadn't been checked over in a long time, especially in his old age, nor had anyone been able to clip his claws, which were too long. After attending Wood Green dog Health Checks and receiving some initial training advice from their experts to get Alfie used to being touched, Alfie returned for a second check, where, with a little encouragement using the aid of hot dog sausages, the Wood Green team were able to clip two of Alfie's claws! Using their advice and guidance, Alfie's owner went on to practice nail clipping at home, and when they returned for their third visit Alfie had the perfect pedicure, and was a happy, healthy dog.' Of course, life can also be unpredictable and if pet owners are no longer able to care for a pet, Wood Green offer help with that too.
● To contact Wood Green's pet advisors, call 0300 303 9333 ext. 1281 or
Leave a Reply