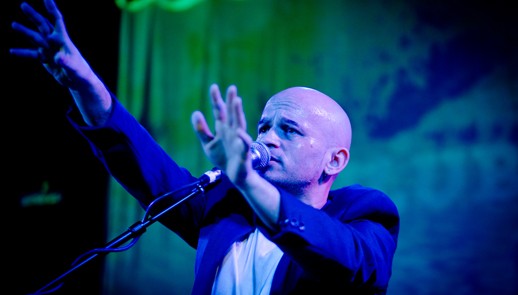 As the music industry seems intent on creating contrived bands, plastic solo artists and predictable pop songs, breathe a sigh of relief that there are artists like Paul Archer in the world.
A burning passion for creativity
Belfast-born Paul now lives in Laxton, just west of Peterborough with his family.
We moved here after living in the Fens for a few years; I love looking out of my studio window and seeing a herd of deer wandering past. The massive sky-scapes of the Fens have been replaced with forestry and undulating hills, it's chalk and cheese really. I feel grateful that this is such an inspirational part of the world to live and work in.
Thinking about thinking
Talk to Paul for any length of time and it's impossible to ignore his immense intellect. In conversation he verbally explores concepts of metaphysics, collective consciousness, science, spirituality and metacognition – thinking about thinking. It's clear he swims a sea of self analysis and dives deep to find his own truths. Listening to his music you can hear and feel that thought. It's fundamental to his composition and being.
The Burning Codes project keeps me healthy, whole and in touch with reality. It's a focus for my thoughts and a channel for my observations, hopes and desires.

All of us are programmed by our life's experiences, for better or worse. We are the product of other people's expectations and the requirements of society. But rooted within us all are our own Burning Codes; sometimes suppressed and neglected. Our own voice, creativity, expression and self. It's all there waiting to be released.

As a society, we tend to categorise people, just as we categorise and pigeonhole art, literature and music. We have our genres and fashions, but my writing is about breaking away from that and acknowledging that some things simply resonate with us, either as individuals, or as a group of people.
Ultimately Burning Codes is about self empowerment and encouraging people to peel back the layers and express themselves without fear, to revel in being who they really are, rather than what they've outwardly been conditioned to be.
The creative process
I'm not a writer of pop songs and the demands of the industry just don't work for me.
The whole process of creating Burning Codes music is an organic one. Sometimes, I just play a series of notes and cycle them, with no sense of structure. I follow what resonates inside and work with it. It may happen suddenly or take a while, but that's my starting point and I build from there.

I began experimenting with dronal ideas sometime ago now, being moved by Krautrock and bands such as Neu and Can. The repetition, stripped down simplicity and relentless pulse attracted me. Married with other influences, The Velvet Underground, My Bloody Valentine and Pixies, I guess I ended up where I am now, but there's a lot of me in there too.

Writing is an individual process and a personal one, but the content can be born of shared experience and my desire is to exorcise that shared experience through the creation of music.
Many of Paul's ideas are purposefully simple and it's that simplicity that gives the songs space and beauty. The songs are formed from the pure and the raw, the melody and the dissonance, the chaos and the order, with themes revolving around empowerment and empathy.
Holding the paint brushes for a Michelangelo
Although individual in creation, Paul is collaborative in performance, whether recording or performing live. The Burning Codes family is a fluid and diverse one, with people moving in and out, but with Paul always the driving force at the heart of it.
One such family member is Peterborough musician and multi-instrumentalist Mark Ringer:
Paul is a very honest, deeply-affected character with an absolute understanding of what he is trying to do artistically. I personally don't get creative when working with him – I just let him tell me what he needs, then play it. He respects that and we and both reap the rewards.

I feel like I'm just holding the paint brushes for a Michelangelo, but that in itself is a privileged experience for me.
The collaboration has included brother Iain Archer, singer-songwriter and frequent performer with Snow Patrol among many others.
"He's won an Ivor Novello award for his song writing work with Snow Patrol and his solo work has won critical acclaim as well. He's produced some great work with Example (Elliot Gleave) and we both love collaborating with other artists."
"We don't actually gravitate towards the same music, which is why I enjoy working with him. Iain has a different perspective, which just adds to the whole".
Disraeli Gears, The Ghears and Snow Patrol
In the 1990s, Paul began song writing with Iain. As the songs emerged, they moved to performing live and soon formed Belfast's Disraeli Gears, often playing aside newly-formed Shrug, later to rename themselves Snow Patrol.
Iain later moved to Scotland and started his solo writing and recording career and sometime after that, drummer Jonny Quinn joined the fledgling Snow Patrol.
Disraeli Gears had become hugely successful in Northern Ireland through the 90s, with albums, touring and TV appearances, but a base nearer London was the next step. "We moved from Belfast to the Fens to be closer to London and became The Gears in 1998. Later an H was added, due to confusion with an American band and the name The Ghears was settled upon".
"We had a successful period on Rolled Gold records, before the label went into liquidation in 2003. After that, we picked ourselves up again, found new backing and carried on touring and recording, completing three productive tours with Snow Patrol and one with Mooney Suzuki".
"By 2008 and many years with one band, we were all drifting into new projects and I started to look at the practicality of working solo."
The idea for Burning Codes came as I realised that I needed to start again. I wanted to destroy my comfort zones and lay myself bare musically. I found that by taking myself away from what was familiar, I became more creative in a different way and what I produced made me more complete.
Iain Archer having gone through the process himself, helped Paul install some new technology that would give him the independence he was seeking. Iain was on hand to co-produce tracks and act as a technical guide, a task he still performs to this day, as and when time and commitments permit.
The collaboration with Snow Patrol continued and Paul contributed vocals to five tracks on Snow Patrol's Eyes Open album and the links from the earliest days as musicians remain strong.
Awe and the trigger
Paul's artistic influences are wildly eclectic and eccentric. "Barnett Newman's painting and approach to art really knocked me for six," he said. "When I first saw some of his more abstract expressionist pieces, they triggered in me a deep sensation of awe and it felt like a physical manifestation of something right down in my soul. That sense of awe is something I treasure and tapping into it is crucial to the way I work and what I'm trying to create."
Facilitating in mental health brings him into contact with a variety of approaches and professionals and he's done a lot of background reading into psychoanalysis and the workings of the mind.
"I've been studying personal recovery, hope and how people develop or find again a renewed sense of purpose and dignity. How people rationalise life and the world around them is fascinating. The mind is difficult to measure and work with. Some people will try to use drugs to deal with the problems that the mind can manifest, but until we understand how a mind works, trusting drugs alone may not always be the best way to help people."
"I introduced myself to the writings of Carl Jung. I find his ideas on the collective unconscious, memory and dreams fascinating. I became more open to the abstract and started reading earlier works of the 12th century mystic monk Meister Eckhart. Here I found thought provoking ideas about the sublime and the soul. Eckhart was a monk, poet, feminist, philosopher, theologian and mystic. His work is inspirational for me when creating music."
They made their own music on their own terms.
"I can appreciate classical music, however I feel there are tremendous untapped wells of inspiration from a sense of continuum as often expressed in more dronal forms of music, with music of all ages having an influence on the next generation. I've listened to avant-garde musicians like La Monte young, but find that I keep coming back to people like My Bloody Valentine, Cocteau Twins, Sonic Youth and the Pixies."
"As I said earlier, but to elaborate, I guess one of my prime musical influences would be The Velvet Underground. They made their own music on their own terms and were not part of a musical genre, but highly individual at the time. They were one of the most important groups of the 60's and they took their influences and musical sound from everywhere around them".
"I love taking different ideas and bringing them into the realm of music, so that the outcome is much more than a traditional pop song in its structure and content. With the use of layers of sound and great guitar, violas and Moe tucker's incredible and unique approach to drumming, The Velvet Underground remain a huge influence on me"
The output from Paul's early days shows his individuality and refusal to conform to pop music norms. The first album – Burning Codes – was recorded on just one microphone, created by Paul as he looked out of his studio window at herds of deer coming through the forest.
"I just set up a single mike and started recording," he explained. "I knew what I wanted from the music, but not how I was going to achieve capturing it. I was technically handicapped and didn't even know how to drop in. In the end however, starting from the ground up helped me understand where I needed to be both creatively and sonically".
"The whole first album was me, sitting in this one room, playing all the parts in the moment. If it felt or went wrong, I just started over until I knew it was right. Once it was finished, Iain helped me mix a couple of the tracks and we had some help recording a string section for Whirlwind, but otherwise, it's all me.
"As the album was being finished, it really felt like the birth of something. Burning Codes had become a real project, with something tangible to show for the months sat in my studio. I had taken an anarchic, unorthodox approach and yet it felt like I'd achieved something very melodic, full of deep harmony and yet utterly simple."
The songs gave Paul liberation from the past and a sense of what the future might hold. The sound of that first album is almost live, with an over-spilling of sounds and beautiful harmonies with an ethereal, emotional quality.
Hot Press Magazine said of Burning Codes:
A truly remarkable debut album…mysterious, melodic, beautiful, eerily intimate…gorgeous harmonies.
Burning Codes 1 and 2 were the starting point for the larger project and gave Paul the opportunity to reproduce the studio sound on stage, bringing in all manner of musicians and artists to help interpret his writing. "The project is my solo effort, but it's not all about me," he said, just to clarify the difference between the live and recorded output.
"Everyone on stage makes a contribution and it's all about our intention when we step out there, making the best of the moment when we're all together. It's music that I've created, but the performance is very much a collaboration."
Burning Codes 1 was aired on BBC Radio 6 and the live band have supported Snow Patrol, Lisa Hannigan, Elbow and Duke Special.
Rivers of Hope
June 2011 saw the release of the third Burning Codes album on Indiecater records. They've said about Rivers of Hope:
Positivity abounds, redemption is always possible and hope is all around. Archer's gift is that he is able to turn such lofty concepts into something so beautiful … and we feel privileged in having being part of the grand journey.
With radio station interest, including Radio 1 airplay on Zane Lowe's evening session, there's a buzz around Burning Codes that the new album has fuelled. BBC Northern Ireland and BBC Northampton also got in on the act and the Rivers Of Hope video by Dan Donovan was aired on the big screens at the BBC Music Video Festival.
Burning Codes is increasingly picking up interest from the music industry. Music magazines and online webzines are publishing features, even if they're struggling to categorise the music and the 'band'. "I'm not surprised that the industry finds it hard to put Burning Codes into a box," Paul said. "We're not a traditional band and it's about more than the music. It's about encouraging people, seeking liberating them to go deeper, above and beyond in order to rediscover their own Burning Codes inside."
It seems the music industry is more focused on celebrity than ever before and it appears that in these times it's not often actively facilitating an environment where musicians can really feel empowered and liberated to express the fullness and depth of their creativity, yet surely this is one of the wonderful opportunities music offers out to us.
"One album and one person – even the group of people now behind Burning Codes – certainly isn't going to change that, but maybe I can show that you don't have to always reduce everything to a one-word explanation. Just because you can't categorise something, doesn't mean that it's not worth taking time to understand."
And so, we're back to collaboration. Rivers of Hope features Iain Archer, Snow Patrol's Nathan Connolly on guitar, as well as Athlete's Carey Willetts and Steve Roberts. "It was great to get them involved and they completely understand the music and the fact that it has to come right from your soul if it's going to be right."
Each track on this latest album expresses Paul's deep desire to connect and to communicate: the lyrics speak of hope and address your soul directly. At a time when life seems to be increasingly reduced to codes, Paul's music is about the inner messages that we would all do best to listen to. A sense of energy comes first from Paul's voice, although he talks about the composition process as music first and the lyrics sitting on top.
The words come later and from the deepest core of my being. I've always written from the heart and with feelings. What I want is to bring hope to people. I want them to get in touch with their own burning codes and uniqueness.
The first track on the album is We Are Like Gold and Paul truly believes that people are "precious". There is something about the simplicity of the track and the message in the lyrics which belies Paul's assertion that language is pale compared to the music. Perhaps it is more that his words need the music to bring his language to life.
As the title track declares: "Rivers of hope flow through us": across all the tracks, there is a sense of the burning intensity of Paul's passion for life and for music. "I don't want to live my life asleep. I want to be awake and aware as long and as much as possible. Awe and hope are huge things in my life and expressing those is part of what Burning Codes is all about."
Perhaps the most 'commercial' track – if such a word can be used in any article about Burning Codes and Paul Archer – is Switch, featuring Carey and Steve from Athlete. Again, there's the melodic bass and the singing guitars above, with vocal lines that stick in your head. The whole album features layer upon layer of harmony and depth.
Paul is consistently passionate about Burning Codes and how Rivers Of Hope expresses his message:
Sometimes we get so caught up in the minutiae of day to day existence we forget how significant this short time we have is. I hope that the rivers of empathy, light, life, compassion, honesty, openness and joy which pervade the deeper nature of this album will be felt by all who listen to it. This album is really intended to be a celebration of who we are both as individuals and as whole beings on our journey through this experience we call life.
The Burning Codes and this album is expressed clearly in a single line on Our One Desire: "Stretching our souls in pure sound". If Paul could do that – could stretch all our souls to the very limits of their potential within the sound of his music – I think he probably would. He would make us be the best people we could be.
"Burning Codes is an excursion into the unknown, freeing and liberating me from the past," Paul said. It's also giving him the opportunity to express some deep, intense emotions about life – his own and ours. There is a sense that he sees what is happening to others and responds to it within the music of Burning Codes, which is why the lyrics are sometimes uncomfortable to listen to.
I want to place the project at the feet of those who rarely know how to free their own creativity.
"We could just set up in the middle of a room and help people find the spark for their own place to be creative. A tiny moment can be a massive jumping-off point: I've seen this kind of experience change people's lives."
One of Paul's most rewarding collaborations was with Paul Martin and students at Latimer Arts College Creative Diploma group. "The students took the theme of domestic violence and listened to all the Burning Codes tracks, one after the other," Paul Archer explains. "They came up with some incredible, courageous and powerful performance work based on their instinctive responses to the songs. It was certainly inspirational to watch and something I intend to repeat with other groups in a variety of environments".
New album for 2012
"The new album is being worked on right now for a 2012 release and I've already gigged a handful of the songs to be included on it. They're works in progress, but I'll get down to the serious business of completing them after the Christmas break".
When starting to write the new album, Paul wished to stretch himself again, he would remove the security of the creative processes of the past and try something fresh.
"I decided to write using the piano: mainly because I didn't know how to. I'd had a few lessons when I was a child but this was a really new experience. I was searching again for the right sound – harmonies, chords and structures."
"I'm also looking for the right engineer and possibly co-producer to work with on the new material and it will be recorded in several different studios this time around. I would like a little more orchestration and choral input too. I have new ideas sonically I want to pursue and they can't all be explored in my own studio".
2012 and the future
It's certain that Burning Codes will continue to evolve. Fluid movement is part of its attraction, for Paul as much as for his audience.
Shows and interactions are being lined up for next year and locally Burning Codes will be appearing at The Willow Festival in Peterborough at the end of May 2012.
Through his art, Paul will continue to encourage everyone to be more in tune with the internal codes that burn within each one of us. The fact that he believes everyone has those codes is a judgement in itself of the man. Never a weak-willed do-gooder, Paul is a strong, resourceful human being who genuinely believes that rivers of hope run through every one of us.
Leave a Reply