Open Mic Night at MYU Bar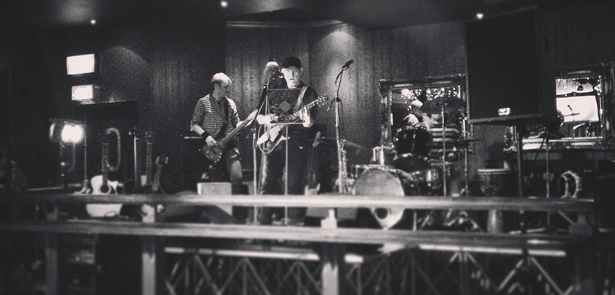 Are you looking for somewhere to showcase your talent, an audience to appreciate your music and quality instruments to perform on? Then your search is over!
As open mic night rocked  MYU bar for the fourth week running, The Moment magazine went down to check out local performers taking to the stage.
Previously at Attica, the night has now moved to MYU and takes place every Wednesday night with a mixture of new and returning performers.
The event supplies all you need for a professional performance including a stage, lighting and instruments as well as a quality sound system. Full 4K+ band PA rig is installed, with monitoring and an experienced engineer to help you with your sound. All you need to bring is yourself!
Musicians can of course take their own instruments but plenty are provided, from electric guitars and a drum kit to bongos and tambourines. Instrument in hand, take to the stage and perform either solo, with friends or within a band. On the night musicians even jumped in on each others' performances to add their voices or instruments of choice to mix it up, creating a lively atmosphere with a mixture of original material and covers.
We caught up with Andy Hughes the first performer of the night, who later took to the stage for a second time and for an 'epic jamming session' as one audience member referred to it.  Andy, who played both the guitar and drums, travels in from the outskirts of Peterborough and has been a regular for years. He told us how much fun the night is and that, 'It is a great opportunity to perform to an audience and practice for upcoming gigs, as well as a chance to meet other musicians and perform together.'
There is something for everyone, with a wide range of genres of music and ages taking part. Organiser Mark Ringer told us 219 separate acts took part last year with several of them returning week on week. He informed us, 'The night is also open to 16- and 17-year-olds, although they must bring a parent or adult with them,' to give youngsters the chance to perform on stage and take advantage of the use of instruments. The venue also boasts a late license, Mark tells us, 'We're always here to at least 1am and we have been known to run past this on occasions.'
Entrance is free, just turn up on the night and sign up. Each musician performs up to three songs, but can sign up to perform again later. There is even a free drink for every performer!
Not a musician looking to perform? Then why not head down and enjoy some mid-week entertainment. Have a drink in the spacious comfortable surroundings provided by the bar, support the musicians and hear some great music.
Whether you fancy performing or just heading down to enjoy some great music, open mic night takes place at MYU Bar on New Road every Wednesday from 7pm to 1am. Find out more: telephone 01733 898005  or visit www.liquidclubs.com/peterborough

Leave a Reply