Classical Reflections: "Ricky is a really down-to-earth person, he cares so much about his acts"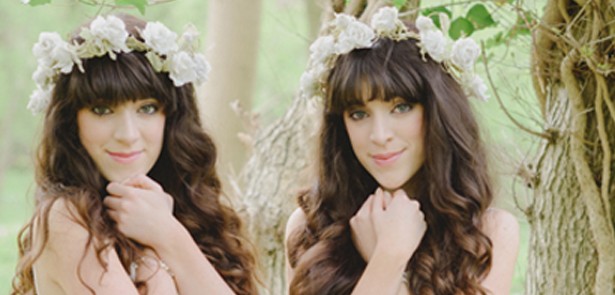 Peterborough twins and classical singers Naomi and Hannah came to our screens this year on The Voice, making it all the way to the battles with Ricky Wilson as their mentor. Now they are set for an exciting summer, including a debut single and a performance at the John Clare theatre. Ellie Roddy caught up with the girls to see how things have changed for them since their TV debut
You were on The Voice this year, have you done anything like this before?
We actually haven't ever entered a TV talent show before, so it was all a very new experience!
What was it about The Voice that appealed to you, have you thought about auditioning for any other talent shows?
What appealed about The Voice was its amazing talent of the contestants, we felt that everyone was portrayed in a flattering way and you get looked after really well! We did consider other TV talent shows, however we felt The Voice was right for us at the time!
What was the reception like in Peterborough after you appeared in your first episode?
When we appeared in our first episode we had such a lovely reception, it was very overwhelming and we felt so lucky to have so much support! Maybe because we are twins we are a bit more recognisable, but we always love having a chat to people who come over!
How have things changed for you since appearing in the show?
We have had some exciting changes since The Voice, we are releasing our first single in June! We are doing a concert at the John Clare Theatre on the 5 and 6 of June, we are really excited about it!
How did you feel performing in front of four superstars and millions of viewers?
We never really thought about it to be honest the whole day of the audition because the production team kept us so busy. However when we stepped out onto stage we felt the most nervous we have ever felt performing! When we sing the nerves seem to go away, it was the talking afterwards that was scary!
What was it like having Ricky as a mentor?
Ricky is a really down-to-earth person, he cares so much about his acts. We were so lucky to have him as our coach!
Did he give you any advice that will stick with you?
He actually gave all his team a personal message. On ours he wrote a lovely quote that will stick with us. 'Never above you, never below you'. Apparently he says that to his group (Kaiser Chiefs) before going on stage.
You sung a beautiful version of The Living Years by Mike and The Mechanics in your battle against Emmanuel. How was it and how did you feel to leave at this point?
We loved singing In The Living Years, we especially enjoyed singing with Emmanuel. We all got along so well! We decided to not battle but instead just sing together, which we felt came across. We are not competitive people so getting to the Battles was a massive achievement for us anyway and has given us a great platform.
Before the show you were teaching children to sing, do you still do this and what did you learn on the show that you can now pass on?
Yes we still teach children how to sing. We feel so proud of all the little singers we teach, we have no doubt that in the future you will hear of them. Maybe on The Voice!
Before the show you had been performing in Peterborough for years, have you been doing more local events since the show and do you have much lined up for the summer?
Yes we are still performing here in Peterborough, but now we also get to sing elsewhere in the country which we love! We are getting booked up for the summer and hopefully can perform to as many people as possible! We are also having a summer concert at The John Clare Theatre Peterborough 5 and 6 June, which we are excited about.
You are set to release a single, can you tell us about this?
We are releasing our single in June, it is Bring Him Home from Les Mis! We decided on this one because it is such a beautiful song, it really seems to connect with people. It is also normally sung by men, so we thought it would be something different. We are also having an additional song on our single 'A New Day Is Dawning' this was written for us by an amazing composer Christopher Broom. The single will be on Amazon and iTunes!
You also have a show at the John Clare Theatre in Peterborough in June! What could we expect on the night?
We are having a concert to say thank you for all the support we have received. We are singing our favourite songs from musicals, operas and classical. Refreshments are provided and we get to meet everyone afterwards!. Our CDs are also on sale after the show.
Classical Reflections will be performing at the John Clare Theatre on 5 and 6 June, 7.30pm. For tickets visit www.classicalreflection.co.uk. Tickets cost £12 and will include complimentary refreshments with an opportunity to meet the girls and purchase one of their newly recorded CDs.
Leave a Reply