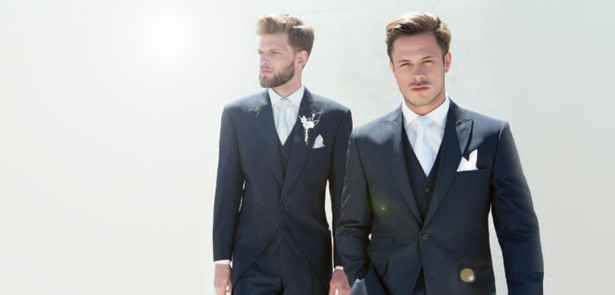 Grooms can now match their big day attire to their personal style. We get the lowdown from Vow Bridal on some of the hottest choices available
Time was, all a chap had to do on his wedding day was stick on a morning suit and turn up in the right place. If he managed to channel Gregory Peck or Cary Grant while doing it, then he considered himself fortunate. Things have changed for the better since then, and guys are now learning to enjoy looking good on their big day, with grooming and skincare a must, as well as hairstyling, even work on teeth and a tan!
Men are also discovering that they can express their individuality through what they wear, with far more choice available, including stylish lounge suits in traditional and slim cuts, and beautifully styled slim-fit morning suits, too. For the groom who wants to respect the formality of the day but equally wants to cut a dash or add some 'edge', the slim-cut morning suit can be a subtle yet powerful personal style statement.
Riffing on the golden age of British tailoring – the 1960s – without compromising on age-old tradition, the suit is also perfect for those of a leaner build who often find more traditional cuts all-engulfing. For a summer wedding, when a more streamlined, lighter look is called for, the slim-cut is perfect. Whilst it's fairly easy to find slim-fit suits to buy, it isn't always easy to hire them, and only a handful of specialist boutiques such as Vow Bridal offer this service.
For the more modern wedding, there's the enduring style of the lounge suit. Add a dash of colour and quirky flair with a Harris Tweed waistcoat (available to buy from Vow Bridal) created using a fashion cut, and available in lighter-weight fabrics and in an array of colours, including tans and silver/greys. If all this sounds like too much choice, rest assured: Vow Bridal won the national Wedding Industry Awards 2014 for their menswear and menswear service, so you couldn't be in safer or wiser hands.
Lisa and Dave at Vow Bridal pride themselves on their bespoke approach to wedding attire. Grooms and groomsmen have their own space at Vow Bridal, separate from wedding dress fitting, so there's no danger of spoiling any surprises ahead of the big day! As well as an array of suits to buy and hire, Vow Bridal also offers cravats shoes, ties – even cufflinks! to buy or hire.
Vow Bridal, 26 London Road, Wansford, Peterborough
01780 783607,
Leave a Reply