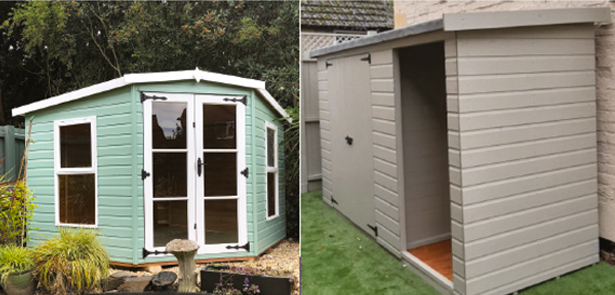 The shed and garage company that cares
A family run business established in 1983, Walton Sectional originally specialised in supplying concrete sectional garages to the general public with free site surveys, plus a full range of services such as planning advice, bespoke designs, removal of old buildings, and an expert concrete base laying service
Thanks to our expert knowledge and competitive prices the business gained momentum, and our range of buildings now includes superior quality garden sheds and summerhouses. All are offered with full delivery, erection and base services if required – with more prompt and reliable service than may be typical of the industry.
Wooden sheds – available in various sizes All our tongue & groove wooden sheds are made with either 12mm or 15mm thick boards on 45mm x 34mm framing. This applies to side panels as well as floors and roofs. Doors are framed & braced and hung on three hinges with a fitted press lock and two keys as standard. Windows (if required) can be fitted to either side. Glass is used as standard, but may be upgraded to safety glass or perspex.
Bases: paved bases for wooden sheds – we can supply a professionally laid paved base from £7.50 per sq. ft. We use only top quality pressed 600mm x 600mm grey slabs laid onto sand/cement mix. Concrete bases for concrete or wooden buildings A concrete base is essential for a concrete building, and may be preferable for heavier wooden buildings. We supply professionally laid concrete bases from £8.00 per sq. ft. with a minimum thickness of 100mm over a similar thickness of machine compacted hardcore, usually incorporating a damp-proof plastic membrane.
Ground clearance – levelling and waste removal We can quote for clearing and levelling an area, removing all waste material from the site. Whether it is having the area ready for your new base, removing an old base or digging out raised ground in order to lay a base and landscape around your new building, we can do it, making the whole process hassle free and competitively priced.
Concrete garages – made to custom sizes
Walton Sectional are agents for Hanson Concrete Garages. Concrete sectional garages have many advantages: ● They are cheaper than traditional methods of construction ● They take less time to build ● They cause less mess and disruption. ● You can be sure that the building will look like the one you saw in the brochure or on display. ● You can see completed buildings on a local display site, or installed locally, before the start of the contract.
All come with a 10 year guarantee backed by national suppliers to a national company.  We offer a fixed price erection service for all buildings that we supply, using our trained installation team.
For more information call our centre direct on 01733 578530
WALTONSECTIONAL.co.uk | 1020, Lincoln Road, Walton, Peterborough PE4 6AL
Leave a Reply