Walk like a Scandinavian: the art of Nordic Walking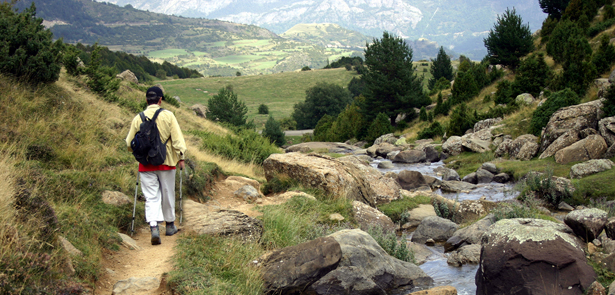 Brand new to Vivacity's range of health and fitness activities is Nordic Walking – a form of exercise that is sweeping the UK. Often confused with trekking, which also uses poles, Nordic Walking has its own distinct technique, increasing the use of your upper body for a more vigorous walking experience and the promotion of all-round fitness – and yet can be done by anyone, anywhere. We asked Vivacity's Walk Co-ordinator Kerry McCondach to teach us the secret of the Nordic Walk…  
FIRST OF ALL, NORDIC WALKING – WHAT IS IT, AND WHY HAVE PEOPLE BECOME SO INTERESTED IN IT?
Nordic Walking is walking with poles. Not trekking poles – you mustn't get confused with those – Nordic poles are completely different in the way they are positioned, the way that you use them and the technique required. It turns walking into a 98% body work-out, with the added benefit that you're outside, enjoying the scenery and the seasons.
HOW IS THAT WORKOUT ACHIEVED?
The poles mean that you are constantly pushing off with your arms, so you're working them quite a lot, exercising your biceps, triceps and pectoral muscles. Your core is also continuously engaged whilst you're Nordic Walking. If you sit at a table and press both elbows down on the table top, you'll feel your core engage, and that's exactly what's happening with Nordic Walking.
DOES IT REQUIRE ANY EXPERTISE, AND IS IT DIFFICULT TO MASTER?
There is a technique that you need to get used to. It is relatively easy to pick up, but keeping that technique going does require a bit of concentration. It is actually very similar to skiing – in fact, it is derived from the technique for crosscountry skiing that you may have seen in the Winter Olympics. I'm a qualified Nordic Walker and will be leading some of the walks, so sessions will start with instruction in that technique.
HOW EXACTLY ARE THE POLES DIFFERENT FROM TREKKING POLES, AND DO PARTICIPANTS NEED TO BUY THEM?
Nordic Walking poles come with hand braces, so you're attached to the poles. The pole is also weighted differently, and the height is different – specific to the individual walker. We will be providing free poles to anybody wanting to start, but if they get into it they can then go and purchase their own. They can cost anything from about £50 to buy. Mine were over £300, but they can go to well over £1,000, so it depends what you want to pay. To begin with, though, we can make sure people are provided with exactly the right kind of poles – and we would rather do that than have people come with those that aren't right.
ARE THESE CLASSES LIKELY TO GET BOOKED UP?
There has been a lot of interest, and we're keeping it to about ten people per class – but there should be plenty of opportunity for people who want to try it out. Sessions themselves – learning the technique and going on the walk – can take about 90 mins, and there will be different levels, so people can get used to it slowly and then build up.
CAN ANYBODY DO IT?
I was diagnosed with multiple sclerosis four years ago which meant I couldn't work out in the gym or marathon train like I used to, but now walking is my new running! Although I'm a very 'well' sufferer of this condition, I know how beneficial Nordic walking is. I wouldn't have thought I could do it, but it gives you so much stability. It's actually very beneficial for people who maybe aren't so steady on their feet – walking with poles gives you added confidence. So, yes, anybody can do it – and walking generally can help with so many health conditions. It can reduce your risk of Alzheimers, cancer and heart disease… A lot of people these days are suffering with Seasonally Affective Disorder (SAD) and this can also help greatly with that. For depression, too, walking is the key. It's just great being out there!
Come along to the FREE launch!
The official launch of Nordic Walking will take place at 12.00pm on Monday 16th November at Peterborough Cathedral. This exciting event will be FREE for all attendees and poles will be provided on a first come first serve basis – so book now to avoid disappointment!
■ To book call Kerry, Vivacity's friendly walk co-ordinator on 01733 864738 or email
For more details visit vivacity-peterborough.com/nordicwalking
Leave a Reply