Vivacity Radiance this winter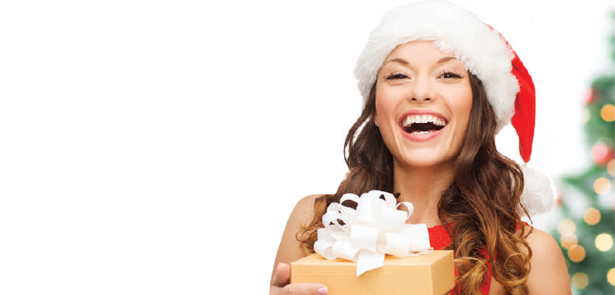 Christmas is coming, and to celebrate Radiance at Vivacity Premier Fitness is offering some festive-themed packages to prepare you for the party season. To find out more, we talked to Radiance therapist Natalie Eldridge – one of the few beauty therapists to be awarded Dermalogica Expert status… 
FIRST OF ALL, ABOUT DERMALOGICA EXPERT STATUS… DERMALOGICA IS WELL-KNOWN AS A RANGE OF SKINCARE TREATMENTS AND PRODUCTS, BUT WHAT DOES 'EXPERT STATUS' MEAN, AND HOW DO YOU COME TO HAVE IT? 
I originally trained with Dermalogica at college, and when we set up Radiance they asked me what products I'd like to bring into the salon. Straight away I said 'Dermalogica!' With Dermalogica, when you open an account with them as a therapist, you also get training. They have a tiered system, so you work your way up learning all the new treatments and products. You start out as Certified, you move up to Specialist and then on to Expert. Many just stick at Certified or Specialist and don't do the extra levels to get them to Expert status – I think I'm one of only a few in the region.
WHY DID YOU PURSUE THAT?
Because I love Dermalogica, and I know it works. I've seen the results on my skin, and on my clients' skin. I've had clients who have been with me since I was doing Radiance treatments at the Regional Fitness & Swimming Centre, and some have gone from being really bad acne sufferers or having highly sensitive skin to having far healthier skin. And they've become much more confident in themselves as a result. I get people coming in with skin problems – men and women – who really do need help. That's really why I do beauty, because I want people to be happier in their bodies and be more confident. For me to see those results on people's skin makes me happy too, so that's why I decided to go all the way!
SO, THIS IS ABOUT HEALTHIER SKIN, NOT JUST LOOKS?
Yes – and if you read about Dermalogica in particular you see they are very much about healthy skin. They're not a pampery, cosmetic brand at all, it is all about skin science and they also have a very educational focus. It's my role as a beauty therapist and Dermalogica expert to help customers understand that.
THESE NEW PACKAGES HAVE A CHRISTMAS THEME – DO TREATMENTS CHANGE AS WINTER DRAWS ON?
Skin is always changing, but especially through the seasons. Our skin reacts differently to heat and cold, so we do tailor our treatments to that – for example, in winter we have more treatments which target dryness, that put the hydration back in. I'm also doing some promotion around Movember to get more men into the salon – to get them more into skincare routines. We actually do get quite a few men in, partly because we're situated within a gym. I have one who's now quite addicted to Dermalogica!
DO PEOPLE TEND TO GO FOR DIFFERENT TREATMENTS IN THE FESTIVE SEASON?
We do tend to get more people having cosmetic treatments – waxing, nails, tinting, eyelash extensions – getting themselves ready for the party season. Throughout the year at Radiance we tend to do a lot of massages and facials – because our prices are very competitive – but you do see the shift around Christmas time when we see quite a rush of people through the doors. We're open 10am-8pm during the week and 10am-5pm at weekends but heading towards Christmas we get busy, so early booking is recommended!
Vivacity Radiance Christmas & New Year's Party Season Packages
Let it snow (package 1) £46 • Half set of glamorous eyelash extensions (60min) – normally £33 • Kiss Me® organic spray tan (30 minutes) – normally £22
Have yourself a merry little Christmas (package 2) £52 • Fingers and Toes Gel Polish (60 minutes) – normally £36 • Half leg waxing and eyebrow wax (45 minutes)– normally £28
All I want for Christmas (package 3) £55 • Deluxe Prescriptive Dermalogica facial (75 minutes) – normally £38 • 30 Minute Back Neck and Shoulder – normally £26.50
The perfect Christmas gift – a Radiance gift voucher! Buy your loved one a gift voucher to go towards a treatment of their choice, with a great range of wonderful treatments, suitable for both men and women.
To book a Radiance treatment call 01733 864 742 or email
Promotion runs until 31 January 2016 and clients must purchase and redeem all treatments within this timeframe. Radiance Beauty Suite, Vivacity Premier Fitness, Hadfield Road, Hampton PE7 8BT www.vivacity-peterborough.com/radiance
Leave a Reply