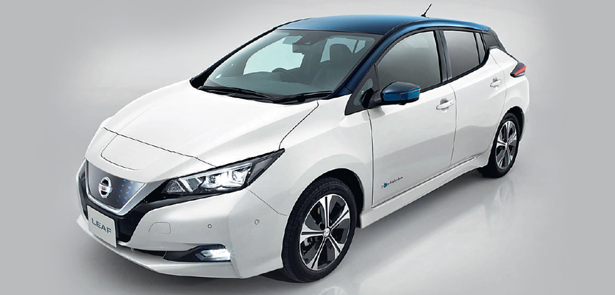 The next generation of Nissan's iconic electric vehicle comes with a vastly improved range and loaded with technology for outstanding comfort and convenience. And with a new lower price, it looks like electric mobility has finally hit the mainstream
The new Nissan Leaf is arguably the most advanced and accessible fully electric vehicle you can buy. Get behind the wheel and it can't help but make you feel more confident, more excited and more connected than any other mainstream electric vehicle. The updated Leaf represents the next generation of the world's best-selling zero-emissions electric vehicle, which has sold been sold to more than 285,000 customers since its launch in 2010.
The all-new model offers even greater range, improved dynamic design, class-leading advanced driver assistance technologies and enhanced connectivity, making electric driving ever-more attractive to Peterborough motorists. Following the new Leaf 's European debut last October, the car has already created unprecedented levels of interest amongst both new and existing electric vehicle drivers, with more than 12,000 new Nissan Leafs ordered even before reaching the showrooms.
Now the Leaf has come to Smiths Nissan, bringing this cutting edge car to local drivers. The new Nissan Leaf offers an improved range of 235miles, allowing drivers to enjoy longer journeys, interconnected by a constantly expanding charging network. Meanwhile the new e-powertrain also delivers 110kW of power output and 320Nm of torque, improving acceleration and driver enjoyment.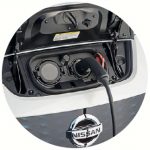 Fresh thinking
The Leaf is the embodiment of Nissan's Intelligent Mobility, which aims to offer owners greater exhilaration and connection to the world around them. Intelligent Mobility starts with the car's advanced new 40kWh e-powertrain, with improved energy efficiency, increased torque and power output for more exciting driving. Additional technology is designed to improve driving confidence, enhance safety and reduce stress. While Nissan's Intelligent Integration links the car to the electricity grid via unique bi-directional charging technology. This means it can give back energy to the world around it by connecting to homes and offices. It can even return any excess charge to top up and stabilise the local energy grid thanks to Nissan's vehicle-to-grid technology.
Safety first
The new Nissan Leaf offers drivers complete confidence when it comes to safety. Standard features from entry grade include six airbags (front, side and curtain), ISOFIX hook, Anti-lock Braking System (ABS), Electronic Brake force Distribution (EBD), Brake Assist (BA), and Hill Start Assist (HSA). Traffic Sign Recognition and Blind Spot Warning are also standard from Visia grade, as is Intelligent Emergency Braking with pedestrian and cyclist recognition. Advanced safety technology systems such as Lane Departure Warning, Intelligent Lane Intervention and Rear Cross Traffic Alert are also part of the updated model's standard equipment.
Loaded with tech
Drivers can look forward to a car packed with innovative technology, including ProPilot driver assistance for a safer, more comfortable drive, and ProPilot Park, for fully autonomous parking at the touch of a button. ProPilot is designed for use within a single lane on a highway and is optimised for use in heavy traffic jams or in high-speed cruising scenarios.
The driver can activate ProPilot as easily as a conventional cruise control by setting a desired cruising speed and distance. Supported by radar and camera, ProPilot will adjust the speed to suit the traffic ahead, while keeping the car in the centre of the lane. It even manages traffic jam situations, making the daily commute a little less taxing. In traffic jams, applying the same technology logic, ProPilot will automatically manage distance to the car in front and apply the brakes to bring the vehicle to a full stop if necessary.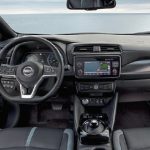 After stopping, the vehicle will remain in place even if the driver's foot is off the brake. Once traffic restarts, the car will resume driving automatically. If the traffic stops for over three seconds, ProPilot will restart at a simple touch of the accelerator or by pressing on the steering wheel. ProPilot Park is a hands-off, feet-off automatic parking function. It works with parallel and bay parking (forwards or backwards entry), and will easily park the Leaf when the driver selects one of the spots proposed by the system. By pressing the ProPilot Park button, the car will fully manage the parking actions and automatically apply the parking brake once the manoeuvre is complete.
Comfort and convenience
The new Nissan Leaf 's revolutionary e-Pedal technology transforms the way people drive by enabling acceleration, deceleration and full stop with the simple increase or decrease of the pressure applied to the accelerator. By releasing the accelerator, the car will decelerate and come to a complete stop, even hill holding, without the need to press the brake pedal. Essentially the e-Pedal does away with the need to constantly move your foot from the accelerator to the brake pedal to slow down or stop, helping to reduce fatigue and stress in daily city driving, and reducing use of the brake pedal by up to 90 per cent compared to conventional cars.
There's little chance of getting bored, lost or confused in the new Leaf either, with an improved seven-inch, full-colour (TFT) display to highlight key features, including information from the audio and navigation systems. The latest version of the Nissan Connect EV Navigation System includes Bluetooth connectivity and DAB Radio. In addition to standard navigation features it also includes real-time information on the nearest charge points. Apple CarPlay and Android Auto are also available for enhanced connectivity. One of the most popular features in the original Leaf is the ability to set the car's climate control to activate at a particular time, warming the car up or cooling it down before beginning a journey. This allows customers to save battery charge by warming or cooling the car from the mains supply while it is charging.
STYLISH AND SUBSTANCE
With an overall length just shy of 4.5m, the new Nissan Leaf also features a sleek profile and a sharp, dynamic look with excellent aerodynamics and a coefficient of drag of just 0.28. Anyone familiar with Nissan design will recognise the signature boomerang-shaped lamps, 'V-motion' front surround, while the blue elements such as the front grille and rear bumper's moulding hint at the car's fully electric, zero-emission credentials.
There's no shortage of colour options, with no less than 10 to choose from: Arctic Solid White, Solid Red, Bronze Metallic, Gun Metallic, Spring Cloud, Blade Silver, Magnetic Red, Pearl White, Metallic Black and two-tone with Pearl White body & Metallic Black Roof. Step inside and you'll find a completely redesigned interior, focused on the driver and combining clever use of space with optimum functionality. The 'gliding wing' design features vibrant blue stitching in the seats, dashboard and steering wheel, creating a relaxed yet superior-quality feel. A 435-litre boot and foldable 60/40 split rear seat offer impressive storage options, making the new Nissan Leaf a perfect family car. Maximum luggage capacity with folded seats is 1,176 litres.
GREATER RANGE
With 110kW of power (150 HP) and 320Nm of torque under its belt, acceleration in the new LEAF has been improved to 7.9seconds for 0 to 62mph – at the top of c-segment performance. The vastly extended range of 235 miles reflects the older NEDC driving cycle test. However, the new Nissan Leaf is the first electric vehicle to also undergo the new Worldwide Harmonised Light Vehicles Test Procedure (WLTP), an improved way of testing cars that reflects real life situations more accurately. Figures under the WLTP test return a range of 177 miles, a truly accurate reflection of what drivers can expect from each full charge. This means drivers can enjoy longer journeys with greater peace of mind. Charging time from alert to 80% (quick charging at 50kW) takes 40 to 60 minutes, while it's around 7.5 hours from alert to 100% with a 7Kw Wallbox.
VIEW FROM THE DEALERSHIP
"At Smiths Nissan we are thrilled to have the new Leaf in our Peterborough showroom. The new Leaf has already sparked huge interest from current Leaf owners as well as customers looking to dip their toe into the world of electric vehicles for the first time. We believe that the new Leaf is the future of personal transport. It has the potential to be a game changer thanks to its greatly improved range, power and torque and new technologies such as Nissan e-Pedal, ProPilot and ProPilot Park. For most drivers the new Leaf is a no-brainer from both an environmental and financial point of view, regardless of whether you're a private individual or company car driver.
"As a Leaf driver myself I can confirm that the savings can be significant versus the equivalent petrol or diesel competition. One of the major plus points of driving a Leaf is the lack of engine noise, which I find makes for a very calm environment in which to enjoy the car's fantastic sound system. Here at Smith's Nissan, Leaf customers are welcome to use our rapid charger that will charge a Leaf to around 80% capacity in half an hour whilst enjoying a cup of coffee for free. Almost all motorway stations have rapid chargers and most towns and cities have a number of charging points, making driving a Leaf far more mainstream. Peterborough has dedicated electric vehicle parking bays behind the town hall where you can charge your car whilst you shop.
"If you have off-street parking you can have your own outside charging unit, which in many cases will be free of charge when you buy a new Leaf. This unit will fully charge your Leaf in around five hours, allowing you to charge your car overnight and take advantage of cheaper electricity depending on your supplier. "
David Smith, Director, Smiths Nissan & Vauxhall, Peterborough
Leave a Reply