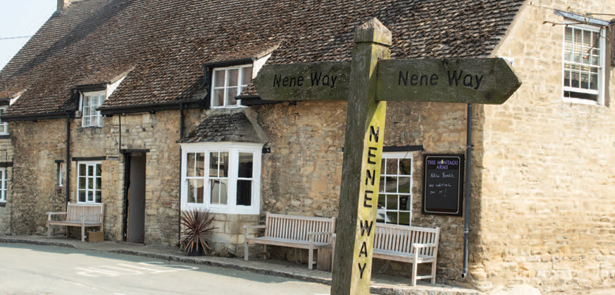 The 400-year-old pub in Barnwell is a labour of love for landlord and owner Ian Simmons. We talked to him about his connections with the place and how 'The Monty' has grown to become a part of the family
You have a long connection with the pub. How did that start?
Well weirdly, as I left school and my family was looking to relocate to Northamptonshire, we stayed in the field behind The Montagu Arms for two weeks whilst they were house hunting, then 10 years later – some 23 years ago – Lisa and I first moved in. We arrived bright eyed and bushy tailed, fortunately full of energy as we still had our pub in Stafford too at this stage. Over the next fabulous ten years, Lisa and I would get married in the village, have a couple of dogs, a couple of kids and so many great times. Then in 2006, ten years to the day from moving in, we passed the baton on and chilled for a while. Somehow, two more pubs and eleven years then rapidly passed and a phone call came in from the owners of The Monty, asking if we'd be interested in returning? So in September 2017 we finalised our purchase of the pub and started a never-ending ( as yet) list of refurbishments and changes to the old girl.
Was it like coming home?
Absolutely! Over those ten years we were living here as well, and had started our family here. We'd always thought that if it ever came up for sale we'd have a crack at it. Being in the pub trade is not a 9-5 job – it's all consuming. We'd been to other places, and had been a year out of the trade altogether, but coming back was actually kind of reassuring. It had been rented for a long time and needed a fair bit of work, but now we knew we could just crack on and do it. With a place like this you have to constantly keep renewing, because the wear and tear compared to domestic use is so much greater.
What other changes have you made?
We had a fairly sub-standard but good-sized cellar, and we had five redundant letting rooms along the side, which were old barns that had been refurbed in the 80s, and were made far too small. So we now use two of those as a purposebuilt cellar with all-new cooling systems and a proper floor drain, and then turned the old cellar space into the 'cellar bar', which links the main bar straight out into the garden. We've also put in a new play area and new picnic benches. It's just kind of pulled the whole building together. But we're also very lucky with the great team we have here. Matt, who is our head chef, was with me for five years at The White Swan, as was Steve who is also with us in the kitchens.
This is clearly a very old building. What's the history of the place?
It was built in the early 1600s, as three or four cottages – history is uncertain on this – for the workmen who were constructing what was then the new Barnwell Manor. The reason why there are various bits of unusual architecture in the pub is because they were practicing the skills they were going to be using on the manor. It remained that way for a couple of hundred years. It's now been a pub for about 160 years, and originally was one of the front rooms of one of those cottages. In the 1960s the landlord decided that the cottage to the left would be a good addition, so they bought that and knocked it through, and eventually it became the whole lot.
What's on offer in a typical week?
A standard week involves lunch and dinner every day. Mondays we do a happy hour 6-7pm. Tuesdays is a fairly standard night, but Wednesdays we do two courses for £15, which is very popular. From there we build to the weekend, and Sunday is the busiest day of the week. There's a traditional lunch menu, which always includes roast beef and one or two other roasts, plus a selection of other dishes and various snacks that can be eaten outside. We've now got about 150 covers outside, which means people can sit out there, and eat and drink while keeping an eye on their kids in the play area – but from the front it still looks like a traditional village pub!
The Montagu Arms
Barnwell, Nr. Oundle PE8 5PH 01832 273726
Leave a Reply