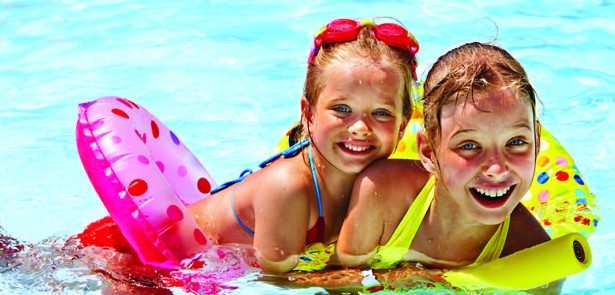 Learning to swim is one of the most important and fun life skills you can learn. Aligned with the Amateur Swimming Association (ASA) national syllabus for aquatics Vivacity's Swim Academy covers all ages, and aims to take non-swimmers from their first splash to being competent, confident swimmers 
For more information or to book, call your local Vivacity Swim Academy centre on 01733 864000 or email
You can also complete an online application form at www.vivacity-peterborough.com/swimacademy
Ducklings Foundation Stage – baby and toddlers swimming 
These fun sessions help develop basic motor skills and introduce very young children to the water and pool environment. 'ASA Duckling' awards are available for achievements at this stage.
Duckling fun sessions for 18 months – exploring the fun of learning to swim and growing waterconfidence session with parents
Alpha-Step sessions for toddlers (steps 1, 2, and 3) – a stepping stone in preparation for Stage 1 or for children requiring more confidence.
Learn to Swim stages 1-7
In these key stages children learn fundamental swimming skills and techniques. All children receive an Award Passport where they can collect stickers as they progress with 25 badges and certificates to collect across the seven stages.
Stages 1-3 – Starting your learn-to-swim journey for young children
Stage 1 – developing basic safety awareness, movement and water confidence skills with the use of aids where needed
Stage 2 – developing safe entries in to the water, floating, travel. rotation and regaining upright positions with the use of aids where needed
Stage 3 – developing safe entries including submersion, swimming up to 10 metres on the front and back, rotation skills and water safety knowledge.
Stages 4-7 – Improver sessions for confident swimmers
Stage 4 – developing buoyancy, refining kicking technique and swimming 10 metres to the required standard
Stage 5 – developing 'watermanship', sculling, treading water, complete rotation and performing all strokes to the required standard.
Stage 6 – developing effective swimming skills wth coordinated breathing, water safety and preparation for exercise
Stage 7 – developing quality stroke technique and swimming 100 metres, showcasing a linked routine and completing an obstacle course that calls upon all the skills accomplished throughout stages one to seven.
Stages 8-10 – Advanced courses in swimming 
Competitive Swimming stage 8-10 – children receive the 'Elite Swimmers Journey' Award Passport with 10 badges and certificates across the stages
Rookie Lifesaving training – survival, rescue and sports skills
Adult Swimming 
Vivacity offers a range of friendly adult swimming sessions and one to one lessons to give you the support and confidence to become a competent swimmer.
Leave a Reply