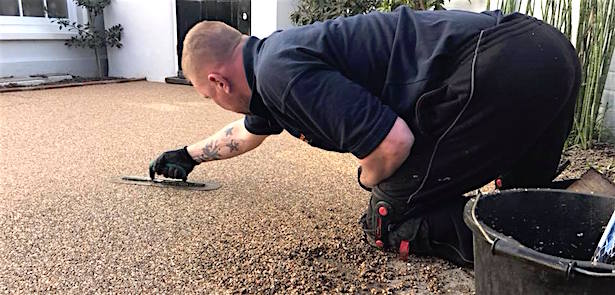 Family run Resin Pave has been installing resin-bound stone surfacing and rubber crumb for play areas for more than 22 years
Resin Pace prides itself on professionalism. All installations are carried out by their own highly experienced and specialised paving teams, with every member of the team certified in resin installation and trained by the manufacturer.
All their paving systems are installed to the highest possible standards, so your driveway or patio will not only look stunning but last for many years to come. A ten-year guarantee means complete peace of mind and they also have public liability Insurance.
Here is what one happy customer had to say: 'Thank you for the wonderful job you have done on our patio and driveway. Polite, punctual, professional, definitely hard working and we will certainly recommend you. Your prices do not reflect the high standard of work and the finished result looks even better than I had pictured it would.'
As well as a great look, the paving offers other benefits – it's fast draining, eco-friendly, is extremely durable and can cover any surface. There is no movement, cracking or weeds and moss infestation. There is no abrasion, slipping and it is indentation resistant, making it ideal for the disabled. It is available in a range of colours and is really cost effective.
Following an on-site consultation, design advice and free, no-obligation quotations are given and can be obtained through the website. Resin Pave can design your surface and layout as required, for the best finish, guaranteed to British Standards.
Many companies are getting into the industry with bad workmanship and with no qualifications or experience in resin laying. Check companies out before accepting a quotation. Resin Pave is often called to correct the incorrectly installed work of other companies – the lowest quotes are sometimes too good to be true.

Resin Pave
0800 2927192
Leave a Reply