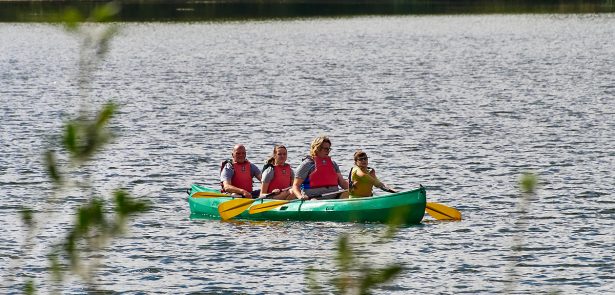 Warmer weather is here, and with summer holidays around the corner it's time to get down to some serious play! Nene Outdoors Activity Centre Manager James Sainsbury talks us through some of the highlights at Ferry Meadows.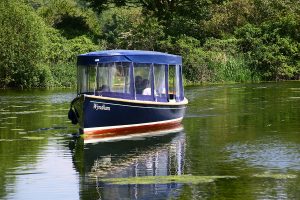 Pay and Play
Centre Manager James Sainsbury sets the scene: 'There's a lot going on here! The Pay and Play activities are our biggest attraction, especially during the summer holidays when the sun's out and the water's warm. Visitors can hire swan pedalos, kayaks and canoes, stand up paddle boards, row boats, and we also hire bikes in partnership with Rutland Cycling. There's a huge amount of equipment for hire and no experience is necessary.'
James advises booking ahead via the website to avoid disappointment, especially on busy days. 'Of course, you can turn up on the day too, but it's very much a question of the early bird catching the worm.'
Also bookable at Nene Outdoors is Wyndham, the fully electric eco-passenger boat, which operates on weekends and daily during school holidays. Boat trips can now be booked on a per ticket basis, at £8 per person with under fours free. Boat trips head onto Overton Lake then out onto the River Nene. The near silent running of the electric motor means there's a far greater chance of spotting wildlife such as kingfishers, herons, and perhaps even an otter!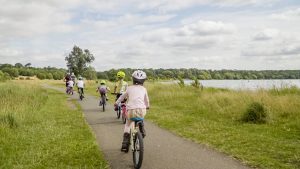 Archery and climbing wall sessions will also be available throughout the school holidays. Sessions run for 45 minutes throughout the day but must be booked in advance. Supervised by fully trained members of the Nene Outdoors team, this is a great opportunity to learn a new skill.
Under canvas
You don't have to travel far to get away from it all. How about an escape right here in Peterborough? Happy campers can book one of eight spacious, ready-pitched bell tents (sleeps six) for £60 a night or pitch their own tent in the pitch-only campsite for just £25. Both the bell tent village and campsite are also available for private hire. 'New for this season are the fire bowls, which can be hired for barbeques or to create that magical warming glow,' says James.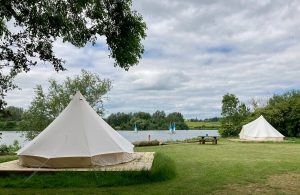 Summer holiday camping slots are still available but filling up fast, so book promptly. With views across Gunwade Lake and surrounded by nature, these intimate camping options offer the perfect escape without the hassle of travel, and the ideal base for sampling all the activities and events at Nene Outdoors.
Open water swimming
What better way to embrace the elements than an invigorating open water swim! 'Sessions run at Gunwade Lake on Thursdays from 5.30-7pm until the end of October' says James. 'Open water swimming is a fantastic way to improve fitness while enjoying the outdoors. Everyone's welcome and it can be quite a sociable experience.' Each swim costs £6.50, with the first session free for those registering with NOWCA, the outdoor swimming association (www.nowca.org).
'The 400m circuit can be completed as many times as you wish during your session,' adds James. 'Safety is important to us, and every swimmer must wear a brightly coloured swim hat, a tow float and a NOWCA wristband that will check you in and out of the water and track your swim. Wetsuits are advisable; if you don't have one, they can be hired for just £5 a session.' The course is patrolled by a safety boat and kayak- based spotters every session.
Room with a view
Nene Outdoors offers a number of venues for private hire, including the Lakeside Meeting Room – the meeting room with probably the best view in Peterborough! With stunning, panoramic views of Gunwade Lake, the room comes with its own private decked veranda and can be laid out in a number of configurations to suit your event.
The Lakeside Meeting Room includes complimentary use of the high-spec IT equipment, projector and screen, if required. Ideal for meetings, seminars, talks and press conferences, the room also features the latest Owl technology to give an HD, 360-degree view of the entire room for remote participants. Food and beverage options can be arranged through the onsite caterer, while all room hire packages include free self-service tea and coffee. The room is fully accessible and there is on-site parking.
Explore more
Find out more about all the activities at Nene Outdoors or book your activity session or camping trip at nenepark.org.uk
Enquiries can also be made by phone on 01733 234193.
Leave a Reply