Summer days at Peterborough Lido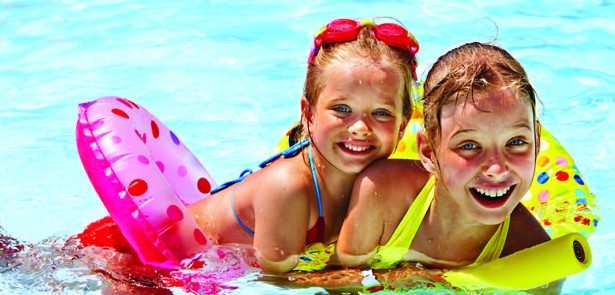 Enjoy expansive sun-terraces and outdoor swimming in a wonderful Art Deco setting
Get ready for the sunny weather on Saturday, 23 May 2015 when the gates to the Olympic-sized Lido open for the summer season. We are all hoping this summer will be one to remember, so why not come along on opening day and receive free entry for you and the family? The Art Deco inspired Lido is coming up to its 80th birthday and year after year people from near and far travel to have fun in the unique outdoor setting.
The Lido offers amazing outdoor swimming facilities including a large heated 50 metre swimming pool, a shallow learner pool for children and a paddling pool for toddlers, with ample changing room facilities, lockers and parking nearby. Relax on the large sunbathing terraces with an ice-cream and enjoy great views of the embankment and Peterborough Cathedral. As well as the three pools, children can play and picnic on the grass lawn area and enjoy hot and cold food at the Lido café. You can be one of the 22,000+ visitors who enjoy fun-in-the-sun at the Lido every year. As a bonus, the Lido will be open for a longer summer season this year, all the way up until Sunday 6 September 2015 – so keep your fingers crossed for a long, warm summer! Keep an eye out, too, for the Lido's special summer events, including the fun inflatable sessions with giant blow up zorbs, boats and floats – a brilliant fun session not to be missed.
Prices
■ Adults** £5.70 (with Vivacity Card £5.00)
■ Children £4.00 (or FREE with the Vivacity Swim Academy***)
■ Family ticket £16.00 (2 adults and 2 children)
■ Family ticket with food just £25.00 (includes a burger and a drink each with entry) **Entrance for adults is FREE with a Vivacity gym membership at Vivacity Premier Fitness or at the Regional Fitness & Swimming Centre – or half price with Vivacity gym membership at any other Leisure Centre. *entry is free all day on opening day ***a Vivacity Card must be presented and children must be accompanied by a paying adult
Opening times
■ Daily 9am-6pm (during May & June) ■ Daily 9am-8pm (during July to September) ■ Early swimming available every Sunday from 7.30am ■ For more information call on 01733 864 761 or email lido@ vivacity-peterborough.com.
See more on the website www.vivacity-peterborough.com/lido
Leave a Reply