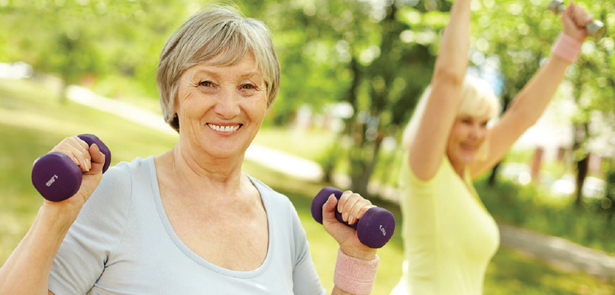 Regular exercise is the key to a healthier, happier later life. Here are some tips to keep you active as you get older
Staying physically active through regular exercise only grows in importance the older you get. The advice for those aged 65 or over and who are generally fit is to take part in at least two-and-a-half hours of moderate aerobic exercise every week. 'Exercise' can include anything from brisk walking to climbing stairs, yoga to dancing – even chair-based exercises count. Of course, we all know the benefits of regular exercise. Exercises such as walking help to increase or maintain flexibility, lift the mood and generally safeguard your health. In fact, just 15 minutes of walking a day is enough to help control your weight, reduce the chances of a fall, keep the heart strong and even reduce your risk of developing cancer and type-2 diabetes.
Exercise also strengthens the bones – a vital consideration when, according to the National Osteoporosis Society half of women and one in five men over the age of 50 will break a bone largely due to osteoporosis during their lifetime. And let's not forget the contribution regular exercise makes to mental wellbeing, from tackling depression to reducing the risk of developing dementia.
Get fit, stay fit
If two-and-a-half hours of exercise a week seems daunting, it really shouldn't be. Break this down into 10 or 20-minute blocks then gently build up from there. Regular, manageable exercise is more enjoyable, so you are more likely to stick with it. Getting off the bus a stop earlier, strolling instead of driving to the shops, or swapping the escalator for the stairs are just a few ways to fit in more movement into your daily routine. A little and often approach is best, as is setting yourself achievable goals. If you do want to dramatically increase your exercise or have any health concerns, speak to your GP first.
Types of exercise
Walking is the most accessible exercise of all – it doesn't cost a penny and there are plenty of apps for your phone to keep you motivated. Wear comfortable shoes and try to walk predominantly on soft ground rather than hard pavements. Consider a treadmill if you have knee, hip or joint problems – it's a lot more forgiving on your joints. Start slowly then increase the time you're walking by perhaps a minute or two a day. A gentle sweat or being slightly out of breath means the exercise is working! If you are outside, remember to dress appropriately: lots of thin layers are best, with waterproofs, a sunhat and suncream donned accordingly. Out for a while? Then take a water bottle and a snack too. Exercises classes or walking groups introduce a social element to exercise, which can be very rewarding. If you're not particularly mobile explore the many chairbased exercises you can do while sitting or holding onto the back of a chair. These are still great for improving muscle strength and flexibility. Search online for inspiration. Most importantly, enjoy the exercise you do. Expending energy gives you even more energy. It's a virtuous cycle that will leave you feeling lighter in both body and mind.
SIMPLY ACTIVE
Attending regular exercise classes can help to improve independence, mobility and reduce the risk of falls. It's with this in mind that Vivacity has launched its new health and wellbeing service, Simply Active. Simply Active is a programme of weekly exercise classes taking place across eight Cross Keys Homes' centres in Bretton, Paston, Werrington and Dogsthorpe. Classes are suitable for all abilities with easy sessions including circuit and seat-based exercises focusing on balance, coordination and strength; and moderate sessions for aerobic exercises focusing on flexibility, strengthening and toning. Sarah Leadbetter, Vivacity's Health and Wellbeing Manager explains: 'The classes take place in a fun and supportive atmosphere and are the perfect opportunity to meet new people. We want to inspire people to be more active and with our help, keep people strong, feeling great and in turn reduce illnesses, falls and feelings of isolation.' Richard Brown (58) and Wayne Fitzgerald (68) are regular participants: 'The classes offer the opportunity to make great friends and keep fit together.'
● To find out more about Simply Active classes visit vivacity.org/simplyactive or call 01733 864764.
GET FIT AND FEEL FANTASTIC!
There are exercise opportunities to suit all abilities and ages. Join in and improve your fitness, health and happiness.
U3A Peterborough exercise groups
From belly dancing to bowls, table tennis to tai chi, there's a lot going on in Peterborough to keep you fit while having a lot of fun in the process! Full details of exercise groups, contact numbers and listings of what's on this month are available on the website.
Contact: 01733 263006, www.peterboroughu3a.org.uk
Ramblers Peterborough Group
Be part of the local Ramblers group's lively programme of walks, ranging from five to 12 miles. Walks are held in Peterborough and surrounding counties. New walkers are always very welcome.
Contact: www.ramblers.org.uk/go-walking/group-finder/areas/cambridgeshire–peterborough
Healthy Peterborough
Stay stronger for longer and enjoy a healthier body and mind. Healthy Peterborough offers a range of top tips, simple exercise ideas and general advice to keep you active as you age.
Contact: www.healthypeterborough.org.uk/2018/ageing-well
Walking for Health
This low impact exercise is a great way to burn some extra calories while also getting chance to enjoy the local scenery. Local walks of around three miles over a 60 to 90-minute stroll at various locations across Peterborough. All of the volunteer-led walks are free to join.
Contact: 01733 864760, www.vivacity.org/sport/walking-for-health
Vivacity Health Services
Whether it's trying to improve your life around a specific health condition or getting some additional support and specialist advice, Vivacity's range of health services is there to help you make a change and improve your quality of life. There are many sessions covering all sorts of conditions and situations, including exercises for cardiac or respiratory conditions, dementia swimming, stroke rehabilitation and exercise for strength and balance.
Contact: 01733 864764/07538 302436, www.vivacity.org/sport/heath-and-wellbeing/health-services
FURTHER GENERAL ADVICE ● Age UK advice on staying fit: www.ageuk.org.uk/keepfit
● NHS physical activity guidelines: www.nhs.uk/live-well/exercise
Leave a Reply