Spring recipe: orange tart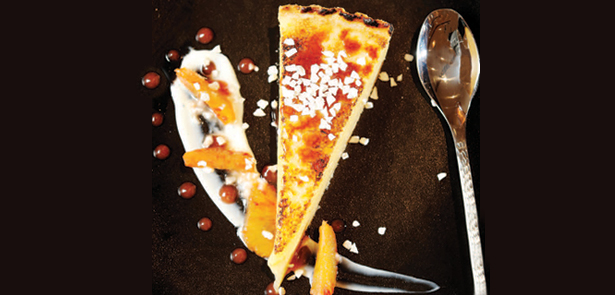 Within a year of opening in 2011, Clarkes Restaurant had secured a recommendation in the revered Michelin Guide. When head chef Lee Clarke went it alone in 2016 with new restaurant Prévost, his food was back in the Michelin within six months. This year, Lee is sharing some of his secrets in a series regular food features in The Moment – starting this issue with his recipe for orange tart
"Orange tart is one of my favourite puddings at this time of the year – and a bit of a change from lemon while I'm waiting for the UK fruit season to start. I love my tart to have a kick of tang and a real freshness." Lee Clarke
 Sweet pastry
● 210g plain flour
● 30g icing sugar
● A pinch of salt
● 145g cold, unsalted butter, cut into cubes
● 1 free-range egg yolk plus 2 yolks for the sealing
● About 2-3 tablespoons cold water
1. Put the flour, icing sugar and salt in a food mixer and mix. Add the room temperature unsalted butter and blitz (or rub in with your fingertips) until the mixture resembles breadcrumbs. Try not to overwork it at this point.
2. Next add the egg yolk and just enough chilled water to bring the mix together into large clumps. Use a lightly floured surface and knead lightly into a ball, then wrap in cling film and chill for one hour minimum. I like to make my pastry the day before.
3. When you're ready to make the pastry case, preheat the oven to 180°C. Roll out the pastry 5mm thick and line your tart tin, letting the excess hang over the sides. Prick the base with a fork to help stop any rising. Line with baking parchment weighed down with ceramic baking beans (or dried beans or lentils), stand the tin on a baking sheet and bake for 25 minutes at 180ºC.
4. Remove the parchment and beans. Whisk up two yolks and brush the inside of your tart. This helps stop leaking and soggy pasty. Then bake for about 10 minutes more, until the pastry looks cooked – crispy, and very lightly golden. It is important that there are no holes in your pastry. If there are, fill with a little left over pastry. Trim your edges for a clean finish being careful not to get any inside the tart.
Orange tart filling
● 5 medium-large, juicy oranges (I like Seville when in season)
● 5 large free-range eggs, plus 5 extra egg yolks
● 250g caster sugar
● 175ml double cream
1. For the filling, finely grate the zest from three Seville oranges, then juice these with the remaining two oranges. Strain the juice into a measuring jug – you need at least 200ml orange juice, and up to 225ml.
2. Whisk the eggs, egg yolks and sugar together in a bowl until well blended, then stir in the orange zest and juice. Leave to stand for about 10 minutes. Meanwhile, reduce the oven setting to 130°C.
3. Carefully pour your orange tart mix into the tart case filling to the top. It's best to fill the case while it is in the oven otherwise you will need steady hands. Bake for 30–35 minutes, or until only the centre is wobbly, Leave to cool slowly – don't refrigerate until cool to help strop cracking.
4. Before serving, lightly dust with icing sugar and blowtorch. We like to serve with yogurt and roasted blood orange.
Prévost
20 Priestgate Peterborough PE1 1JA 01733 313623
prevostpeterborough.co.uk  
Leave a Reply