Spooky treats! Pumpkin and apple chutney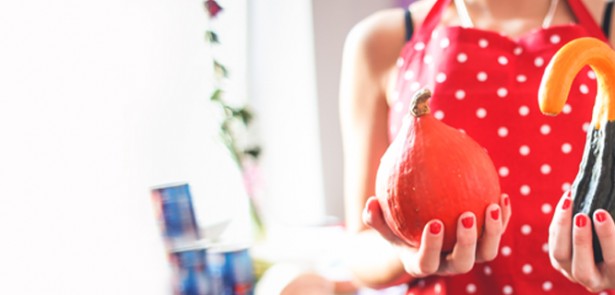 A pumpkin's not just for Halloween – you can enjoy it all winter with this tasty preserve…
Ingredients
4 tbsp vegetable oil
3 onions, finely chopped
1 level tsp ground cinnamon
10 cardamom pods, crushed
1 tbsp black mustard seeds
100g ginger, peeled and grated
1 red chilli, deseeded and finely chopped
2 tsp salt
4 large garlic cloves, peeled and sliced
6 dessert apples (about 500g), peeled, cut and cubed
1kg pumpkin flesh, peeled and cubed
2 tbsp currants
1 tsp ground turmeric
500g light soft brown sugar
300ml red wine vinegar
Method
Heat the oil in a large preserving pan, then add the onions, ginger, chilli, cardamom, cinnamon and mustard seeds and fry gently together for 5 minutes.
Stir the garlic, squash, apples and currants into the onions, then cook for 10-15 mins more, until the onions and apples are soft and the pumpkin is softening.
Stir in the turmeric and sugar and let it melt. Simmer for 5 mins and makes sure the apples, pumpkin and currants are well covered with the sugar.
Pour in the vinegar and salt, then bring back to a simmer. Cook, stirring regularly, for about 30 mins or until the apple is soft and the pumpkin very tender.
Spoon the hot chutney into sterilised jars and seal. The chutney can be eaten straight away or stored for up to six months.
Leave a Reply