So you want to start running?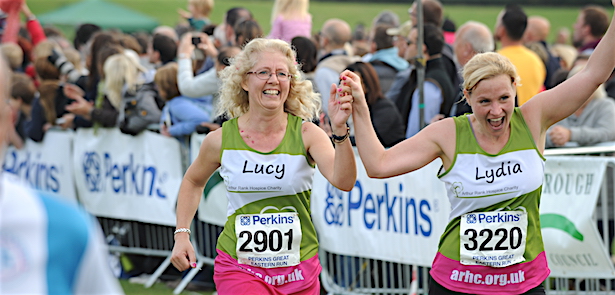 In this issue of The Moment, with the Perkins Great Eastern Run 2019 just around the corner, we're taking a look at how to get started in running. And to help encourage all of you to put on your trainers and get up and running – and maybe even give the city's half marathon a go – we asked David Castle, runner and Editorial Director of of Men's Running UK and Women's Running UK magazines, for his expert advice...
If you're already a runner, then you're bound to know someone who wants to take it up too. Perhaps your partner secretly wants to run but doesn't know how to get started? Or a friend or colleague is in awe of your running achievements?
Our belief here at The Moment is that pretty much anyone can be a runner. If you're healthy and you can walk, then you can run. And it doesn't matter how fast either, the point is that you're out there doing it and improving your health into the bargain.
Why Run?
If you're trying to lose weight, running burns more calories than almost any other activity. At approximately 100kcal per mile (regardless of how fast you run) it beats other sports like cycling or swimming hands down in the fat-burning stakes.
Running is also super time-efficient and fits in perfectly if you have a busy lifestyle. You can run for half an hour, shower and be ready for work in less time that it could take to drive to the gym. You can pretty much run anywhere, on-road or off, indoors or out, in summer or winter, alone, with friends or even your dog. It costs very little and the only 'equipment' you really need is a good pair of running shoes and, if female, a supportive bra.
And if that's not enough, running helps to beat depression and stress, lowers cholesterol, blood pressure and releases feel good endorphins, giving you that elusive 'runners high'. But despite knowing all of that, sometimes just taking those first few steps can be daunting and is easy to put off. But as the Chinese proverb goes, 'the journey of a thousand miles must begin with a single step'…
The first steps
As Samuel Levensen once said 'you can't start at the top'. The classic mistake that many beginners make is simply trying to run too fast when they first head out of the door. Gasping for breath before you're even at the end of your street can be really demoralising, so getting that initial pace right can be make-or-break for whether you ever want to go running again. Your main goal at this stage is to increase the length of time you can run for – slowly and gradually over time. The key to doing this successfully is to slow your pace right down, factor in plenty of walk breaks and be patient.
First things first
Get checked out by your GP before you start, especially if you have a family history of heart disease, high blood pressure or have any concerns about your health and suitability to take up running. Any niggling pain or discomfort anywhere in your knees, hips, ankles or low back should be checked out by a physiotherapist. Many injuries develop over time and result from an old problem or existing weakness or muscle imbalance. If you can get advice from a physio or sports therapist in advance, you can almost 'injury proof' your body with the correct stretches and strengthening exercises.
Shoes and kit
Investing in the correct running shoes is one of the most important things you can get right. Just because you're new to running doesn't mean you don't deserve the right kit and correct shoes are vital for your comfort and injury prevention. Get advice from a proper running shop – preferably where they look at you running on a treadmill – and choose a pair specific to your technique and style. And always buy a pair at least ONE size bigger than your normal shoes.
Next to shoes, a correctly fitting sports bra for female runners is the second most important investment you need to make. Your breasts move an average of nine centimeters when you run and wearing a supportive bra will reduce 'bounce' and provide essential support. Check out www.lessbounce.com or www.shockabsorber.co.uk
A stopwatch is probably the only other thing you need, but it doesn't have to be expensive. Just something basic, with a large display and stop/start function, and then you're all set to go.
Getting started
We're assuming here that you can walk briskly non-stop for 30 minutes or more before starting this jog/walk programme. If not, build up by walking 2-3 times a week for a month before starting the schedule. You may have a higher level of fitness from dog walking, cycling or gym work, but must still build slowly as the high impact nature of running takes time to adjust to.
So, are you ready? Head out of your front door and… walk! Yes walk. Spend 5 minutes walking briskly, swinging your arms and getting warmed up then break into a very slow jog. The pace should feel manageable and controlled. Time yourself to jog for literally 1 minute and then walk briskly again for 2 minutes. Repeat this 10 times then walk for another 5 minutes, cool down and.. That's it!
Where to run
Find the flattest routes you can to begin with and avoid hills and rough ground as much as possible (not too hard around Peterborough…). Traffic free parks, cricket pitches, cycle network routes and canal paths are all really good places to start. You can also run on a treadmill in the gym. If you run outside, be aware of your personal safety. When running alone or at night wear a reflective bib, carry a personal alarm and mobile and always tell someone where you're going.
Keep a training diary
One of the most powerful tools used by runners, and especially by beginners, is the 'training diary'. Keeping a log of your sessions, how you felt, how fast or far you ran and so on, is a brilliant way of keeping you motivated and on track. A log is also really useful to review when things don't go to plan. You may have no idea why you suddenly have an injury, but a quick review of your diary may reveal the reason.
Get down to your local running club
The benefits of joining a running club are endless. Group training sessions will keep you motivated and provide structure and many clubs will have a coach to give you some guidance. The social aspect of most clubs is a big draw, and you can expect to make some great friends, find new running partners and have a whole host of new social occasions to fit into your diary. There are literally thousands of running clubs and groups all over the UK. Check out www.uka.org.uk to find one near you.
---
Top tips 1: warming up, stretching and cooling down
It is now universally recommended by running experts that you should not stretch BEFORE a run. In fact it could do more harm than good, as stretching cold muscles can cause injury before you even get out on the road. Here's what you should do to warm up:
Walk briskly for 5 minutes, swinging your arms and really 'striding out'. This raises your body temperature and heart-rate, and warms up your muscles ready for running.
Go through a series of mobility movements, shoulder shrugs, hip rolls, ankle rolls, knee lifts and so on, for about 2-3 minutes.
Then break into a jog and build up to your pace.
If you have any tight spots, you can stop to stretch them if you wish after jogging for a few minutes
You can then do some stretching when your muscles are cooling down after your run. Go through a series of stretches for your hamstrings, quadriceps, calves, glutes, inner and outer thigh and upper body, holding each stretch for 30 seconds or so.
---
Top tips 2: How to avoid injury
Be patient and progress slowly – follow a sensible training programme and don't be tempted to jump ahead too far, too soon
If you feel any sort of niggle or discomfort, stop running and seek treatment from a physiotherapist or sports therapist
Get fitted out by a specialist running shop for a pair of proper running shoes – don't just buy from the internet
Think about trying to 'injury proof' your body with core stability exercises and specific stretching. Most running injuries are down to postural or overuse problems. Get advice from a physiotherapist or personal trainer.
Think about good posture even when just walking around, sitting at your desk or driving. It's often what we do when we're not actually running that is the culprit
If you know you have an old injury (typically from skiing, rugby, football etc) which might flare up, get advice from a physio before you start running
Always stretch properly after a run and pay extra attention to any tight spots. Make sure you have two-three days off between sessions.
---
Top tips 3: What to do when an injury strikes
STOP running. Do not be tempted to 'run through it'. Your body is trying to tell you that something is wrong.
Sometimes a tight muscle, a calf for example, will respond to a quick stretch on the run, which may prevent a tear occurring. If something feels a bit tight, stop, stretch and then gently carry on.
If something hurts and prevents you from running, get home and immediately put some ice on it. Use a bag of peas or frozen sweetcorn and ice for about 15-20 minutes. This should reduce inflammation. Repeat this three times a day over the next few days.
You can take ibuprofen to help reduce inflammation and speed up recovery, not just for pain relief – do this under advice of a GP if you have any health concerns.
Work out the cause of the injury and make changes to prevent it happening again – perhaps getting the right shoes, stretching any 'hot spots' or working on core strength.
---
Perkins Great Eastern Run 2019

Peterborough, 13 October 2019, 10:30am
Known as 'the greatest run in the east', the PGER is one of the fastest growing half marathons in the country and in 2016 the race attracted record participants – against a backdrop of several races reporting a decrease in entry numbers or static take-up.
Here are just a few reasons to enter…
BARR Gold Grade event
Flat and fast course, ideal for achieving a PB
Great value entry fee
Historic city centre route (no fields or industrial estates)
Excellent goody bags
Superb spectator support in residential areas and the finish line
Top prize money for winners
Free entertainment for spectators at start and finish area
Park for just £3 when you sign up to RingGo
The PGER is organised by Peterborough City Council. Main sponsor of the PGER half marathon is local employer Perkins Engines – one of the world's leading providers of diesel and gas engines, with a history stretching back more than 85 years – and the race's title charity is the Jane Tomlinson Appeal.
As well as the half marathon, the day's events include the Wheelchair Race and Anna's Hope Fun Run (named after a local children's charity). The 5k Fun Run is a favourite with less experienced runners and many run in costume and use the occasion to support charitable causes of their choice.
Races start and finish on the Embankment. On the day, everyone is encouraged to take part in a mass warm-up, which commences from the stage area shortly after 9am. Event broadcasting will take place from the stage all morning and throughout the day. Presentations will be made on the stage. Please ask at the information point for timings. Fun run competitors will be asked to move down to the start line at approximately 9.45am for a 10am start. The wheelchair race starts at 10.25am and the half marathon at 10.30am.
There will also be plenty of stalls, refreshments and a continental market for spectators to enjoy at the Embankment, and the city centre shopping area is only a five minute stroll away.
To sign up or find out more, go to: www.perkinsgreateasternrun.co.uk
For more info on the race's charities and main sponsor, go to:
Leave a Reply