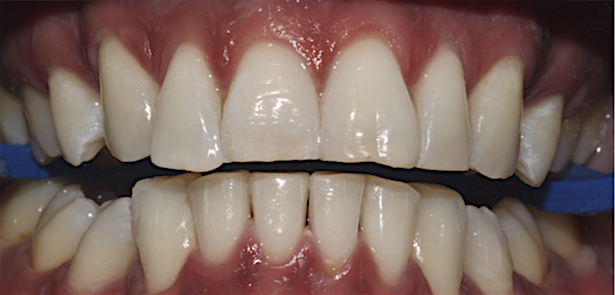 96% of people believe that a beautiful smile makes a person more attractive to the opposite sex and 36% of people believe they would have a better love and social life if they had a nicer smile. At the Smile OralCare Clinic Peterborough, we understand that looking and feeling your best is important to you and your lifestyle. In addition to routine and general dentistry, we are pleased to offer a range of smile-transforming services which you can read about below.
Services that can add to your confident smile:
Whitening – Teeth can become discoloured over time, leading them to look dull and tired. We use a gentle and safe method of tooth whitening that will give you instant and long-lasting results. It has a built-in desensitising system that ensures your tooth whitening journey is smooth and comfortable. Book in to give your teeth a sparkle before the festive period begins.
Straightening – Many adults would like straighter teeth without wearing traditional metal braces. That's why we offer alternative solutions to achieve your beautiful and straight smile.

Invisalign® is the virtually invisible way to straighten your teeth without the need for braces over your teeth. Your journey will begin with your Invisalign® certified dentist assessing your case during your consultation and presenting a 3D visualisation of how straight your teeth could look.
Quick Straight Teeth™ – This is a cosmetic ceramic brace system that is much less visible than traditional metal braces. Book a consultation to find out more.

Composite bonding and contouring – We use carefully sculpted white filling material to add to your existing teeth to result in shade and shape that you are happy with. This treatment usually involves no injections or drilling of your teeth which is why it is such a popular procedure.
Anti-wrinkle injections and fillers – soften the appearance of wrinkles and rejuvenate your skin. We offer a range of aesthetic skin treatments for both men and women.
What do I do if I'm interested?
If you think you might benefit from our services, we'd love to hear from you. Call our friendly reception team who will be happy to assist you. We have limited availability due to the popularity of these treatments but we will aim to offer you an appointment as soon as possible.
Smile
87a Princes Street, Peterborough, PE1 2SS

01733 560700
www.smile1.co.uk
---
Dr Jignesh Panchal BSc (Hons) BDS (Hons, Liverpool)
Dental Surgeon and Facial Aesthetics Practitioner
Jignesh graduated from the University of Liverpool and was awarded the prestigious Frank Lawton medal for excellence in operative dental surgery.
Jignesh is genuinely passionate about dentistry and prides himself on using the latest and safest techniques. He has an interest in cosmetic dentistry and will be very happy to discuss options for enhancing your smile. As well as routine dentistry and invisible braces, Jignesh also provides anti-wrinkle and lip treatments.
Jignesh's gentle and relaxed approach makes him very popular amongst patients and always looks forward to welcoming new clients to the clinic.
Leave a Reply