Secret Millionaire Mike Greene tests the brand new BMW i8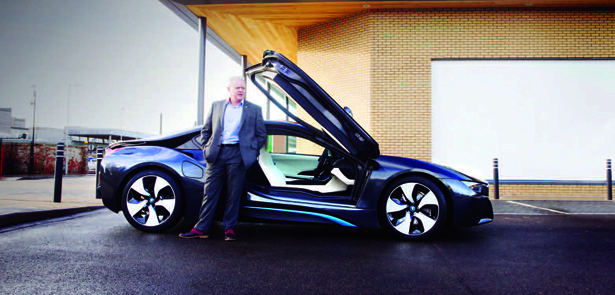 The launch of BMW's plug-in hybrid sports car sees outstanding performance combine with fuel-sipping efficiency. The Moment met Mike Greene, the first person in Peterborough to take delivery on the wonder car, to find out what it's like to drive this head-turner
Take in the sleek lines and desirable styling of the BMW i8 and you'll never guess what lies beneath the bonnet. Incredibly, this powerful sports car manages to turn out heart-pounding performance from a modest 1.5-litre engine. The secret lies in the addition of a 129bhp electric motor, which combines with the turbo-charged petrol engine to deliver power akin to a Porsche 911.
The petrol-electric plug-in hybrid is a car of two halves. On the one hand it has an official fuel consumption north of 130mpg with tailpipe emissions of just 49g/km – half the amount of your average Citroen C1. And on the other hand it effortlessly breezes from 0-62mph in a snappy 4.4 seconds before heading on to an (electronically limited) top speed of 155mph. This marriage of frugality and super-car performance has naturally generated a lot of attention. Waiting lists extend up to a year so that, perversely, second-hand cars are going for 25% more than the list price, which starts at £99,845.
Hey, good looking!
Sycamore BMW in Peterborough is the local dealership for this eyecatcher. New car sales manager David Woodhouse captures the excitement surrounding the i8: 'Quite simply it looks stunning and its performance is incredible. The fact it's a hybrid is just another extraordinary factor behind its success. You wouldn't be able to get that performance from such a small engine unless it had the electric motor as well.' Mike Greene, local entrepreneur and star of Channel 4's Secret Millionaire was first in the queue for the car. 'I'd seen it three years ago when it was unveiled at one of the motor shows,' he explains. 'It was very much a prototype but I pretty much went straight into the garage and said "when they come out, I want one". It's beautiful and I just love the fact they've been able to put hybrid technology into what is essentially a supercar. You don't have to be an ecowarrior to drive one.'
Good looks abound. The i8's dihedral doors open up and out like the wings of a butterfly warming in the sun. The front view of the car exudes sportiness, with a large spoiler air intake and broad kidney grille that stretches over to the slim LED headlights. The rear of the car features sculpted wheel arches and rear lights, reflectors and diffuser that combine to form a single visual unit. Its aerodynamic design minimises drag while a lightweight body made from reinforced carbon fibre and aluminium helps to compensate for the weight of the 5kW battery.
Inside the cabin you'll find a fully digital instrument display, ambient LED lighting and leather tanned with, of all things, olive leaf extract. Simply press the start button and flick the gear paddle into drive and you're away.
Electric performance
The i8 has three driving modes. The standard hybrid mode balances the petrol and electric engines as if in a wellchoreographed ballet so as to achieve maximum efficiency, while a sport mode enhances performance. An electric-only mode will see you gliding silently on just the electric motor, which has a range of up to 22 miles. Driving in electric-only mode promises dramatic fuel savings. 'It's ideal for the commute to the station, visiting the shops or anything like that,' says Mike, who plugs in at home. Charging time takes three hours from a domestic socket, or two hours when using an optional BMW wallbox. 'And when driving in sport mode the battery will recharge every time you take your foot off the accelerator or break – it uses that momentum and converts it to electrical energy,' adds Mike. Charging the car away from home is easy thanks to any of the thousands of public charging points now dotted throughout the country. 'This morning, for instance, I popped into town and parked at the charging point just outside the Eco Innovation Centre. It's as good a place to park as any and the parking and electricity are free!' Last year saw the completion of green energy supplier Ecotricity's Electric Highway, which has installed electric car charging points to every motorway service station in the country.
Peace of mind
For Mike it's the combination of performance, styling and futureproofing that made the i8 a no-quibble investment. 'It's kind of guilt-free pleasure in a way. When you look at some of the cars that are environmentally friendly, they're just not practical. Certainly it's never looked enjoyable to me. The i8 gives that satisfaction of being green but you get all of the pleasure and performance you would hope for.' Unlike other performance cars that Mike has driven, the all-wheel drive of the i8 offers a far more stable driving experience. 'Other sports cars are hard to drive when it's cold and slippery. If they're rear-wheel drive the front pulls around a lot and vice versa. Because the i8 is four-wheel drive (the front by the electric motor and the rear by the petrol engine) you get all the performance of a Porsche 911 or Aston Martin but you feel 1,000 times safer. I've had Lamborghinis, Ferraris and so forth and it's raw power that you feel when you're driving them. But you've got to be absolutely at the top of your wits to drive them. Even at high speeds the i8 feels super, super safe. Another attraction of buying a smaller supply car from a big brand like BMW is the peace of mind. The reason BMW have taken three years to release this, even after they prototyped it, is that they weren't happy to do so until they got it 100% right. I have a great deal of faith in that German engineering and reliability.'
Business brained
While the i8 isn't an everyday runaround for the masses, it definitely makes good business sense for anyone in the market for a prestige car. Along with the pure-electric i3, it enjoys a host of government grants and tax incentives, benefits from zero road tax and is exempt from the London Congestion Charge. 'Own a conventional car of this type and you will pay handsomely in Benefit in Kind but with the i8 it's negligible,' explains David Woodhouse. David is confident that we'll be seeing many more pure-electric and plugin electric vehicles over the coming years. 'While there's always going to be a place for the internal combustion engine, electric cars will take more and more market share.' Mike is a convert to electric propulsion, however. 'These cars have to be driven to be believed, which admittedly sounds like something a car salesman would say! Having also driven the pure-electric i3 I can assure you that its performance is just as unbelievable as the i8. The technology of these cars is different now, so if people have a jaded view from the early days of electric motoring I urge them to take another look.' With the seductive curves of this highly desirable beauty people certainly will be taking another look.
SYCAMORE (PETERBOROUGH) LTD
Papyrus Road, Werrington, Peterborough PE4 5HW
T: 01733 707070
www.sycamorebmw.co.uk
Leave a Reply