Running through the years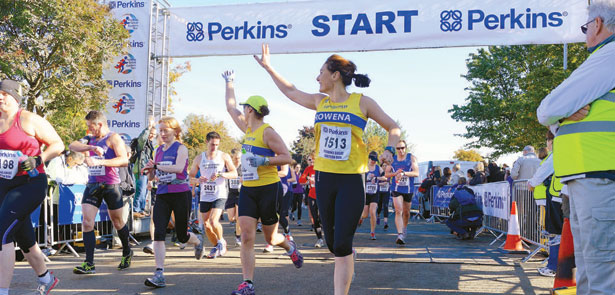 The Perkins Great Eastern Run (PGER) returns on 14 October 2018, and right now is the time to start preparing! For all taking part – but especially those running for the first time – motivation is key, so here's a little bit of inspiration... Former teacher, POSH Youth Development Coach and Principal of Ormiston Bushfield Academy, Eric Winstone has run every PGER since it began back in 1982 – the only person to have done so. Now 66, he shows no signs of slowing down. With a current tally of 12 London Marathons and over 70 half marathons to his credit, he's ranked 6th in the UK in his age group for road running and is a member of Team GB Duathlon team, having competed in the 2017 European Championships in Spain. The Moment talks to him about his history with the PGER and what it is that keeps him running
You were there for the very first Great Eastern Run – was it a very different thing back then?
It was. It was on the back of the running boom which was started really by the first London Marathon in 1981. The Great Eastern Run started the year after, and it was mostly people from running clubs, so was quite a competitive event! Over the years, more and more people have taken to it, and I think now it's grown to such an extent that when people think 'I'm going to do a half marathon…' it's Peterborough that they go for. Certainly for a lot of people, it's the first half marathon that they've ever done. The basic route is much the same, taking in the principal streets of the city. One change that happened as a direct result of the popularity of the race is that it used to turn left at Eastfield Road and make its way down Star Road, but that's now too narrow for the number of people who are running.
It's become very prestigious nationally, but it also seems to attract a really big local following – people who feel it's their half marathon…
Yes – although when you say 'local' I think you could draw a 25-30 mile radius around the city. Certainly a lot of people taking part come from within that area. And of course what has also happened is that a lot of people have watched it on the street, perhaps running right past their house, have been inspired by it and thought 'I want to do that…' That puts on extra pressure in terms of resources, such as policing and road closures and every year we have this debate about 'is it right that the roads are closed?' But my attitude to that is that if over 4,000 people are getting on the streets and running, and it drives them to keep fit and have a healthier lifestyle, then let's have the cars off the road for part of a day! And because it's going right through the city centre it's that much easier for people to turn out, see it, and be inspired.
How has the growth in popularity changed the experience of running the race?
The experience has certainly got bigger in terms of the adrenaline, the camaraderie amongst runners and of course the support on the street, with spectators lining the course, banners outside houses… It's become much more of a community event than just a road race. And it's not just one race now; there's the Wheelchair Race, and the Anna's Hope Fun Run – a shorter, 5k run – which has got the little ones running with parents and brought more young people into the sport. It's a great stepping stone. What they've done as well over the years is make the start and finish area attractive, so there are stalls, fairground rides, and it's really fun for everyone wanting to come out and watch friends and family.
Were there ever years when you nearly didn't make it?
I've had a couple of years when I've been injured. I had a knee injury and had to take some painkillers and strap it up and got around. And the last couple I've years it's come around at a time when I've just been coming out of having a bad cold or chest infection, but as long as I can do it, I'll do it – and if that means dogwalking it, I'll do that! My target is to reach at least 30 years of doing the race, which I'll hit in 2020. After that, I'll just keep going as long as I can. I'm 66 and more or less fully retired, so running is now my life and there are several running groups which I run to encourage people to keep fit. I've just done of them this afternoon at Lynchwood Business Park, and I had 11 people out running with me this morning and learning the ropes. It's become my life and I love it.
You're a real inspiration to everyone, but in particular to older people…
People are living longer, and I think my age group – the 50 to 60-something baby boomers – are probably more health conscious than any other group. People in the older generation – those in their 70s and 80 – are not quite as conscious about their health, and I think a lot of younger people take it for granted, as perhaps we all did at that age. But it's in the 40s and 50s that the risk of chronic illness really starts to rise, so I think the message is to keep healthy and fit, and run or do whatever activities you can to keep you healthy for as long as possible. Anything that raises the heart rate and gets the cardio going is good, whether it's walking, running or cycling. And what a great environment we have here to do those things!
As an experienced runner, what advice would you give to newcomers to start preparing for the PGER?
There are two big developments that have happened. One is the Couch to 5k Challenge, which provides you with an app you can put on your phone or iPad. Basically, you start off walking for three minutes, you run for a minute, walk three minutes and so on. Over ten weeks that programme gradually increases the amount of running and enables people, if they follow the plan, to get to running a full 5k in their own time. That's a great entry scheme. And, of course, now you have the local parkrun. Parkrun has really set the running boom alight again, and has got people running on a Saturday morning at various venues across the UK. It's not a race, it's just about getting out there and doing it and it's free. You can run it, you can walk it, but basically it's just about getting around it. The City Council also runs free training sessions, of course [see following pages] so you can join a group of people who all have the same aim and can spur you on.
What are you most looking forward to in the PGER this year?
I certainly love finishing it and being able to tick another one off ! But quite honestly now, I just love the whole day – running down the streets, having people shout out your name and saying 'Keep going, Eric!' – I love that bit. And I love seeing Peterborough people on the street cheering it on. The biggest satisfaction, perhaps, is when somebody comes up to me and says: 'I'm going to do the PGER this year, and it's because of you. You've inspired me to do it.'
PERKINS GREAT EASTERN RUN
Half Marathon / Wheelchair Race / Anna's Hope Fun Run 14 October 2018 Embankment, Peterborough ● To find out more about the PGER, including how to register and latest dates and times of training sessions visit: www. perkinsgreateasternrun.co.uk
● For more on parkrun, go to www.parkrun.org.uk ● For more on Couch to 5k, go to www.nhs.uk/Livewell/c25k/Pages/couch-to-5k-plan
Leave a Reply