Pretty bridesmaids all in a row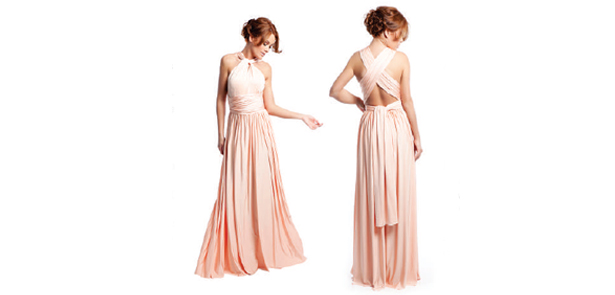 It's not just the bride who needs plenty of care and attention leading up to the big day: #TeamBride also needs to look and feel amazing – whatever they wear!
Everybody happy?
Each bride has a vision of how her wedding day will be – and bridesmaids are a vital part of that vision. But every woman who agrees to be a close friend's bridesmaid will probably experience – amidst the excitement and the nerves – a touch of trepidation as she ponders: what will I end up in?
It's tough to wear a bridesmaid dress that does absolutely nothing for you, but it's even tougher being the person who has to look at her gaggle of closest buddies and try to decide how best to reconcile all the different skin tones, heights, weights and shapes. What looks knock-out on one woman will inevitably look only 'meh' on the others – or worse, utterly dreadful.
Get the situation wrapped up
This is where the multi-wrap dress comes in. From Canadian designers Eliza and Ethan, the multi-wrap dress is nothing short of inspired, yet at the same time so very simple. Imagine a dress that will suit each and every one of your bridesmaids thanks to its unique wrap style. Tall and thin, short and curvy, large bust, small bust – and everything in between! Your bridesmaids will have a dress that can be quite dramatically adjusted to flatter each different body type, while still perfectly co-ordinating with the other bridesmaid dresses. Available in over 22 colours and with over 22 ways to wear it – it's The Bridesmaid Dilemma solved at a stroke!
All tied up
Vow Bridal is one of only a small handful of stockists in the region who carry the Eliza and Ethan multi-wrap dress. As well as supplying as many dresses as you need, Vow's co-owner and manager Lisa can give your girls a masterclass in how to wrap the dress to each and every figure's best advantage. Colours can match or subtly co-ordinate to make the most of individual skin tone, and Lisa can advise how the dress colour can best tie in with the rest of your wedding palette.
Accessorise…
Vow have some luscious pretty things that will add some real romance to your team's outfits: hairpieces and hair vines which can be woven into the hair to create individual styles; matching flower clips which can be added to dresses, shoes or be worn in the hair; and matching flower girl sashes (which match the bridesmaids dresses).
Vow Bridal Ltd.
26 – 30 London Road,
Wansford,
Peterborough
PE8 6JE
Leave a Reply