Peterborough's strongest Vikings!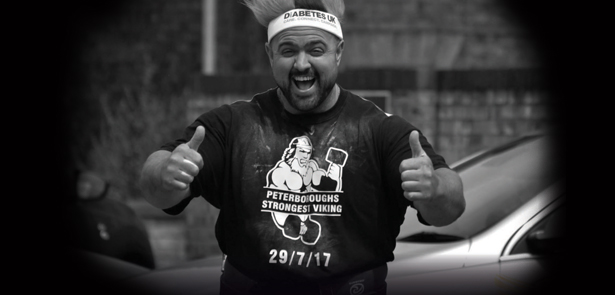 James Neville, proprietor of Saxon Muscle – supplier of gym apparel, proteins and supplements – does more than just talk the talk. In March he will again be running the Peterborough's Strongest Viking competition – now in its the third year – and none other than the legendary Geoff Capes will be there to referee, with a special evening event where you can meet the man himself. We talked to James about the contest, his inspiration, and some heavy, heavy weights...
First, tell us about the contest and who is taking part…
Competitors are coming from all over the UK – from Scotland, from Cornwall… They're all strongmen and women – we do have a women's category – and you can compete even if you're a novice. For the men we have an under 90kg category for all the lighter blokes – 12 stone or so – then an under 105kg category – about 16 stone – then an open category, which is where you get the monsters!
Is it always the case that the bigger you are, the stronger you are?
Not always – but you're not going to see 90kg blokes lifting the weights they have in the open category. If there's a 16 ton lorry and youweigh 12 stone, you're going to find that hard tomove…
What do the other events involve?
There are five events in total. The lorry pull is the first challenge – a 16 ton lorry pulled over 20metres. Depending on your class youmay have slight differences – the women have a smaller lorry, and in the under 90kg class they have a rope to pull on – but in the open category, they just have to pull it using brute strength. Then there is the Log Press, the Silver Dollar Deadlift, lifting the weight from a height of about 18 inches, Super Yoke, where you lift weights balanced across your shoulders, and the Shield/Husafell Stone Carry, an ancient Icelandic strength test where you basically carry a huge stone as far as you can!
How has the contest grown?
Last year we had a turnout of about 400 spectators and around 40 competitors, and Geoff Capes refereed for us. This year, we're looking at about 1,000 spectators, 60 competitors, four different classes and Geoff Capes doing the refereeing again.
What inspired you to first get involved with all this?
I went to Britain's Strongest Man in 2014, and just got hooked. I met Eddie Hall there, the current World's Strongest Man. To see someone in their prime – a 32 stone, six foot, three inch monster – was amazing! He just wiped the floor with everybody. I discovered I was naturally quite good at it, and also good at organising things – so I enjoyed the organisation of the events themselves. And then I got to meet amazing people like Geoff Capes!
How did that happen?
He trains natural strongmen at a local gym. I was just there and he saw what I was doing and I had a chat with him. It's his knowledge that is so great. Anybody can tell you what they think is the right way to do a dead lift or a log press, but he has done it all. He won World's Strongest Man in 80 and 82, but was also a shot putter before that, taking part in the Olympics and winning two Commonwealth Games and two Indoor European Championship titles. If you get to train with him you don't want to train with anybody else.
Have things changed since the days when Geoff was a champion?
There's more science about it now. Back in the 70s and 80s, they were just naturally athletic, big men, and brute strength got them through. These days, there's a lot more science behind the diet, different types of training and different weights. Saxon Muscle has a product range to help with that – supplements and proteins and so on – and we're opening a new Saxon Muscle Lifestyle & Fitness shop in Peterborough in February. But that's really why you see strongmen now lifting more weight than they did back then. What's happening at the special evening event? There's a three-course meal with a live band and a bar, but also Geoff will be there with all his medals and trophies. There will be some demonstrations, and also Powerlifting USA magazine – which is massive in the strength world – are doing an interview with him, with questions from the audience. It should be a great evening!
PETERBOROUGH'S STRONGEST VIKING ● Saturday, 24 March ● Just £2 entry fee, including programme. Children free.

AN EVENING WITH GEOFF CAPES ● Saturday, 24 March, 6pm-11pm ● £50 per ticket – limited to 50 people.
Both at Peterborough Lions Rugby Limited, Flaxlands Bretton Woods Bretton, PE3 8DF Peterborough.
To find out more about Peterborough's Strongest Viking, the Evening with Geoff Capes and Saxon Muscle, visit: www.saxonmuscle.com or find Saxon Muscle on Facebook.
Image: Aimee Mullin
Leave a Reply