Peterborough salon now recycles hair, foils, colour & PPE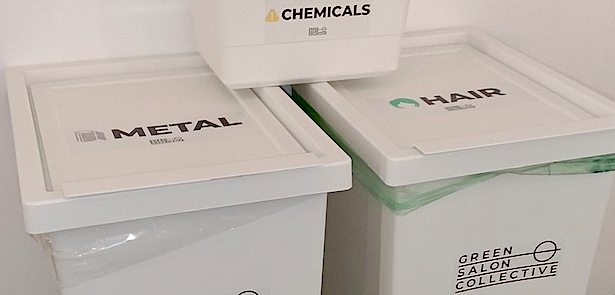 Local hair & beauty salon Melanie Richard's Hair & Beauty Salon on Bridge Street, Peterborough has signed up to Green Salon Collective to increase recycling of waste to stop polluting the environment.
Previously, the salon has always used Scrummi compostable towels and changed all light fittings to LEDs. Recently they also changed to Paul Mitchell colour and hair care products, which are vegan and cruelty free.
'The environment has always been something that we've cared about so when we found out about Green Salon Collective, we just had to get involved.' said salon owner Richard.
Salons will now be provided with separation kits for hair, metals & chemicals, preventing them being sent to landfill. These recycling systems will allow almost every single piece of 'rubbish' to be turned into something new. For example, aluminium foil can be recycled an infinite number of times, while hair clippings can be made into hair booms and mats, which can be used to absorb oil from waterways, be donated to wig-making charities or added into garden compost mixes.
Melanie Richard's Hair & Beauty Salon
100 Bridge Street
Peterborough
PE1 1DY
T: 01733553600 / 07782879306
---
WHY GREEN SALON COLLECTIVE? MIXED RECYCLING DOES NOT WORK!
Separation is the key.
We all love the hairdressing industry but we also know it has an ugly side too. We freely pour toxic hair colour down the sink, throw out used foils and colour tubes in the regular bin given they mostly can't be recycled, we use more plastic and paper than the other shops on the high street and we even throw valuable hair cuttings into the bin.
GREEN SALON COLLECTIVE are here to change this.
Founded by environmental experts, hairdressers & eco campaigners, GREEN SALON COLLECTIVE is the original authority on salon sustainability throughout the UK and Ireland wide.
With our recycling system, we will recycle almost every single piece of "rubbish" and turn it into something new. We recycle and recover hair, used foils, empty colour tubes, chemicals, PPE, plastic & Paper.
We provide each salon with the separation kits, in-salon marketing, daily collections, ongoing support and ideas and education on all matters regarding sustainability.
Another thing we are proud to recycle is our profits.
100% of any money raised from recycling your raw materials or new products made from your waste goes to charity. By recycling our profits, every month we can support charities and organisations that are close to our hearts. These currently include the following:
Foodcycle – Haircuts 4 The Homeless – Tree Planting.
The biggest winner here is that we reward the planet. We are diverting easily recyclable materials that are currently being sent to landfill. These are materials such as aluminium foil which is a commodity that can be recycled an infinite amount of times. We'll also recycle your hair to ensure that it will be used to either help adsorb oil from our waterways, be added into gardeners composting mixes, or if it's long enough, be donated to wig making charities. There is absolutely no reason why either of these materials should be thrown away as general waste just to end up in the ground.
Leave a Reply