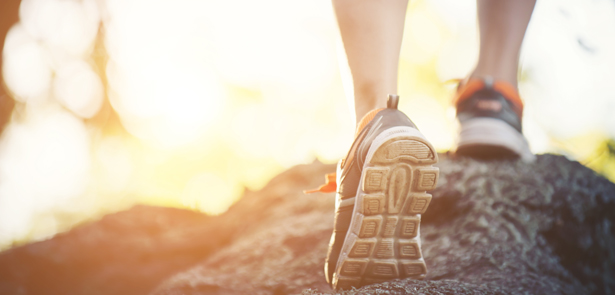 Almost every day, Adrian Woolley – director of the Fane Clinic – sees patients with foot, ankle, knee, hip, back and neck pain which can often be attributed to faulty foot posture. As the training period for Perkins Great Eastern Run approaches and many are training harder or running seriously for the first time, The Moment talks to him about using biomechanics to diagnose an issue or warn the patient they may have a predisposition to injuries, and how orthotics can help
First of all, that word 'orthotics' – what are we talking about here?
Orthotics is the name for a device that helps a part of the body work better. For example, glasses are orthotics for your eyes. At The Fane Clinic we prescribe orthotics for your feet. Feet are shock absorbers and take thousands of steps every day. There are 26 bones and 35 joints in each foot making them quite complex structures. To put it into layman's terms they act as a rigid lever when you push off and a shock absorbing 'loose bag of bones' when your feet are planted during the gait cycle. If your feet aren't absorbing shock properly then there is strong likelihood you will get a problem somewhere in your body. In my opinion a lot of that is to do with the fact that up until about 200 years ago humans mostly walked around on grass, soil or sand, whereas now we walk on tarmac and concrete.
A lot of PGER participants may be taking part for the first time, so presumably this can put an even bigger strain on the body?
13 miles is a big ask for most people and particularly those who haven't done a lot of running or sport before. If you have a predisposition to an injury through your feet, then all of a sudden start pounding the roads, you're at risk of developing a problem. We often get people in the clinic who have injured themselves before the half marathon takes place, simply because they haven't addressed their biomechanical issues. They might get a great pair of trainers from a running shop not realising that many people have two very different feet. These trainers can be like ready-made reading glasses – which may be fine for one foot but not the other. Another analogy I use is that it's like having a brand-new car with tyres that are not pumped up correctly to give equal support all around. If that's the case, something on your car will wear out quicker. With our bodies, that translates into problems in the joints – for example ankle pain, knee pain, hip pain, back and neck pain. Quite often we can be the last port of call with patients having tried a Sports Therapist, Physiotherapist, Chiropractor, Osteopath or other specialist who may well have been treating the symptom rather than the underlying cause.
How far up the body can the issues go?
I've had people many before who have come for one issue and realised since wearing orthotics problems they didn't even think to mention are better. Basically, the feet are our foundations and so by realigning them the whole posture can be affected. It really can be life-changing for people. For sportspeople it can adjust your gait, make you more economical and for example make you quicker or allow you to go further. The orthotics that we supply are guaranteed for life by the manufacturer. I also offer a moneyback guarantee on all adult orthotics if they don't work for the patient, so as you can imagine if I don't think they are going to help I don't prescribe. I see as many children as adults and by putting them in orthotics at an early age we hope to encourage the foot to change position so they may not need them at all in later life. It's all about getting the patient into a better place, whether its pain relief, correcting a clumsy gait or even improving sporting performance. The aspect of the role I enjoy most is everybody is different and needs to be treated accordingly. Currently our youngest patient in them is 14 months old with our oldest being 102. In between there's all ages with people from all walks of life. We also offer prescription orthotics suitable for sandals, as well as prescriptive flip-flops known as 'FlopThotics', which the patient can design themselves in terms of the colours and style.
What is the consultation and fitting process?
We offer a free initial consultation, which lasts around an hour. Patients are asked to bring their regular footwear (up to six pairs) and some shorts to change into so I can see how their feet, ankles, knees and hips work during the gait cycle. Firstly, I explain what the assessment consists of and take down any relevant medical and personal details, then do a 2D pressure scan to see what position the feet are in when static and weight bearing. A plinth assessment which is non-weight bearing is then carried out which not only looks at the feet but the range of movements attainable in certain joints that are involved in the gait cycle. The patient then stands in front of a mirror and I look to see what affect the feet may be having on the rest of the posture. Finally using some specialist software, I will ask the patient to walk bare footed and video it. By looking at the film frame by frame I will point out to them what I can see. As you can see I use mirrors, cameras and scanners so the patient can see and hopefully understand what I'm looking at. If an issue is identified, I explain how the orthotics prescription works, how it's made and how it can help.
How are they made?
We use a 3D laser scanner to scan each foot individually. We hold the foot in the position I think it needs to be in to ascertain the function and movements that are not happening. Those images are sent to a lab in Barcelona where models of the feet are milled, a suitable material which makes the shape of the orthotic is cast against the 3D model and that creates the shape for the foot to sit in. The whole process from scanning to fitting takes about three weeks. As part of the service we offer Under- 18s a free check up every six months, and adults once a year just to make sure all is progressing how it should. Generally, they work extremely well and as mentioned there is a money back guarantee if they don't help. On average I probably refund between six and eight a year. That's out of hundreds that have been prescribed in that period so as you can see it's quite rare that they don't help people. I don't think there are many people doing what we do here with the free assessment, Lifetime product and money back guarantees. I know from speaking to the laboratory in Barcelona that we're the number one clinic in the UK that they provide orthotics for, in terms of numbers. They do around 40,000 sets of orthotics a year from that laboratory, and apparently the guy who set the company up used to be president of Barcelona football club, so I guess they know a little about sport!
What would you recommend to someone thinking about taking part in a big run like the PGER?
If you haven't done much running before or have an unresolved problem that is hampering your running, sport or in everyday life then come and see us. With 4-5 months to go before the race, this is when you should really start thinking about it and getting into training. Prevention is always better than cure when it comes to injuries, and if you sort out your biomechanics, you're a lot less likely to get injured.
The Fane Clinic The Old Farmhouse, Freston, Paston Ridings, Peterborough PE4 7XB. 01733 571555 www.thefaneclinic.co.uk
Image: www.freepik.com/free-photo/marathon-girl-recreation-young-spring_1088151
Leave a Reply