New café at Thorpe Meadows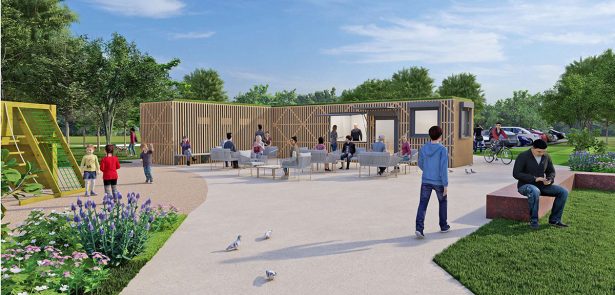 Plans for a café, play area and toilet facilities on land adjacent to the car park at the entrance to Thorpe Meadows have been unveiled. The plans form part of the Nene Park Masterplan and follow on from other recent projects such as Fox Play and the plans for the new Lakeside Activity Centre.
Thorpe Meadows is home to Nene Park's purpose-built rowing lake, riverside walks and many of the sculptures in Peterborough's collection. With around 370,000 visits a year, Thorpe Meadows is a popular destination and yet, despite this, there are currently no visitor facilities. The proposed development hopes to address this.
Nene Park is working with award- winning Iso Spaces, who design, manufacture and install modular buildings from recycled shipping containers. They have designed an attractive low-level café with an outside terrace overlooking the play equipment. Toilet facilities will include an accessible toilet with baby changing facilities.
Andrew MacDermott, Head of Development at Nene Park Trust says: 'We are excited to be working on the establishment of these new facilities, which will enable us to provide a proper welcome to visitors in this special part of the Park.'
Subject to receiving planning permission, appointment of a catering partner and final internal approvals, it is anticipated the new café will open this summer.
To see proposed plans and images, a list of FAQs or to comment on the proposals, please visit www.nenepark.org.uk/news and click on the relevant news story.
Sports facilities at Woodlands
Nene Park Trust took on the management of Woodlands Sport pitches in Castor in 2017. The Trust is currently working on designs to ensure sport can continue at Woodlands for generations to come. Plans include a new sports pavilion with dedicated changing facilities, community space and kitchen, and a year-round Multi Use Games Area (MUGA).
Local architects BBA are helping design a space that will create a community sport facility, with
an aspiration for sustainable construction. Facilities will consist of a sustainable multi-use community sports hub. The building will also be the Trust's only public building in the Rural Estate area and may serve as the base from which other activities could be undertaken in the surrounding landscape.
Woodlands is currently home to Thorpe Rangers FC and Bharat and Bretton Cricket Clubs. The inclusion of a MUGA will provide winter opportunities for our current teams but also provide facilities for other sports such as netball.
Castor and Ailsworth Tennis Club is also planning to base itself at Woodlands and they
have well-developed plans to enhance the sporting offer on the site. These include five artificial grass courts (three of which will have environmentally friendly floodlighting), two pickleball courts, and two padel tennis courts. The courts will be open to all.
To comment on the proposals and for FAQs on the Woodlands project please visit www.nenepark.org.uk/ woodlands-sports-facilities
Leave a Reply