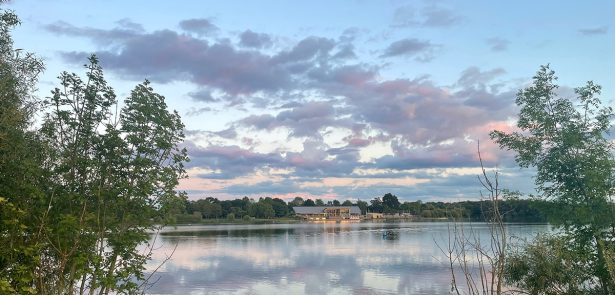 Spending time outside promotes both mental and physical wellbeing. Chair of Nene Park Trust Jackie Bland explains the benefits and how Nene Park is there for the enjoyment and health of everyone.
Nene Park has a big part to play in the health and wellbeing of local people. What is it about the Park that's so appealing in this respect?
The most effective way to become healthy and enjoy wellbeing is to connect back to nature and live more naturally. It isn't just about exercise, rather it's about being exposed to woodland, water, wildlife and so on. Nene Park provides a unique opportunity for this because it's a very natural environment within walking distance of much of the city, and you don't very often get those two things together.
The Park isn't solely a place for leisure and recreation – it's somewhere you can go to support your wellbeing, understand yourself better, and reconnect with nature. As we move forward, we increasingly want to be talking about the Nene Park Trust as a health and wellbeing trust, as well as a trust that provides land for people to have fun in.
As you say, most towns and cities don't have such a large area of natural beauty right on the doorstep like Peterborough does. We are very lucky!
Absolutely. And with it so close by you don't have to set aside a full morning or afternoon for a
visit. In fact, any time spent outdoors will impact your wellbeing. If you can spend even 10 minutes out in nature, it resets you for the whole day. There's lots of research showing that this changes your brain, brings down blood pressure, and improves mental health. There's so much more than certified therapy and all the other types of interventions. If you can get outside into the fresh air, give yourself a little bit of space and thinking time, maybe enjoy some gentle exercise or otherwise just sit on a bench if you can't – you're doing something proactive to support your health.
There are many ways to enjoy the Park and its natural setting, with different degrees of 'wildness' to experience too aren't there?
That's right. If you want to head out and enjoy more open countryside, where it's more unspoilt and peaceful, there's the Rural Estate, where you can wander along beside the river and out across the fields. But a lot of people, particularly those more used to city living, might feel more comfortable in the more formal areas of the Park where there are surfaced footpaths and facilities, because even these footpaths will take you through areas of woodland or to the lakes and their wildlife. Time in more visited areas like Ferry Meadows will do you just as much good as going out into the wilder parts of the countryside.
And what is the Trust doing to make the Park as accessible to as many people as possible?
Nene Park is one of the few places where wheelchair users or those with reduced mobility can access pathways that complete a wide circuit of the Park. And visitors can choose from a variety of walks covering different distances to suit their ability. There are also wheelchairs and mobility vehicles available for hire and we are looking at other ways to make things more accessible, such as more signage to encourage visitors and explain the benefits to being outside.
Nene Park is moving into the community too. Through the Your Community Greenspace project, funded by the National Lottery Heritage Fund, we are engaging with local communities and encouraging people to come and use the Park on their terms and in ways that they want to. But we are also taking the Park back into the city, by educating people about wildlife and nature. There are lots of things we'd love to do as we move forward too, such as encouraging people to create their own green spaces. So we are connecting everything up with the Park and what it wants to do.
Then there are the regular activities and events, such as the nature trails and get-to-know wildlife activities such as pond dipping and bug hunting. We offer education opportunities for schools, run forest school sessions, and children are encouraged to play here. We're doing everything we can to open up the Park to all of Peterborough.
How do you think the Park's role in supporting mental health might evolve over the coming years?
We are really focused on this area. We are looking at social prescribing, where doctors prescribe activities to support mental and sometimes physical health. The Park may be able to deliver solutions for people with a particular condition and offer opportunities to spend time outdoors
in nature. We can help people get better then maintain their wellbeing.
Would that be through opportunities like volunteering? How would you see nature prescribing working in practice?
Definitely through volunteering. We already have around 200 volunteers in the Park and have directly observed how helping with all the different jobs and activities can be so powerful. There is a lot of mutual support there and the mental health improvements that occur as a result of volunteering is phenomenal. It would be great to extend our volunteering activities with a view to helping people with their wellbeing.
The Park also has the space and resources to offer other specific activities. One example might be forest bathing – a lovely activity where you stand peacefully among the trees to observe nature while breathing deeply, which is very therapeutic. There's good research to show that this helps to hit a lot of health targets and address the sorts of conditions that people suffer from these days. I expect we would look at a range of other options too.
Peterborough has an advantage in that there's this incredible resource that is ready to go. So hopefully we can become a model inspiring others in the way we exploit the health and wellbeing benefits of having this wonderful space. We're very blessed to have Nene Park.
Are you looking for more ideas in this wellbeing area?
We certainly are! The Nene Park Trust is open and welcoming, and we would love to hear about other ideas or if people are inspired by the thought of the Park being able to deliver benefits for wellbeing like this. Please get in touch and talk to us as there may be something we haven't even thought of yet but could deliver.
Art in the Park
Nene Park can nurture your artistic side too. Louise Thirlwall, Project Development Officer (Arts) at Nene Park explores the highlights.
Starting during Covid with artist residences and the 42Words project, Nene Park is developing a growingArt in the Park programme. Activities have included theatre performances, digital trails, poetry and outdoor art exhibitions – a range of experiences designed to help people access the arts in a space that everyone can feel relaxed in. We want to show that you don't have to enter a gallery to take part in the arts.
Peterborough Sculpture Collection
Nene Park Trust also took over the management of Peterborough Sculpture Collection in 2020. Some of these sculptures are located within the Thorpe Meadows Sculpture Trail. Visitors can explore 13 of the sculptures on the trail as they enjoy a short walk within this beautiful setting.
Many of the sculptures in the collection were bought or commissioned by the Peterborough Development Corporation in the 1980s. Made by some of the best sculptors working at the time, they were chosen to link with the architectural style and planning of Peterborough and to create a culturally rich city.
One iconic piece is the Peterborough Arch by Lee Grandjean, which can be seen from Longthorpe Parkway. It faces into Thorpe Meadows but also towards the city centre, celebrating both the movement of people into Peterborough and the city's rich heritage.
More recently sculptures by Jeni Cairns, Lee Mawby and Jason Thomson have been commissioned by Nene Park Trust, with these contemporary artworks now joining the
Peterborough Sculpture Collection.
Jubilation!
The Sculpture Trail takes visitors past
a different area of
the Park beneath Longthorpe Parkway. This space has quite an urban feel to it, with big concrete pillars supporting the road above. We have been keen to do something under there for a long time and this area is now home to a series of murals and street art installations.
Events company Mixology has run a series of music and dance events under there and they commissioned a number of local street artists to paint the pillars. Then we launched our Jubilation! project, funded by the National Lottery Community Fund to celebrate both The Queen's Platinum Jubilee and the young people of Peterborough. To help us achieve this we commissioned artists Nikki Goldup and Keith Hopewell to work with young people from The Kite Trust, an LGBTQ+ support group that works in the city, as well as students from Thomas Deacon Academy.
To create the artworks Nikki and Keith talked to young people, ran workshops and activities, and explored the idea of celebration and green space. Through those conversations we talked
a lot about identity and what it means to be a young person in the city. Together they came up with the idea of four portraits, which have been brought together as a collage, creating a new space for young people within the Park and turning what was a very underused space into something quite unique.
Collection Conversations
Conversation is the theme of another project at the Sculpture Trail. Collection Conversations is all
about finding out more about the Peterborough Sculpture Collection.
We have talked to art conservators to find out what repairs need to be carried out, met with public art curators to find out more about other sculpture collections and trails, and walked and talked with local artists to consider the future of the sculpture trail. Creative workshops with visitors and community groups have also seen us make our own sculptures and discuss what new artworks and themes people would like to see in the Park.
Find out more
I'm keen to speak to anyone about their relationships with the sculptures and what new pieces they would like to see in the city. If you would like to join the conversation, please get in touch via
Leave a Reply