Swede in Wolf's Clothing | Volvo 850 T5-R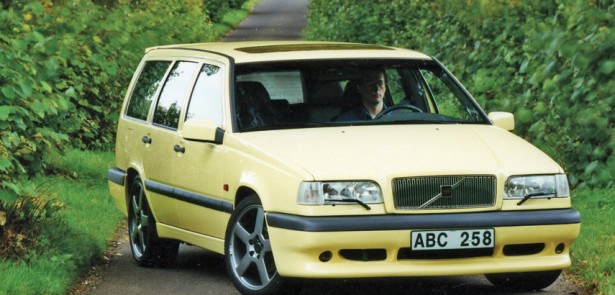 The Volvo 850 T5-R was the most exciting thing to come out of Sweden since Abba. We look at what made it special and why its impact can still be felt today
Up until the early Nineties Volvo was producing the same style of cars it had always done. Large, solid, utterly dependable but dull. And then in 1995 something curious happened. From out of the blue it created a car that was focused more on performance than it was practicality. Based on the already rounder 850 saloon and estate, the T5-R was a tyre squealing, tarmac grating, rip roaring Swedish maniac.
It certainly looked the part. With low profile tyres, 17in dark grey alloys and a discreet body kit (comprising of a front bumper with a lip, rear spoiler, side skirts) it looked like no Volvo before it had ever done. Inside there were polished aluminium door sills, dark grey leather seats and a black interior with deep walnut wood grain accents. It was available in just three colours – a very unVolvo like yellow, olive green and black.
Heart of this automotive hedonist, though, was the engine. With a huge turbo strapped onto its already sizeable 2.3-litre, five-cylinder motor it pumped out a stonking 240bhp. It could reach 60mph in 7.2 secs and had a top speed of 140mph. To put that into perspective, a Porsche 968 from around the same time had 236bhp and was only a second faster to 60mph.
Yet while it sounds fun (and as somebody who drove one way back when they were new, I can testify it was) it had its problems. While the rear-wheel drive Porsche was designed for such brawn, the front-wheel drive 850 wasn't. The result of all that power was a tendency to shred front tyres quicker than a chipper gets through Christmas trees in January.
Yet despite the issues, it proved to be a huge success, both critically and commercially. Buyers were intrigued by the idea of a car that was faster than its badge suggested and was reasonably discreet, especially the sensible estate. Plus, it was very safe, being the first production car to have four airbags as standard (front and side). It was initially a limited edition but in 1996 it was put into volume production. Now known as the 850R, it was the first in a long line of performance Volvos to use the R name.
And yet the car's most important achievement was larger than simple sales figures. It may not have been the finest performance saloon of the Nineties, but it changed our perceptions of the company. Volvo was no longer a manufacturer of purely safe saloons but of cars that were exciting. And just as our perceptions changed, so did the company. Over the past decade its range has slowly morphed, becoming more and more interesting. The gorgeous V60 you've just read about, for example, is part of these changes. It would have been unimaginable for Volvo to have produced such a car 15 years ago. But the T5-R showed what was possible, paving the way for the company's future.
Leave a Reply