Vauxhall Ampera – Hidden Truth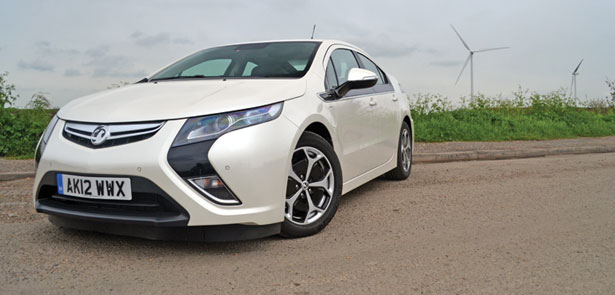 The Vauxhall Ampera isn't any five-door hatchback – it hides a secret. Not only is it electric, it also has a tiny petrol generator to extend its mileage. A clever idea, but is it one that actually works?
On the face of it, the Vauxhall Ampera appears like any mid-sized hatchback. It has five-doors, room for four and plenty of equipment. Euro NCAP has, like it has with many others, given the car a five-star rating for safety after crashing one into a concrete wall. It's even won the prestigious 2012 European Car of the Year award. Bearing in mind past winners have included the Fiat 500 (2008), Renault Scenic (1997) and NSU Ro80 (1968) it's not an award given to any tin can on wheels. For a car to win, it has to be more than just practical – it needs to be advanced and include many fresh ideas.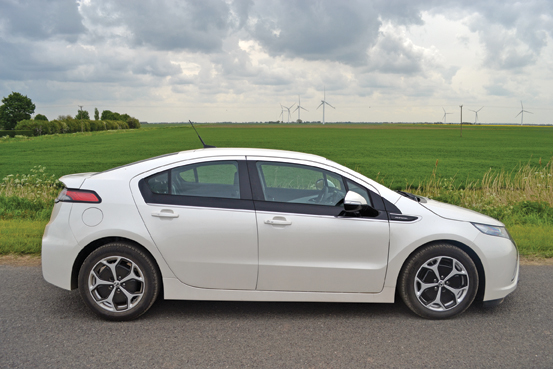 The Ampera is all of those because – as the name suggests – it's powered by electricity. I'm not usually a fan of electric cars because their range is so small you're lucky to make if off the drive before it needs plugging back into the wall. And neither do I like hybrids – cars that have both normal combustion and electric engines working in tandem – because they're far too complicated to result in an MPG figure that's often no better than a standard, simpler diesel.
This new Vauxhall, on the other hand, is different because it has a petrol engine that acts purely as a generator to fuel the electric engine when you've run out of power. It works like this – charge the Ampera as you would an electric toothbrush by plugging it into a standard house socket. When charged, the batteries have a range of around 50 miles. When that runs out, the 1.4-litre, 85bhp petrol generator then kicks in, extending this by another 300 miles. Because it only generates power and not drives the car, the petrol engine will return the equivalent of 235mpg. That makes it one of the most cost effective cars on sale today. Of course, that means nothing if doesn't feel like a proper car – a milk float is also cheap to run, but if they get any slower the milk would curdle.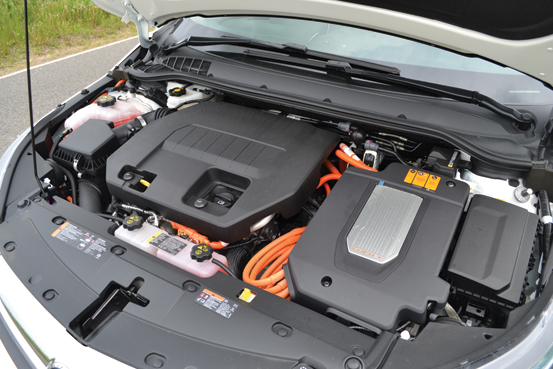 There's certainly nothing wrong with its looks. Where as some electric cars are awkward, ungainly lumps, the Ampera has aggressive styling and from the front looks a like the VXR8, Vauxhall's Australian built V8 super saloon. The interior is a well made and, consisting of four individual seats, offers plenty of room for that amount of adults while the boot, at 1,005 litres (seats down) is a decent size and is comparable to the Ford Focus' at 1,100. The dash is well built using quality materials and features a colour screen that gives the kind of information we expect from cars like this; how much power is being used, how much is being regenerated from braking, how the stock market is doing and the weather in Southend. Okay, maybe the last two are false but the rest are true and pretty pointless. Everything that's important is right in front of you. Instead of separate dials there is one screen that includes your speed and how much charge and fuel is left.
To start, press the button and… Silence. If it weren't for the multitude of lights on the dash, you'd think it wasn't running. It's the same on the move under electric power. On the move the Ampera is controllable, having the same sort of throttle response as a petrol engined car. With 150bhp, it's also pretty quick. Put your foot down and the car accelerates with the same eagerness as a 1.6-litre combustion engine. And sure enough, its 0-62mph time of 8.7 secs is similar to the Ford Focus 1.6T Ecoboost that can reach 62mph in 8.6 secs. It will sit comfortably at motorway speeds and even at 70mph still has enough left to over take in the fast lane. Bearing in mind its energy source and size of engine, it's quite an achievement and shows how far electric cars have come in the past five years.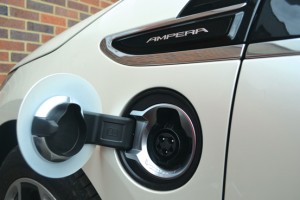 When the electric runs out, the petrol generator automatically kicks in. It does this so smoothly there's nothing to tell you it's happened except there's now an engine noise. But due to the size of the tiny motor, it sounds like a Nissan Micra towing an enormous caravan.
The gearbox doesn't help this. As a continuously variable transmission (or CVT) that can change steplessly through an infinite number of ratios rather than a manual or automatic 'box that has a fixed number of ratios, it can sound strained at times under power. Plus not having the ability to call up extra torque as you can with a normal auto with the kickdown means its not really designed for sports driving. It's not that power isn't there; it's just that it can't be controlled.
The ride is very comfortable, absorbing away any road imperfections yet not feeling too soft and floaty. There's also plenty of grip and body roll is limited making it a very pleasant car to drive, certainly the nicest of any hybrid I've driven including the terminally dull Toyota Prius.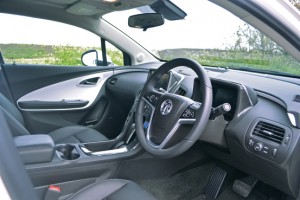 So it looks good, well built and spacious to drive while its hybrid technology actually works in terms of performance and economy. But there is one area that lets the car down badly and the COTY judges won't have measured – cost. Even though the government is giving a £5,000 refund on electric cars, the Ampera starts at £32,250 for the Positiv model while the Electron you see here is £33,995. Admittedly plenty of equipment is included in that, including air conditioning, sat nav parking sensors and a Bose stereo but it is very expensive for what is basically a hatchback. The equally cheap to run Volkswagen Golf Bluemotion 1.6 TDI is just £19,445.
Yet amazingly, the salesman at Marshalls Peterborough who lent me the car said he had already sold three examples in the few weeks it's been on sale. So although it looks like a standard hatchback, people are obviously realising – just as the Car of the Year judges did – that couldn't be further from the truth.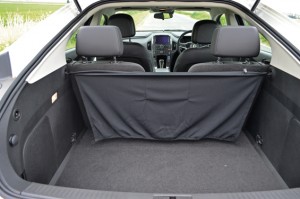 Verdict: 14/20
Manufacturers of electric cars are so concerned about the environmental impact of the car they forget it still needs to be a car. The tiny, impractical Peugeot i0n is a good example of that. The Ampera, though, can compete with any mainstream hatchback in terms of usability and driveability. Bearing in mind how young this market is, that's quite an achievement. If you're looking for incredibly cheap motoring but don't want to compromise, the Ampera – despite it's high purchase price – is the answer
Specification
Vauxhall Ampera Electron
Price: £33,995 (incl government £5k cashback)
Engine: Electric motor
Power: 149bhp
Torque: 273lb ft
0-62mph: 8.9 secs
Max speed: 100mph (limited)
Economy: 235mpg
C02: 27g/km
Manufacturer
www.vauxhall.co.uk
0845 111 7711
Dealer
Marshall of Peterborough

Boongate, Tyrrell Park
, PE1 5PT, Peterborough 

0844 334 9218
Leave a Reply