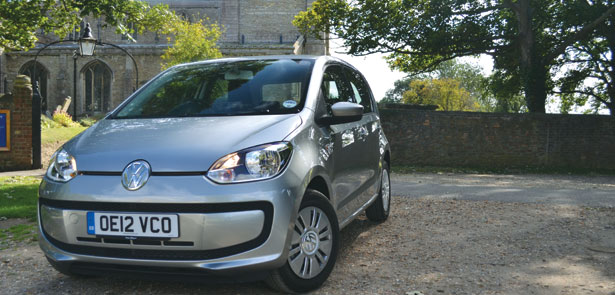 Does the new Volkswagen Up! have what it takes to compete with the established leaders in the city car market?
It's hard to believe but Volkswagen isn't infallible – it can make mistakes. This was never clearer than with its previous city car. While Fiat was producing the gorgeous little 500 and the Mini continued dominating the world, VW gave us the dumpy Fox. Designed and built by VW's Brazil operations for the local market it had as much charm as a shopping trolley and just as much fun to drive. Cheaply built, its interior looked like a melted Mars Bar but not as strong. So with all of us more concerned about fuel economy and therefore buying smaller, more efficient cars, the German car was severely lagging behind its more charismatic rivals.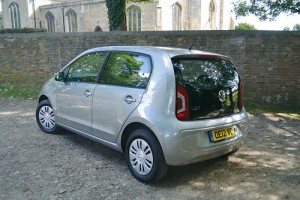 And so to answer this, Volkswagen has launched the Up!, a tiny hatchback that was designed in Germany for the European market. Looks wise, it's much more interesting than the old Fox. Low down and with a large glass area, it's very modern and contemporary. But it doesn't have the 500's cheekiness, that special something that makes you want to cuddle it. Instead the Up!'s right angles are more Teutonically efficient than charming.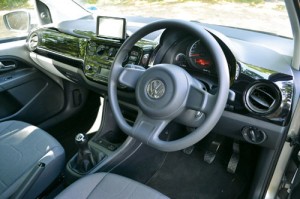 The interior is much better built than the old car and the test example I drove featured shiny 'piano black' on the fascia that gives it the same premium feel as a Golf. Admittedly if you look more closely at the plastic lower down it becomes grainy and cheap looking, but there's no denying its robustness. The dial display is beautifully simple consisting of just a speedo, fuel gauge and rev counter. The latter two might be tiny, but its clean design means it's very easy to read. The Tungsten Silver (a £450 option) example shown here is in the Move Up! trim level (there's also the entry Take Up! and the top spec High Up! Who says the Germans don't have a sense of humour?) Standard equipment includes air conditioning, CD/radio with aux-socket for MP3 players, electric windows and driver's and front passenger's front and side airbag (the sat nav is an extra £290). Not bad for a basic list price of £9,445 which puts it against the Ford Ka Edge 1.2, Fiat 500 Pop 1.2 and Peugeot 107 Allure 1.0.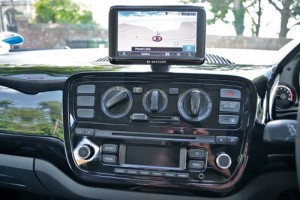 Front space is excellent, having lots of head and leg room. Sadly it's not the same in the back and even kids will find the rear claustrophobic while it's almost impossible for adults to squeeze their legs in behind the front seats or their heads beneath the roof. Unlike the Mini and 500, the Up! has a five-door version (pictured here) as well as a three. It makes entering the tiny car far easier than the other two. On fist glance the boot is tiny but there's actually a false floor the same height as the rear bumper to make loading shopping bags easier. Removing it creates a deep well, which is big enough for a couple of cases.
Just one engine is available in the Up! – a tiny one-litre, three-cylinder unit. With just 60bhp, you'd think it wouldn't have enough to pull off the driveway let alone keep up with city traffic, yet in reality it's a fizzy little motor
Thanks to being very responsive low down in the rev range, it scurries through the streets with all the eagerness of my kids leaving school. It will even cruise effortlessly at 70mph and reasonably quietly too, although anything past that becomes soon too noisy and as it starts to run out of breath, it makes the car feel unsettled. Drive it sensibly, though, and the Up! always feels firmly planted. Even front end grip is excellent, never suffering from the scourge of little hatchbacks like this, namely understeer, where the car wants to slide forward despite the steering wheel being turned. Instead, the skinny, 14in tyres stick onto the asphalt and follow the line you've asked them to take. Body roll is also well controlled meaning it doesn't feel like its going to topple over (a real problem with its predecessor).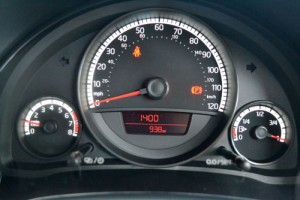 This doesn't mean it has hot hatch levels of handling, but it can certainly take a corner well and is fun to drive in a spirited kind of way. It can feel unsettled on badly surfaced roads but then with a wheel base of 2420mm its going to feel every bump. However, occupants aren't tossed around like a salad as they are in some small cars, such as the Nissan Pixo.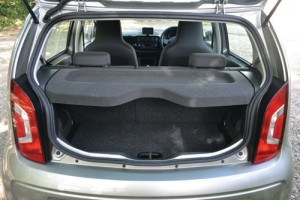 Add minimal running costs – 62.8mpg on the combined cycle and just £20 for road tax – into the mix and it's clear the Up! would make a sensible and practical choice. But those aren't words often used to describe city cars. We buy them not just for their economy and size but for their personality – they should be fun, cheeky and frivolous with a sense of style so you treat them like a fashion accessory. Take a look at any Fiat 500 that's plastered with Italian flags for proof. The Up!, however, is the polar opposite. Its sensible styling doesn't endear you on a personal level; just on a practical one. Driving it is like using a quality pair of scissors. You appreciate how well they work but that's as far as the relationship goes.
It's not that the Up! is a bad car since in many ways it's a very good one and, unlike the Fox, represents what we've come to expect from a modern VW in terms of quality and practicality. It's simply lacking in a little charm and in this market that's as important as doors, wheels and getting it right from the start
Verdict: 11/20
I enjoyed my time with the Up!. It was practical, drove nicely, offered the right amount of equipment for every day driving and was economical. However, I never really bonded with the car as I have done with others I've tested such as the Fiat 500 and Citroen C1. So if you want a reliable and quality tool, the Up! will fit the bill. For anything else, look elsewhere.
SPECIFICATION
VOLKSWAGEN
MOVE UP!
Engine: 999cc, three-cylinders
Power: 60bhp @ 5000-6000rpm
Torque: 70lb ft @ 3000-4300rpm Top speed: 99mph 0-62mph: 14.4 secs Fuel economy: 62.8mpg
CO2: 105g/km
VED Rating: B (£20) MANUFACTURER
DEALER
Cooks Peterborough
Storeys Bar Road
Peterborough
Cambridgeshire
PE1 5YS
01733 294 056
Leave a Reply