Motorcycles at the Peterborough Arena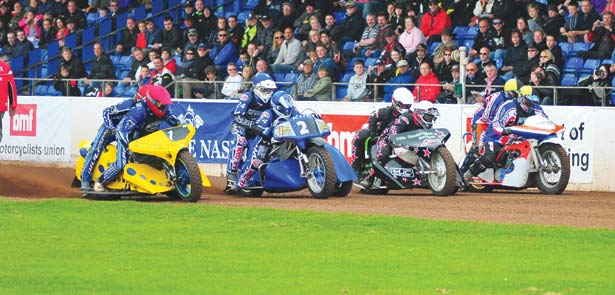 If you're a motorcyclist, an enthusiast or simply just like looking at cool bikes then the only place to be over the weekend of 17-19 May is the British Motorcyclist's Federation Show held at the Peterborough Arena
Now in it's 38th year and recognised as Europe's largest outdoor motorcycle show, the BMF event attracts thousands of visitors who flock to see the hundreds of trade exhibitors, fantastic arena entertainment and motorcycle manufacturers (some of whom will be offering demo rides throughout the weekend, so don't forget to take BOTH parts of your driving licence with you).
This year the show organisers are introducing two new areas: The Adventure and Overland Touring area which will feature bikes, tour companies to discuss your next (or first!) riding adventure, luggage suppliers and a host of travel writers and adventurers, including Sam Manicom, Nick Sanders, Maggie Gowan and Patsy Quick – who is the only UK female rider to finish the gruelling Dakar Rally. The new Classic and Vintage Zone will feature some fantastic bikes from yesteryear and you'll be able to talk to the Vincent Owners Club, The Triumph Owners club and see some fantastic examples from Bonhams the auctioneers, as well as seeing some practical workshop demonstrations throughout the weekend.
In the main arena on Saturday and Sunday the Inch Perfect display team will amaze the crowds with some gravity defying displays and to contrast you'll also see the madness that is the BMF's very own Moped Mayhem… Yep, that's a mass of mopeds undertaking an endurance-style race in teams of four with machines not exceeding 125cc!
For those who prefer to merely marvel at the machinery, a visit the Best in Show area is a must. There, you can see some of the best individually restored, improved or simply created machines on the road today.
For those who to choose to camp – or at least buy weekend camping tickets, even if you do decide to opt for the comfort of your own bed – there is live music on the main stage with four bands on Friday night and four more on Saturday, including the wonderful Skatonics and the now legendary Hooker. For those who prefer a more sedate style of music – not to mention a choice of over 30 real ales – there are four bands playing on Friday and four more on Saturday in the Bikers, Blues and Booze bar, including The Bear Cat Blues Band, Big Joe Bone, Dr Truth and the After Hours Blues Band, amongst others.
And if you simply can't wait, the organisers are giving everyone a sneek preview of the show in Cathedral Square on Saturday 4 May from 09.30 – 5.00 p.m. There will be a display of clubs, the chance to see some of the exhibitors – and, of course, quite a few motorcycles!
Tickets are available through the hotline: 0844 8845151 or via the show's website: www.thebmfshow.co.uk Under 16's also go free, as long as each is accompanied by a paying adult.
Leave a Reply