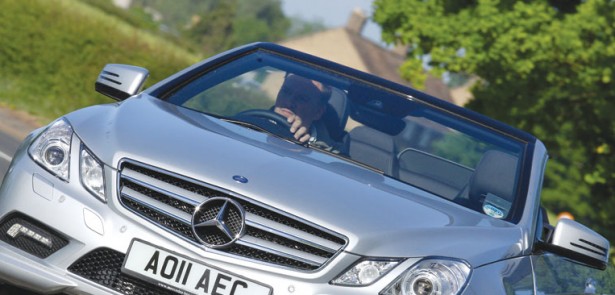 Footballers wives tend to get some bad press these days for being purveyors of anything that's over the top and flashy. And yet when it comes to cars they seem to get it right. Just as you'd never see one wearing anything from Primark, you'll also never see one drive anything other than a Range Rover, BMW X5 or Porsche Boxster. And thanks to their glamorous image, Mercedes-Benz – especially the open models – are also acceptable. And so I have a feeling the new E-Class convertible is going to be a very popular choice with the Nicola McLeans of the world. Yet it's actually more than just a piece of automotive bling – it's also a well-engineered motorcar.
To begin with, its one of the best-looking saloon-based convertibles Mercedes has made in a while. Its wide, angular body, trapezoid headlights and large grill give it a presence so menacing that BMW 3-Series convertibles run away and hide when they see one. Even with the roof up it's a handsome beast, looking not too dissimilar to the E-Class coupe. It's worth mentioning that Mercedes hasn't gone down the coupe-convertible, folding hardtop route as per many manufacturers, including the aforementioned Beemer. Although a canvas roof might seem old fashioned, they're lighter, easier to store – resulting in a better-looking rear – and thanks to huge rubber seals just as weatherproof. It can also be raised or lowered in a speedy 20 seconds and the operation can be carried out on the move up to 25mph.
The interior is well built using only the very best materials. Everything feels thick and solid whilst grasping the steering wheel is like gripping a gorilla's wrist (maybe). It's so well constructed that instead of hundreds of separate items screwed together, the dash feels like it's one solid structure, expertly carved out of a single piece of, erm, plastic. A single knob in front of the gear selector controls the infotainment systems. Intuative and simple to use, you don't need a maths A-level to navigate around the many audio and navigation menus.
Front interior space is very generous, although thanks to the sharp angle of the screen top it's easy to whack your head as you climb onboard. One of the reasons why this size of Mercedes convertible has always been popular is because of the rear seats and this one is no different. But it's here where I need to let you onto a little secret. The E-Class convertible is actually based on the smaller C-Class chassis. By naming it after the larger saloon, Merc can charge more money. But with it being based on the smaller car rear space is limited. While I could just about squeeze in, anyone taller than my 5ft 10in frame would find it difficult. And although you only need them for the kids, even the little ones could feel claustrophobic since you rub your nose against the very tall front seats that block any view out of the front screen. At 390 litres the boot is a large size for a convertible (the result of the canvas roof) and is easily big enough to fit even the most decadent of WAG's shopping hauls.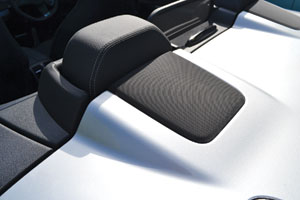 The E-Class convertible has the choice of seven engines including a two-, 3.5- and 5.5 litre petrols. However, it's diesels and especially the one we're testing here – the 350 CDI – that are the most intriguing. Even in today's financially straightened times a diesel convertible might not be your first choice yet economy aside I'd still choose this engine over the petrols, even the big 'uns. And not just because of the figures, although with 230bhp and a 0-62 figure of 6.9 seconds they are tantalising. No, I'd choose it because of its refinement. Quiet and silky smooth, like any good villain it creeps softly but carries a big stick. Because squeeze the throttle and following a tiny pause when 398lb ft of torque is bundled up and sent to the rear wheels, it accelerates hard and fast. The 50mph-80mph acceleration is particularly impressive. Bury the throttle hard and you're carried forward on a wave of torque, the excitement of the sudden increase in speed only heightened by the deep note from the engine. Press the Sport button and it's better still. The revs are held longer before the automatic box changes up, letting it accelerate harder to give it tougher, edgier character.
The E-Class CDI comes with Mercedes seven-speed automatic gearbox as standard. It's a very slick device and suits the torquey V6 diesel, kicking down the second you need to drum up some of that torque. It does come with steering wheel mounted paddles for semi-automatic mode but I never used them. Unlike Audi's sublime S-Tronic gearbox that changes gear the moment you pull on a lever, there's a slight pause with the Merc's, which is highly irritating when you're really going for it down a B-road.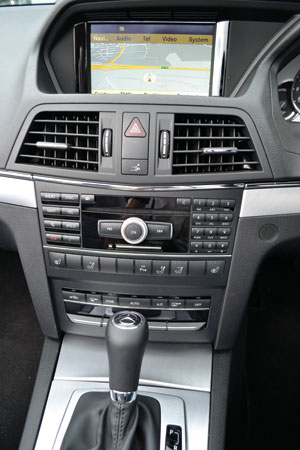 And that's what makes this car more than just transport to take Coleen to the hairdressers – the fun handling. Previous four-seat Merc convertibles were more about cruising than driving hard. Not so the E-Class. With loads of grip and beautifully weighted and precise steering, corners can be taken with as much enthusiasm as a WAG on her way to a Prada shop at sale time. This is helped by not being cursed by scuttle shake as many saloon-based convertibles are. Who knows what Mercedes used to strengthen it underneath (iron girders, my wife's phone bill) but despite chopping the roof off it doesn't shake, rattle or roll when you thump a pothole. Yet at the same time the ride isn't too hard to make it uncomfortable. It's not magic carpet smooth but it's not so hard that you can feel tiny pieces of gravel as you roll over them.
It creeps softly but carries a big stick
So although it's on course to be as big a success as a Burberry Big Mac, don't let that put you off. The E350 CDI convertible is a highly accomplished and entertaining car and should be recognised as more than just a fashion accessory. Not only that but matching luggage is also available.
Verdict: 14/20
What a surprise the E-Class convertible turned out to be. Expecting something that was all show and no go, what we found was a car that was genuinely fun to drive. Mix that with its excellent built quality and fabulous looks and here is a cabriolet that could seriously threaten the BMW 3-Series convertible when it comes to entertainment rather than just image.
Specification
Mercedes-Benz E-Class Cabriolet 350 CDI Blue.
Price: £42,280
Engine: V6 2987cc
Power: 230bhp
Torque: 398lb ft
C02: 189 g/km
VED Rating: J (£245)
Economy: 40.4mpg
Manufacturer: www.mercedes-benz.co.uk | 00800 9777 7777
Reader Reviews
Sarah Knight, 35, Orton Waterville
I think it's a lovely looking car and I would really enjoy driving it. However, I don't think there is enough room in the rear for my two little girls.
David Matthewman, 43, Orton Wistow
The E-Class looks to be well built, much more so than any other recent Mercedes I've looked at. And it was the first car to put a smile on face in ages.
Elaine Lilley, 34, Yaxley
It's very beautiful, but it's not very practical. The rear seats look useless and the boot isn't very large. Yet the car is too big and I'd have trouble parking it.
David Knox, 45, Stamford
I've never fancied a Mercedes before – I've always thought of them as old man's cars. This one, though, has changed my mind but I'd choose the coupe.
Dealers
Mercedes-Benz Peterborough
Cygnet Park, Phorpres Way
Hampton, Peterborough
Cambridgeshire, PE7 8JA
Tel: 01733 294900
Mercedes-Benz Cambridge
199 Barnwell Road, Cambridge, Cambridgeshire
CB5 8SH
Tel: 01223 401100
Mercedes-Benz Bedford
Ampthill Road, Bedford
Bedfordshire, MK42 9QZ
Tel: 01234 272888
Mercedes-Benz Northampton
Carousel Way, Riverside Business Park, Northampton
Northamptonshire, NN3 9HG
Tel: 01604 774200

Leave a Reply