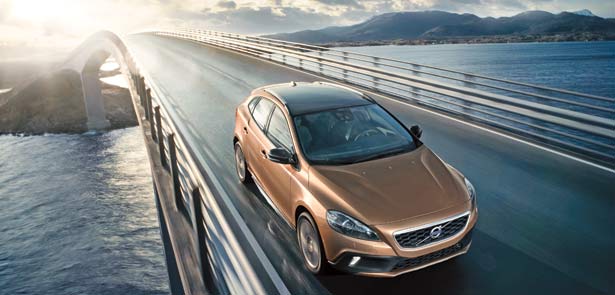 Volvo's stylish new V40 range, launched less than a year ago, has just been joined by two new additions; the rugged Cross Country and the sporty R-Design. And they're now taking pride of place at Peterborough's Marshall Volvo dealership
Daniel Cooper, the general manager of Marshall Volvo, is a man obviously happy in his job. For the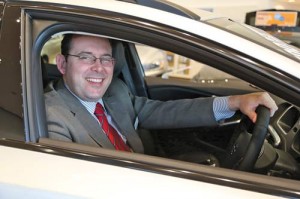 dealership he runs – rated within the top quarter of the 106-strong UK dealer network with a 92.3 per cent customer satisfaction rate – is currently selling some of the freshest and most exhilarating mainstream cars around. These are the svelte yet practical new V40s, five- door family hatchbacks that manage to combine high levels of practicality and safety with a sense of dynamism, quality
and prestige. And his role has probably been made just a little easier still, thanks to the recent launches of the latest V40 variants; the sturdy yet handsome Cross Country and the racier and sleeker R-Design. "It's really exciting, these are very positive times," he says of the new kids on the Swedish block.
From my point of view, these will bring new customers in to discover the range. We haven't had anything like these cars for many years. Last year, we physically ran out of V40s. It's a car that people really want
THE V40 CROSS COUNTRY
"This is a very Peterborough car," says Daniel about the new V40 Cross Country (or CC for short). With the V40 already the safest car in its class, having achieved a full five stars and the highest score ever recorded by EuroNCAP in recent crash tests, the CC takes this toughness even further through its purposeful black bumpers with an integrated skid plate, larger wheels, taller ride height and sculpted, contrasting sill plates. It's an ideal beast to take on the worst excesses of East Anglian winters and cope with typically bumpy Fenland roads, as anybody who has ever grounded a lower-riding car on roller-coaster tarmac will appreciate. "For the villages around Peterborough as well as those who live in the city itself, it's a very good choice," continues Daniel. "I think it might have an even greater appeal than the standard version."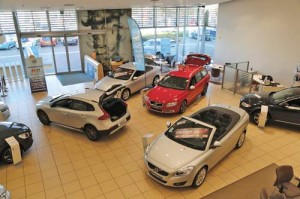 The CC is available in both two-wheel and four-wheel drive form, albeit the latter spec is only available with the range- topping 2.5-litre T5 petrol model, boasting a heady 254bhp from its turbocharged engine. If economy is more important than power though, the three diesels – D2, D3
and D4 – all offer impressive economy for cars of their size, with the 1.6-litre 115bhp D2 having class-leading CO2 emissions of just 99g/km, meaning there's no road tax to pay, while Start/Stop technology (standard across the CC series) and a six-speed transmission mean up to 74 miles per gallon.
Impressive storage space can be relied upon thanks to 40/60 split rear folding seats, an 'extra ' floor in the load compartment and a passenger seat that also folds forward, plus numerous well-considered cubby holes. Drink cans and bottles can even be chilled in the glovebox courtesy of the electronic climate control version. The cabin can also be complimented by mood lighting, with LED lighting in seven different shades, while with the optional TFT digital instrument cluster allows the driver to select one of three modes – Elegance, Performance or Eco – depending on what information is required when driving. Prices start from £22,595. V40s are also available under the Motability scheme from £499.
THE V40 R-DESIGN
Launched at the Paris Motor Show last year but only just available to buy in the UK, the V40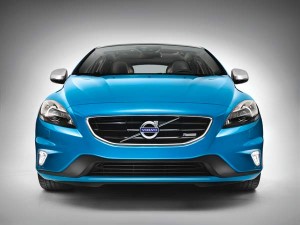 R-Design can almost be viewed as the antithesis to the CC, yet at the same time incorporating many of its notable attributes. The emphasis is on sportiness, with styling cues taken from other R-Design models in the Volvo line-up. The stance is lower and meaner-looking, with a differently- shaped and aggressively pitched nose incorporating LED running lights while the rear features a diffuser sandwiched between twin exhaust pipes. Two-tone 17-inch alloy wheels and matt silver door mirrors are a standard fit. The tweaks may be subtle when compared to the standard V40, but they combine to make the R-Design a significantly racier machine in appearance.
Inside, there's a sports steering wheel, more figure-hugging part-leather seats embossed with the R-Design logo and aluminium pedals and dash inlays along with a different illuminated gearknob. The TFT crystal display system that is an option on the CC comes as factory-fit with the R-Design. A host of extras are added with the Lux trim level, which piles in goodies such as cruise control, keyless start, rain sensor and self-cleaning active bending xenon headlamps. A lowered and modified Sport chassis can also be specified.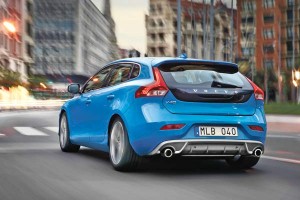 The same choice of engines as on other V40s means drivers can focus on frugality with the road tax busting 1.6 diesel or match looks and performance with the 2.5-litre petrol unit that will sprint from 0-62mph in just 6.1 seconds.
Prices start at £22,295.
The R-Design brings a different dimension to Volvo; no longer do you have to compromise on your car to get a sensible purchase. The R-Design has both practicality and excitement
Both new V40 types are available now at Marshall Volvo, Mallory Road, Peterborough, PE1 5AU (just off Boongate on the road leading to the Showcase Cinema). Telephone 0844 334 9487 or see www.marshallweb.co.uk/volvo/peterborough for further details.
Leave a Reply