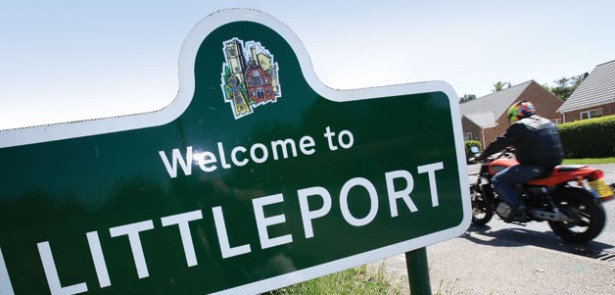 Harley-Davidson's sportiest offering goes back to its roots – in Cambridgeshire, of all places…
Winding my way around some of Cambridgeshire's finest roads, it's strange to think the machine I'm on, the Harley-Davidson XR1200 is (in a very roundabout way), 'coming home'. On the face of it, you wouldn't think that Cambridgeshire and a chunk of Milwaukee's finest pig-iron would have so much in common, but they do.
Not that we should need an excuse to head out for a ride in our fine county, as Cambridgeshire and its surroundings is a magical place to ride a motorcycle, especially in high summer. We have some excellent roads, interesting places to visit and motorcycle-friendly establishments to refuel and refresh ourselves, but Littleport, near Ely is my destination as it has family connections with the very machine I'm riding. You see, one William Harley was born in Victoria Street on May 2nd 1835 and after taking ship to New York, he settled in the USA. In 1880 he had a son – one William Sylvester Harley who – with three Davidson brothers Walter, Arthur and his namesake William founded the Harley-Davidson Motor Company in 1903.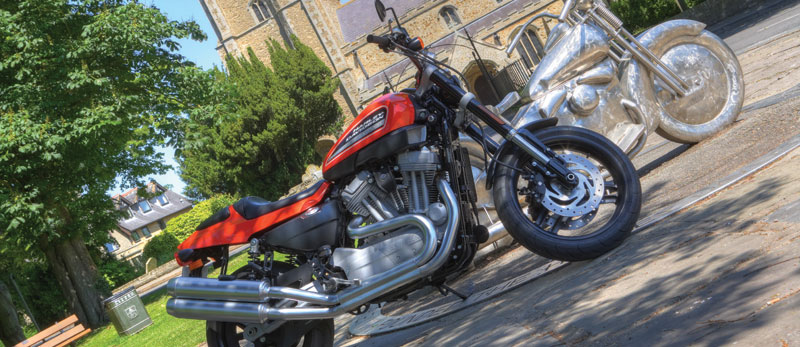 Doubtless Littleport has changed since Harley Senior's time, but as I roll into the town with the XR1200 purring contentedly beneath me, it's clear that this link to the past has not been forgotten. All you have to do is head for the church spire, because just over the road is a religious relic for all two-wheeled pilgrims, as in the park sits a beautiful rendition of a classic Harley-Davidson motorcycle, with springer front-end commemorating the town's famous link with the ultimate motorcycle marque. The sculpture is cunningly crafted from aluminium and – just like the real Harley motorcycles – it's a work of art in metal form.
The XR1200 itself is much like the commemorative art form in front of me, it's the same as previous Harleys – but different. The same, because it's a Harley-Davidson and all that entails: all the passion, pride and (sometimes) downright pig-ignorance of what makes a bike work well or not. Because as much as Harleys have changed over the last 100 years or so, they've also stayed the same, so here begins a quick history lesson that we need to digest to find out why Harley designed the XR1200.
Harley-Davidson itself has known not to tinker too much with the recipe that has brought them success. So while the latest touring Electra-Glides may have MP3 players on board and fuel-injected motors, they still resemble the original 'bat-wing' faired Glides of the late 1960s. Other motorcycle manufacturers have moved more with the times, and styled and developed their bikes to match the moods then current. In the UK and Europe, we have tended to prefer sporty-looking motorcycles, ones that look like racetrack refugees, complete with wrap-around fairings and acres of expensive plastic They go fast, stop fast and turn fast. Harleys have never tended to do any of that. And for some people, that's been the problem. So, could Harley-Davidson make a sportsbike of its own?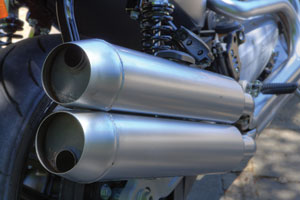 For Harley, doing a sportsbike needs to be different, it needs Harley's own DNA and for that, the XR1200 has the genes of the XR750 race bike, perhaps the most successful race motorcycle ever made. You see, Harley does go racing, but rarely on the Tarmac as the Japanese and Europeans do, instead they race on dirt track ovals, it's like speedway on steroids and the Harley XR750 has been very successful in this over the last 40 years. So, the bike has to look like the XR750 and the XR12 does. It's orange, it has twin, high-level pipes, an exposed V-twin engine: this thing is as subtle and functional as a sledgehammer, but does it work?
There's no 'Harley hustle' where the bike sways and shimmies like an overweight auntie doing the Lambada at a wedding reception.
Well, my 500 or so miles on XR1200s says yes, definitely – but to a point. Compared to most Harleys the XR begs to be ridden harder. The motor pulls cleanly and vocally from around 3000rpm on the tacho up to its 7000rpm redline, pumping out 90bhp at its peak. This isn't in the same league as 1200cc V-twins from Ducati, but it's probably the most powerful Sportster that Harley themselves have ever produced, around 20bhp up on a standard 1200cc machine and the soundtrack is pure Americana: many have tried to emulate the Harley sound, but it can't be copied.
Sparkling: This is the best-handling Harley yet and is happier in the corners than anything else out of Milwaukee. Ground clearance can be an issue and water can catch in the lip of those exhausts leaving rust in its wake. So keep them clean!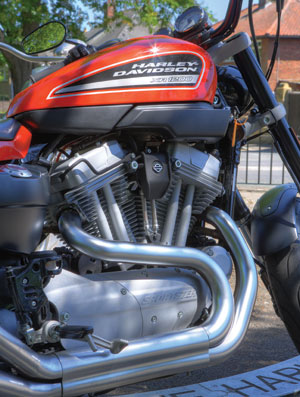 OK, so it goes – but sportsbikes have to handle and stop and here's where the XR1200 really surprises. Scott Parker – Harley's own nine-time AMA flat-track champ helped develop the XR, along with Adrien Morillas a former World Superbike race winner and when you throw the XR1200 into a bend, there's no Harley-hustle where the bike sways or shimmies like an overweight auntie doing the Lambada at a wedding reception. Instead it tracks through the bend, clean and true. Sure, it's no Japanese sports bike, or Italian or British for that matter, but it does handle better than any other Harley I've ridden and it hides its considerable 250 kilos pretty well, even at low speeds. The only downside is a feeling that the bike is a little under-damped at the rear end and bumps can send a painful jarring through the seat. With only pre-load adjustment available on the twin rear shocks, this could be a problem. And while we talk about the seat, it's not that comfortable. I managed 60 miles before wanting to get off. Brakes though, are also better than to be expected from a Harley and the twin disc set-up is better than any other Hog with sporting pretensions.
The only issue I had with them is that if you hit bumps while braking the front end tended to skip over them, which can be a little disconcerting as you're not able to alter the forks' adjustment, so it's a problem you're stuck with.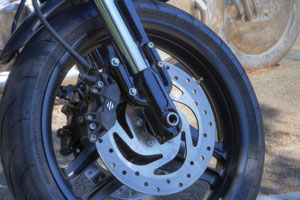 So, it looks good, it goes pretty good too, so why does the XR1200 just fall a little short of the mark? Well, it's down to that pig-ignorance I mentioned, that Harley seems to have. For a bike costing this much money, the overall finish just isn't that hot. For example, I'll wager a lot of that 250kilos could be lost if Harley actually made the parts as if they were going on a sportsbike, rather than an oil tanker. Brake and clutch levers are big, heavy pieces of metal and un-adjustable for your hand-span. The brackets for the exhaust including the nuts and bolts are big, bulky and rough finished, as are the top yoke bolts and steering stem bolt. And on the launch, we found that water would collect in the lips of the exhaust cans and rust was found – not brilliant, really. In fact, Harley has possibly spoilt the ship for a ha'porth of tar.
But that's where you come in, the potential owner. Harleys have always been a blank canvas and the firm's aftermarket parts and accessories brochure is bigger and weightier than a King James Bible – and probably revered more by Hog owners. Also, with the XR1200 now having its own race series in the UK – the Harley-Davidson XR1200 Trophy – many notable UK firms, such as Harris Performance, have produced parts which can really turn the XR into a real work of art that is sportier still. It all depends whether you've got the wallet for it.
But all this should not take away from the fact that this is the best sporting Harley to come from Milwaukee, and if you're looking for something a little bit different, it certainly warrants a good look.
Harley-Davidson XR1200
www.harley-davidson.co.uk
Price: £7950 OTR/RRP (Some available from £6999)
Performance
Power: 90bhp (91PS, 67kW) @ 7000rpm
Torque: 74lb.ft (10.2kg.m, 100Nm) @ 3700rpm
Fuel economy: 41mpg (on test)
Top speed: 120mph (190kph) (est)
Engine: 1202cc 45-degree V-twin, 4 valves, single cam pushrod, air cooled, fuel-injected, five gears, wet-clutch, belt final drive
Frame: Tubular steel twin cradle
Suspension: Front – 43mm inverted forks, no adjustment. Rear – twin-shocks, pre-load adjustable, aluminium swingarm
Brakes: Front – 2 x 292mm discs with Nissin four-piston fixed calipers. Rear – 1 x 260mm disc with one-piston caliper
Tyres: Front – 120/70 x 18. Rear – 180/55 x 17
Weight: 250 kilos dry (551lb)
Wheelbase: 1430mm (56.3in)
Seat height: 742mm (29.2in)
Rake/trail: 29.3-degrees/130mm (5.1in)
Fuel capacity: 13.6 litres (3 gallons)
Sycamore Harley-Davidson, Uppingham – 01572 823296 or Black Bear, Newmarket – 01638 664455
Leave a Reply