CONCORDE REACHES FOR THE SKY – BRAND NEW LINE UP OF COURTESY CARS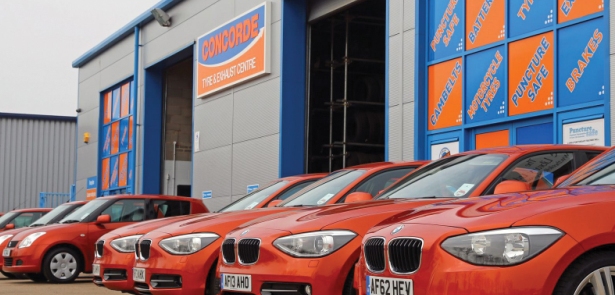 A local independent chain of auto centres is planning to revolutionise car maintenance as it brings main dealership levels of care and service to the region at highly competitive rates
Concorde Auto Centre are delighted to announce the delivery of their brand new line up of customer courtesy cars with 10 new vehicles in the fleet available to its customers.
Concorde Auto Centre has grown into Peterborough's largest independent tyre, exhaust, repair and service facility since it was established in 1977. As part of its ongoing multi-million pound investment in quality and expansion – which will see further branches opening up throughout the East Midlands as well as further afield – it is now able to offer much more than just the traditional 'quick fit' facilities of tyres, exhausts and brakes. Almost any job, big or small, can now be undertaken on cars and vans, from MoTs and servicing, clutches and cambelts through to engine rebuilds and welding – and all to the highest industry standards. However, Concorde also prides itself on its customer service, with a charter that includes comfortable reception and waiting areas equipped with television, wi-fi and refreshment facilities, high levels of communication and transparency about jobs done, trustworthy quotes, responses to all customer requests and a thorough checking of all work before vehicles are returned to owners.
We aim to offer main dealership levels of reliability and excellence, only at much cheaper independent rates
explained investor Andy Wood.
And those prices are very economical when compared to rivals, with MoTs currently at £20, tyres from £25, brakes from £30 and a service from £60. Concorde will always do its best to ensure it offers the most cost effective solution for your vehicle needs. Yet there is also the peace of mind that jobs will be done to the exacting and professional standards Concorde prides itself on delivering, carried out by highly-trained and experienced staff.
In a high profile demonstration of its commitment to putting the customer first, Concorde has just purchased a fleet of brand new vehicles as courtesy transport for drivers having their own ones worked on. These are Suzuki Swifts, BMW 1 Series Sport Ms and even a Porsche Cayenne Turbo. All are finished in Concorde's eye-catching house colour of vibrant orange.
We don't think many independent auto centres can offer such a fresh and exciting range of cars for customers to borrow
commented Andy Wood.
But it's all part of the Concorde creed
For commercial customers, a courtesy van is also available.
The new cars recently received the seal of approval from international couture model Harriadnie Beau, when she sampled them during a recent photoshoot.
Concorde's burgeoning reputation has already seen business volumes grow by 120% in only four months, a quite remarkable level of growth given the current financial climate.
But this is proof that we must be doing a lot of things very right,
remarked Andy.
We've got a very loyal and ever-expanding customer base. But we'll never take them for granted and will always deliver our very best for them
Three new branches are planned for Concorde later this year, in addition to its current centres in Peterborough and Wisbech. Watch this space for news of the Cambridge outlet opening in a few months' time. Within a few years, Concorde plans to have established 15 branches, giving many more thousands of motorists the chance to experience the brand's very special services.
01733 340 212 (Peterborough branch)
01945 582 252 (Wisbech branch)
Leave a Reply